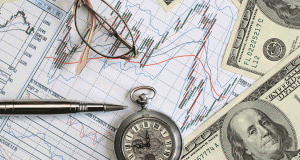 It should come as no surprise that I prefer to invest in penny stocks and small-caps over large-cap stocks.  After all, I'm the Chief Investment Strategist for an investment newsletter dedicated to penny stocks.
But there are good reasons why I like small companies better than their larger brethren. 
First off, small companies tend to grow faster.
This is usually true because small companies are starting from a smaller base.  As a company grows in size, it becomes extremely difficult to maintain the heady growth rate it enjoyed as a smaller company.
Small companies also tend to offer bigger growth potential. 
Once a company reaches large-cap status ($10 billion market cap), it becomes much more difficult to double or triple in size let alone generate a 10-fold increase in market value.  It's much easier for a company with a market cap of $100 million to grow into a $200 million, $300 million, or $1 billion company. 
It's also a lot easier to buy penny stocks and small-caps at a discount to their true value. 
Most institutional investors avoid penny stocks and small-caps because there's little to no analyst coverage.  And SEC regulations make it tough for large investors to establish meaningful positions in these kinds of stocks. 
Thus, a savvy individual investor can usually get into a promising penny stock or small-cap well before the big boys pile in and drive up the price.
With that said, penny stocks and small-caps also present unique risk factors.
For example, these stocks tend to be a lot more volatile than large-cap stocks. 
It's not uncommon for small company stocks to fluctuate by 5% or more on a daily basis.  Smaller share floats and wider bid-ask spreads predispose them to greater volatility.
As such, you need to make sure you have the stomach for investing in penny stocks and small caps before you buy them.
If you can't handle heavy volatility, you're almost guaranteed to lose money in these kinds of stocks.  Investors with low risk tolerance usually panic when a penny stock or small cap drops and sell out for a loss.
Another risk factor is the potentially longer-term time horizon for success.
As I mentioned earlier, penny stocks and small caps fly under the radar of most investors.  These stocks don't enjoy the heavy analyst coverage and media exposure that larger companies receive.  So, it will often take time for investors to discover your penny stock or small cap and drive it higher.
As such, you need to be careful about how much you invest in penny stocks and small caps.
You should only invest funds that you can afford to commit for a potentially lengthy time frame.  Don't put yourself in a position to lose money on a stock with great upside potential because you may have to withdraw your money before the trade has time to develop.
There's nothing worse than losing money on a big winner because you had to withdraw funds before it popped.
No question about it…
Penny stocks and small caps offer significant advantages over large-cap stocks.  You can certainly make a fortune by investing in these stocks.  However, to be successful, you need to be sure you have what it takes to invest in them.
Profitably Yours,
Robert Morris 
Category: Investing in Penny Stocks