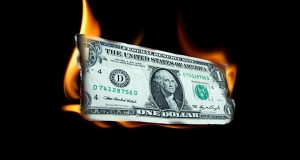 Welcome to today's Pump and Dump Alerts, where we will be exposing these two companies: Rackwise (RACK), and Sunpeak Ventures (SNPK).
Here we identify a couple of the potentially "bogus" promotions going on in penny stocks today.
If you don't know how these schemes work, be sure to check out this free report that exposes the whole thing.
Without further ado, here are today's "disasters waiting to happen":
Rackwise (RACK)
RACK develops software for IT infrastructures, data center monitoring, and data center cost efficiency.  Rackwise allows companies to optimize their use of components such as power, cooling, space, servers, networks, and cables.  We exposed a paid stock promotion being run back in December of last year by OTC Reporter.
RACK was trading at $0.90 during December's promotion.  Currently, shares of this penny stock are up roughly 36% at $1.59.
Global Marketing Media (GMM) collected $1.49 million from Paradigm Capital Holdings to pump shares of RACK.  GMM owns Penny Stock Circle, and uses them to release penny stock promotions. 
Sunpeak Ventures (SNPK)
Sunpeak Ventures appears to be in the final stages of a massive pump and dump scheme.  Regardless of SNPK's actual business or fundamentals… it looks like shares are being heavily manipulated by known pumpers… Bright Tech Media, LTD.
Somebody started cashing out last week.  Shares have fallen from over $2.40, all the way down to $0.64 early this morning.  Currently, shares trading in a very volatile range near the $1.00 level.
The collection of Bright Tech Media companies has been paid in excess of $600,000 to hype shares of SNPK.
A final word (and warning).
These are just a few of the potential "pump and dumps" we've seen lately.
Remember, there's a lot more of this going on than we can highlight here.
For more in-depth coverage of potential penny stock pump and dumps, be sure to sign up for our free newsletter, Penny Stock Research.
As you know, penny stocks are a great place to invest your money.  You just have to do your due diligence to stay away from all the schemes and scams out there these days!
Until next time,
Brian Walker
Category: Pump & Dump Alerts, Pump & Dump Daily