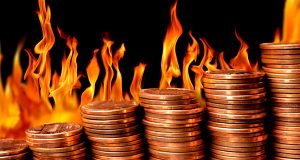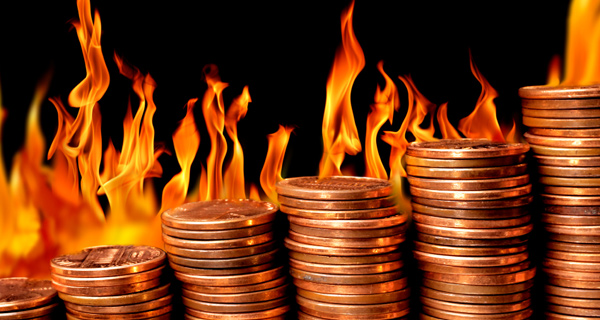 It's an exciting time for penny stocks, especially hot penny stocks like xG Technology (XGTI), FuelCell Energy (FCEL), and Arotech (ARTX)…
xG Technology (NASDAQ: XGTI)
This penny stock soared last week!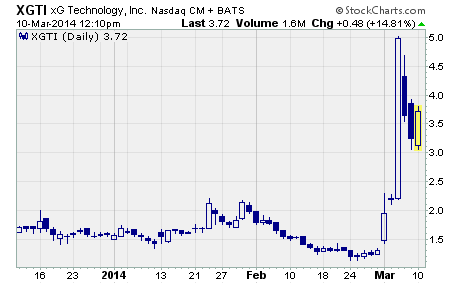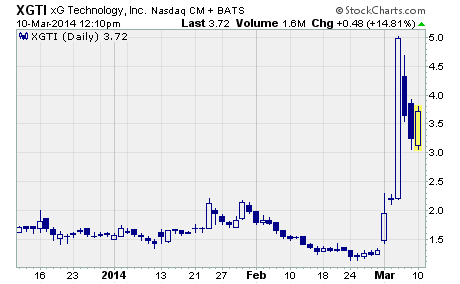 XGTI jumped from the prior week's close of $1.30 to a high of $5.01 for a stunning 285% gain to the high.  And while the stock pulled back to finish the week at $3.24, it still provided investors with a hefty one-week gain of 149%. 
What's more, the shares registered their highest weekly close in over four months.
Here's a quick rundown of the company…
xG Technology is a developer of wireless communications and spectrum sharing technologies that help make wireless networks more intelligent, accessible, affordable, and reliable.  As such, the company offers solutions for numerous industries worldwide, including urban and wireless broadband, utilities, defense, emergency response, and public safety. 
The company's crown jewel is called xMax, a patented all-IP cognitive radio technology that enables spectrum sharing. 
With this technology, xG believes it can solve the wireless industry's network capacity crisis caused by data-hungry devices and applications.  This innovative technology eliminates the need to acquire scarce and expensive licensed spectrum, thus lowering the total cost of ownership for wireless broadband access.
So, why is the stock taking flight?
Last week, the company announced it received a key cognitive radio patent for enabling high-performance spectrum sharing.  This technology allows base stations to coordinate their measurements of spectrum usage and jointly determine optimum channels to use for communications.
With this key patent now in hand, management said their objective for 2014 is to develop consistent revenue streams.  Achieving this objective will help pave the way toward rapid growth and significant market adoption of the xMax cognitive radio access network.
xG currently has an order backlog of over $34 million.  And analysts are projecting an 88% rise in earnings on sales of more than $23 million in 2014.
FuelCell Energy (NASDAQ: FCEL)
This company is a global leader in providing ultra-clean baseload distributed generation to utilities, industrial operations, and other customers around the world.  It designs, manufactures, sells, installs, operates, and services stationary fuel cell power plants.
Fuel cells electrochemically convert a fuel source into electricity and heat in a highly efficient process that emits virtually no pollutants due to the absence of combustion.
FuelCell Energy operates power plants in approximately 50 locations worldwide with an installed base and backlog of approximately 300 megawatts.  These plants have generated over two billion kilowatt hours of ultra-clean power from renewable biogas and clean natural gas. 
FCEL has moved higher this year as investors anticipate wider adoption of fuel cell technology.  And the stock surged last week on exciting news…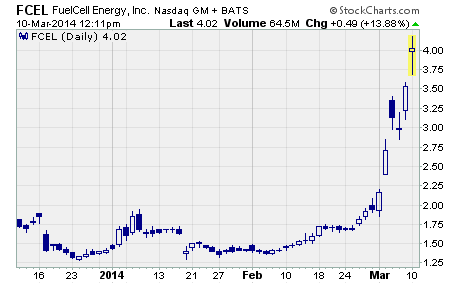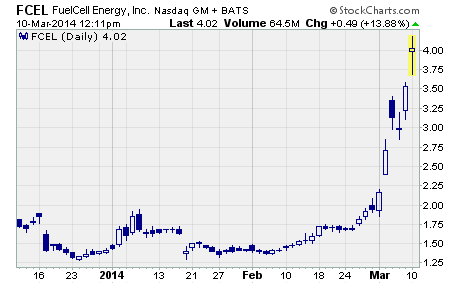 As you can see, FCEL climbed from $1.95 to a high of $3.58 before finishing the week at $3.53.  That's a stunning 81% gain in just a single week's time.  And the stock is now up more than 150% year-to-date.
The shares rocketed higher on news that FuelCell received a $2.8 million continuation of an award from the US Department of Energy.  
The funds are intended to help with the company's installation of a sub-megawatt fuel cell power plant in Connecticut.  The plant will not only generate electricity and heat but hydrogen as well.
The purpose of the award is to showcase the tri-generation capabilities of the company's Direct FuelCell power plant.  By providing hydrogen at the point of use (in addition to ultra-clean electricity and usable high-quality heat), FuelCell can help industrial customers reduce costs associated with purchasing, transporting, and storing hydrogen.
The company estimates a potential market of $1.6 billion for its tri-generation Direct FuelCell power plants.
FCEL is trading well above the consensus analyst 12-month price target of $1.94 per share.  You may want to wait for a pullback before climbing aboard this high flying stock. 
Arotech (NASDAQ: ARTX)
Here's a penny stock that is clearly skyrocketing…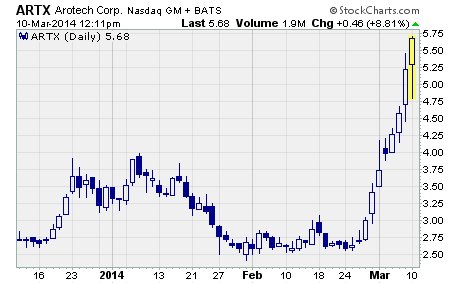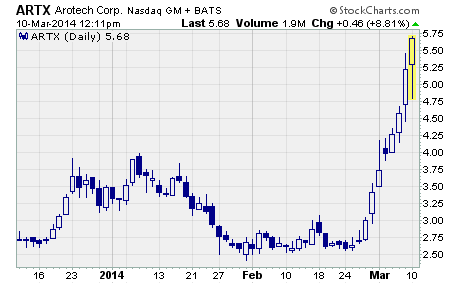 ARTX rallied from the prior week's close of $3.41 to a high of $5.45 on Friday before ending the week at $5.22.  The strong move gave investors a solid 53% gain for the week.
And the rally's not done yet. 
In morning trade, ARTX is up nearly 10% to $5.72 per share.
Arotech is a leading provider of quality defense and security products for the military, law enforcement, and homeland security markets.  Its products include multi-media interactive simulators and trainers, as well as advanced zinc-air and lithium batteries and chargers.
Why is the stock climbing so rapidly?
Last week, the company announced it significantly advanced development of an iron flow battery that is designed to provide storage for grid power.  While flow batteries themselves are not new technologies, Arotech's design uses a patent-pending iron chemistry. 
The company claims its battery provides the highest return on investment due to its lowest total lifecycle, capital, and maintenance costs.
The interesting thing here is that investors are piling into the stock even though management says commercialization is still a few years away.  The buying frenzy is apparently being fueled by Arotech's estimation that the potential market for its battery will be worth $400 billion by 2020.
If the battery is ultimately viable and management's view of the potential market is accurate, then ARTX is a huge bargain right now.  Even after the recent surge in share price, Arotech has a market cap of just $91 million.
Profitably Yours,
Robert Morris
Category: Hot Penny Stocks