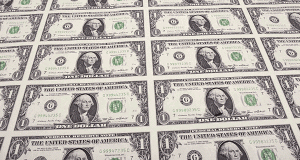 2012 could very well be a breakthrough year for penny stocks.  We're entering what I like to call a 'win-win period' for small companies.
On one hand, the economy looks to be improving.  Jobless claims are trending downward, confidence is ticking higher, and inflation is in check.  If it holds, this year could be the beginning of significant economic expansion in the US.
Of course, that would be good news for penny stocks.  Just like big companies, the vast majority of penny stock companies thrive when the economy is growing.
But what if economic conditions aren't as good as we think?  What if unemployment doesn't improve as much as we hoped?
Don't worry… the Fed will save us.
Just this past week, the Fed made it clear they won't be afraid to implement QE3.
In fact, Fed Chairman Ben Bernanke said the FOMC "recognizes the hardships imposed by high and persistent unemployment in an underperforming economy, and it is prepared to provide further monetary accommodation".
That's about as direct of a statement as you'll see from the Fed.
'Monetary accommodation' is just a fancy way of saying QE3.  Basically, if unemployment stays high, the Fed will start buying bonds again.  That means purchasing Treasury bonds, mortgage-backed securities, or both.
Clearly, it's great news for the stock market. 
Remember the last time we had a QE program?  It was August of 2010 when QE2 was announced.  And stocks spent the next eight months in a bull market… right up until QE2 ended.
And that's not all…
The Fed also expects interest rates to remain low until late 2014.  That's a significant push back from the previous date of mid-2013.
The interest rate forecast is part of the Fed's new plan to be as transparent as possible.  They want the public to be confident in their expectations of Fed policy.  It should help to stabilize the financial markets.
More importantly, it should give penny stocks a boost.
You see, if interest rates are going to be low until 2014 – not to mention, the strong possibility of QE3 on the horizon – then investors will be willing to take more risks.  That means more money flowing into penny stocks.
And as I mentioned earlier, if we don't need a QE3, then the economy is improving faster than expected.  That's also a very good thing for penny stocks. 
See what I mean?  It's a win-win situation.  And that's exactly where we want to be.
Yours in profit,
Gordon Lewis
Category: Breaking News, Investing in Penny Stocks