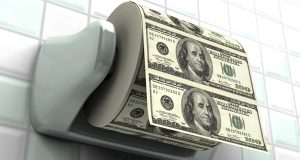 This week we're exposing these three popular Pump & Dumps: North Springs Resources (NSRS), Geopulse Explorations (GPLS), and TaxMasters (TAXS).
That said, welcome to Pump and Dump Friday, where every week we highlight a few of the "bogus" promotions that are going on in penny stocks.
If you don't know how these scams work, be sure to check out this free report that exposes the whole thing. 
Now without further ado, here are this week's disasters waiting to happen:
North Springs Resources (NSRS)
I'll admit it… I've become obsessed with exposing the paid promotion of NSRS shares.  But what you need to know is the pumpers are being paid over $600,000 to hype shares of this gold exploration company. 
It'll take just as much repetition on my end to keep you from buying into the endless hype these pumpers are dishing out.
So here's the latest news on NSRS…
A drill has shown up in Arizona to create 15 test holes on the Goldstar property.  (Yep, they're still just exploring.)
Of course, the pumpers wasted no time and fired off headlines like…
NSRS is on the verge of a pop!
NSRS could surprise us all!
NSRS is making big moves!
NSRS is Hot Right Now After New $3.00 Price Target!
While they're all entertaining, the headline that caught my attention was the $3.00 price target.  I had to look into it some more. 
As it turns out, a financial analyst over at Advent Financial created the "price target".  The only problem is, Advent Financial was paid $20,000 to specifically write up a report on NSRS! Sounds more like another puff piece to me…
And I'm not far off in my assessment.  Right in the disclaimer at the bottom of Advent's report, they reveal no one verified any data for accuracy… and the data was supplied by NSRS!  What kind of "research report" is that?
Bottom line…
The hype machine is still running strong.  The pumpers are trying to suck you into buying shares of North Springs Resources.  
Remember, no matter how attractive NSRS sounds, everyone's getting paid off in the process… including the supposed "analysts". 
Geopulse Explorations (GPLS)
The penny stock pumpers have found a new company to hype up… Geopulse Exploration.  It seems the paid promoters love hyping up any mining operation… even copper mines.
In fact, PennyStock Pick Alert was paid $15,000 to hype shares of GPLS.
So what's all the hype about?
Well, GPLS is conducting "due-diligence" on a number of "potential" mineral resource properties in Utah. 
I love that… "Potential", and "due-diligence".  It makes everything sound so legit.  Even better, the pumpers redirect your attention to the general mining potential in the state of Utah.  How it's one of the world's largest copper producers. 
But we're not easily led astray… no sir.
After digging through Geopulse's financials, their top line immediately caught my eye.  Well, the lack of a top line number is what drew my attention.  That's right… GPLS has $0 revenue.
All the due diligence and potential in the world isn't going to put food on the table.  I'd suggest you save your hard earned cash for a company with real revenue and earnings.
TaxMasters (TAXS)
You've got to love a company dedicated to fighting the greedy, over-reaching hand of the IRS.  I'm already feeling the ink being sucked from my checkbook as tax season nears. 
If you were to believe Research Driven Investors, you'd think TAXS was the greatest company ever.  Considering the pumper was paid over $50,000 to promote shares of TaxMasters, they'd better make you love TAXS.
Well, I like TaxMasters IRS-fighting concept, but I'm not a fan of how TAXS is handling their own finances….
In November of last year, TAXS announced their previous financial reports dating back to 2009 shouldn't be relied upon.  Call me crazy, but it's not very reassuring when a "tax fighting" company can't even keep their own books straight!
The info page 2 of their November 28th 8-K speaks for itself…
"… as amended on September 16, 2011, the registrant's board of directors concluded that the previously issued financial statements for the fiscal year ended December 31, 2009 and 2010, for the first, second and third quarters of 2010 and the first quarter 2011 should no longer be relied upon.  Additional information concerning these financial statements has been developed…"
That's some scary stuff… you never know the end result in matters like this.   
However, after digging deeper, I found the reason behind the misstated earnings.  It has to do with issuance of restricted shares that took place in 2010 as part of compensation for public relations. 
Back then, TAXS retained their own independent valuation firm to value these restricted shares.  And initially, the firm said the four million restricted shares were worth $356,014.  But as it turns out, the shares were closer in value to $2.5 million! 
Can you say ooops?
I don't know what's really going on over there at TaxMasters, but I'd steer clear of any company with restated financials.  No matter the outcome, there are always better places you can invest!
A final word (and warning).
So that takes care of a few of this week's inglorious "pump and dumps".
Remember, there's a lot more of this going on each week than we highlight here.
As you know, penny stocks are a great place to invest your money.  You just have to do your due diligence to stay away from all the scams out there these days!
Until next time,
Brian Walker
Category: Pump & Dump Alerts