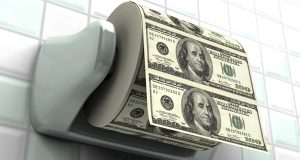 This week we're exposing this pair of popular Pump & Dumps:  PacWest Equities (PWEI) and TagLikeMe (TAGG).
That said, welcome to Pump and Dump Friday, where every week we identify a few of the potentially "bogus" promotions going on in penny stocks today.
If you don't know how these schemes work, be sure to check out this free report that exposes the whole thing.
Without further ado, here are today's "disasters waiting to happen":
PacWest Equities (PWEI)
The first thing that comes to mind when I see PWEI's ticker symbol is Pei Wei Asian Diner.  Unfortunately for PWEI shareholders, their company has nothing to do with the Asian eatery owned by P.F. Chang's corporation.
Nope, PacWest Equities shareholders aren't holding anything tasty at all.
Rather, they're holding a pumped stock… and nothing more.  You see, shares of PWEI are being pumped by smartOTC right now.  They were paid $10,000 by Winning Media, LLC to hype up shares of this company.
So what is the pumper saying?  Nothing more than the usual hype… all praise and glory for the stock in question. 
Ironically, PWEI specializes in working with underperforming companies becoming financially stable.  But it looks like they're in need of similar assistance.
For starters, PWEI doesn't file with the SEC.  I guess either they're not in compliance, or simply can't afford it.  And how could they?  PacWest has $0 cash in the bank as of June 30th!
What's more, their "other assets" are claimed to be $380,000.  What exactly does that mean?  And even worse, the company posted a loss last quarter of $23,582 – ON $0 REVENUE!
So what exactly are investors buying when they get shares of PWEI?  Nothing solid to speak of… I'd say.
Now what's really scary is the chart on this stock.   Check it out for yourself…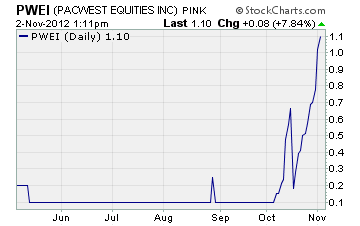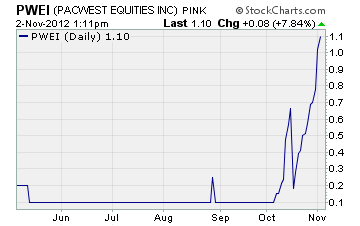 If you're a regular reader on Fridays, then you've seen this chart before… many, many times.  Most times, runs like this signal the "pump" right before the dump.  In about two weeks, you can bet this chart will look like a mountain peak after it crashes down.
I'd say we have just one more pumped stock here that you need to avoid!
TagLikeMe (TAGG)
My, oh my, it seems like the pumpers have a new favorite toy – TagLikeMe.  I covered this hyped up penny stock back on October 19th, and the paid stock promotion hasn't stopped since!
So it's time once again to push back against the ridiculous hype coming from the pumpers…
What's the latest?
Well, last time it was Penny Stock Advice and Victory Stocks being paid to do the dirty work.  This time, Victory Stocks is playing a very dangerous game- naming one stock and showing another's chart.
See the screen grab from their email blast below…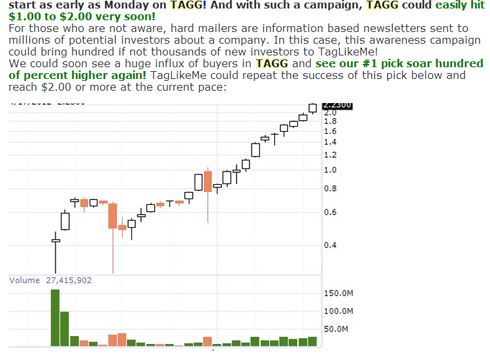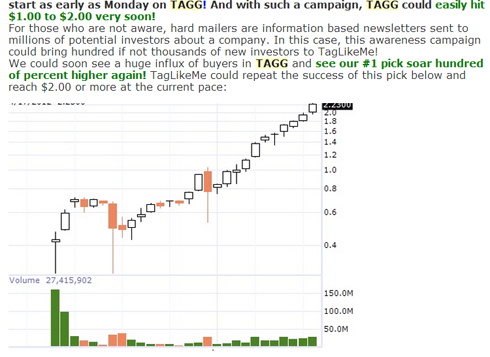 You see what they're trying to get away with?
The dropped the symbol TAGG three times in front of "this pick below".  What stock is that?  Who knows, the pumper blocked it out!  Shady tricksters…
Sure, the pumping has shot the stock higher, but it does look as if the wheels are falling off today.  Now, look at the REAL chart of TAGG below…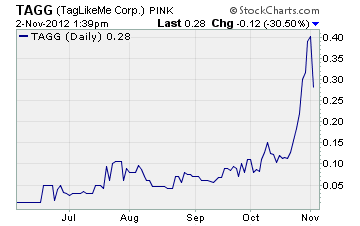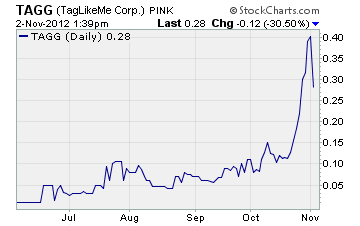 Oh yes, the stock is only down a mere 30% today! 
Listen, as of mid-October, the company had $0 revenue and lost $144,000 in their latest quarter.  What's more, they're sitting on $14.8 million in accumulated deficit from the failures of their Morgan Creek Energy Group debacle.
Clearly, this is just one more nightmare waiting to happen if you buy these shares.
Other Penny Stocks Being Pumped This Week
GTMM – The Penny Doctor received $2,000 directly from the company.
YLLC – Major Penny Stocks was paid $4,000 by Microcap Innovations, LLC
CUAU – Buzz Stocks picked up $5,000 from Galaxy, LLC
A final word (and warning).
These are just a few of the potential "pump and dumps" we've seen lately.
Remember, there's a lot more of this going on than we can highlight here.
As you know, penny stocks are a great place to invest your money.  You just have to do your due diligence to stay away from all the schemes and scams out there these days!
Until next time,
Brian Walker
Category: Pump & Dump Alerts