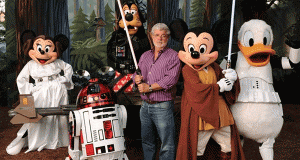 The financial headlines last week were dominated by news of Hurricane Sandy, and rightfully so.  It's not often natural disasters force the markets to close for two days straight.
However, despite Sandy and the market closure, one company managed to release groundbreaking news early in the week.
Disney (DIS) announced it would be buying Lucasfilm from George Lucas for approximately $4 billion ($2 billion in cash, $2 billion in DIS stock).  In other words, Star Wars is now a Disney brand.
What's more, DIS will be releasing three brand new Star Wars movies starting with Episode 7 in 2015.
Make no mistake, this is a huge deal.
Star Wars has a gigantic following.  It's been 30 years since the release of the first movie.  And these days, the brand has been expanded beyond the movies to merchandise, shows, books, toys, games, and much more.
According to an analyst from Needham & Co., Hasbro (HAS), the main producer of Star Wars toys, sells $140 million worth a year.  That's just the toys.  The movies themselves have generated roughly $4.5 billion in worldwide ticket sales.
It's no wonder DIS forked over so much cash for Lucasfilm.  Don't forget, DIS also shelled out a pile of cash for Pixar ($7 billion) and Marvel ($4 billion).
Cleary, Disney's management has the philosophy of adding creative content through acquisition.  And so far, it's worked wonderfully.
Two of this year's biggest box office hits came from Disney's acquisitions, Avengers and Brave.  Heck, Avengers alone is Disney's biggest ever hit in terms of ticket sales.  It led to a 24% jump in quarterly profit.
Here's the thing…
As big a brand as Star Wars is, no one markets a product like Disney.   I think when all is said and done, the Lucasfilm acquisition is going to be a huge win for the company.  The Avengers movie is a perfect example of what Disney is capable of doing with an already popular brand.
So, what do Disney and Star Wars have to do with small caps and penny stocks?
In a nutshell, the deal represents what can be gained by combining the strengths of different companies.  Star Wars is a great brand, but Disney is the ultimate marketing machine.  Together, they should be unstoppable.
Synergies like these are often found between small companies as well.  A small company may have a great product but have trouble marketing it.  Another company may have an amazing sales team but a weak product.  You get the picture.
Often times, combining companies with different strengths creates a better all around company. 
As such, good, small companies that seem to be lacking that one piece needed to reach the next level are often perfect acquisition targets.  More importantly, they may pay off in a big way for savvy investors who buy in to the company early.  And you don't even have to use the Force to guide you.
Yours in profits,
Gordon Lewis
Category: Investing in Penny Stocks