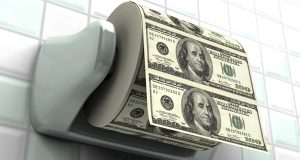 This week we're exposing these three popular Pump & Dumps:  Terra Tech (TRTC), Santo Mining (SANP), and Clean Wind Energy Towers (CWET).
That said, welcome to Pump and Dump Friday, where every week we identify a few of the potentially "bogus" promotions going on in penny stocks today.
If you don't know how these schemes work, be sure to check out this free report that exposes the whole thing.
Without further ado, here are today's "disasters waiting to happen":
Terra Tech (TRTC)
Terra Tech makes the front spot this week as a direct result of the pumper that's involved… Darth Trader.  (Luke, I am your father…)  If you read our Friday articles, you'd know this guy makes me laugh.
But seriously now, this pumper has pushed some really crappy penny stocks on us in the past.  And guess what?  This one's no different.  But the company here is quite shady, for sure.
Here's the company's own description…
"Terra Tech Corp specializes in controlled environment agricultural technologies. The company integrates best-of-breed hydroponic equipment with proprietary software and hardware to provide sustainable solutions for indoor agriculture enterprises and home practitioners."
Home practitioners… I love it.  We're growing hydroponic pot here!
And the stock itself is acting like its high.    You see, TRTC lost over $175,000 last quarter and $320,000 for the first six months of the year.
But of course, the pumper didn't tell you that.
I think the pumping isn't helping one bit.  I think maybe investors are trading this stock on the earnings reports.  Take a look at the chart below to see for yourself…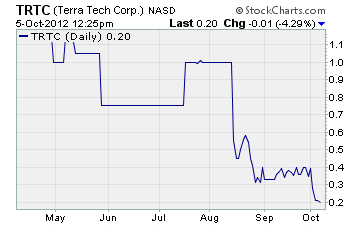 This stock hasn't seen even a blip due to the pumping and has sold off steadily since May.
Just imagine, if you owned shares since then and paid $1.10 – you're looking at an 80% plus loss right now!
Obviously we're taking a pass on TRTC, even if Darth Trader is trying to get you high with their fluffy review of the company.
Santo Mining (SANP)
Oh yes, the "mega-pumper" Penny Stock Wizard and their cohorts Stock Digest are back at it again.  This time they're pumping a junior gold miner – Santo Mining.
What… You don't remember Penny Stock Wizard's last fiasco? 
Let me refresh your memory.
It was back in April this year when we exposed the pump and dump being run on shares of SEFE.  Oh yes, SEFE… now you remember.  SEFE lost $500,000 in 2010 and over $1 million in 2011 – and had yet to produce a commercially available product.
Last time, Stock Digest was paid over $2 million to roll out a major campaign on SEFE.  And the stock did nothing but suffer after the run was over.  Take a look…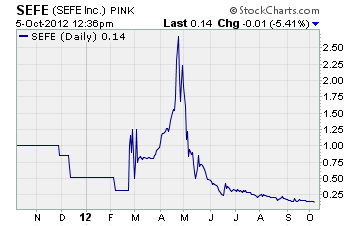 This stock chart looks like something I'd like to climb someday… not invest in.
Now, with Santo Mining, the pumpers are getting creative as all hell trying to get you to see "what the future holds" for the company.  Of course, they were paid $100,000 by Arundel Investments… who just happen to hold options for 2.7 million shares of SANP.
The thing is, I'm focused on the here and now… and it's not pretty.  For starters, the company has only posted earnings from April's quarter, or Q1.  And what they did post was a loss of $24,000 on $0 revenue.
Uh, fellas – we're in Q4 right now, and earnings from Q3 are on the way from all the real companies.
What gives?
Just as a side note, this is a type of tactic that's quite common in the middle of a pump and dump.  For some reason, it seems earnings reports somehow go missing or get delayed until the scheme runs its course.
Why you ask?
Well, if losses triple along the way, the most recent earnings reports can't help the stock price… and hurts the pumper's attempts to fluff it up.
Much like they did with SEFE, the pumpers are using higher price stocks to capture as much of the victims money as possible.  Shares are trading at $1.57 today.  But what you need to see is where this stock's been since inception.
Take a look below…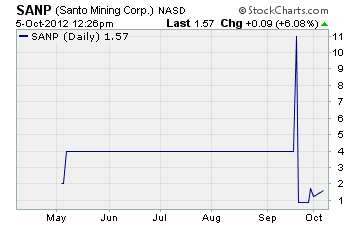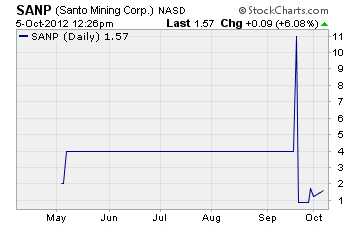 I don't know about you, but it would scare the hell out of me to put a dime in this stock for many reasons.  But the crazy price action is probably the first one.
Share prices, in under one month, have fluctuated from $11 to just $1! 
And…
The stock's only been publicly traded since May.  That's not much of a track record to go by.
The bottom line…
With Penny Stock Wizard and Stock Digest behind this, I wouldn't touch this stock with a 10 foot pole… and neither should you.  Given their last train wreck, I'd say your decision should be clear.
Clean Wind Energy Towers (CWET)
My regular readers know I'm all about the green movement.  My take is, if it can be done in a fashion that's more energy efficient, cleaner, and still be profitable… I'm 100% behind it.  And when I look at the technology Clean Wind is developing, I have to say it looks pretty amazing.
But that's where my love for CWET ends…
As much as I really don't want to give negative exposure to the company, I have to expose what's going on here – the pumping.
That's right, we've actually exposed this company twice in the past… on February 14th and again just over a week ago on September 27th.
Back in February, it was David Cohen cashing in for $70,000 to pump CWET.  And last month, they were at it again picking up another $110,000.  That brings their total compensation to tout Clean Wind to $180,000!
My primary goal is to protect the little investor, like many of you.  You're not walking around with hundreds of thousands of dollars in your pocket trying to pump up various stocks.  So I try to level the playing field with the pumpers for you.  And when I see the pumping continue on this penny stock, I'm happy to blow the whistle.
The sad thing is, the pumping hasn't helped one bit…
Take a look at the chart below to see the various times CWET was pumped, and how it has performed since then.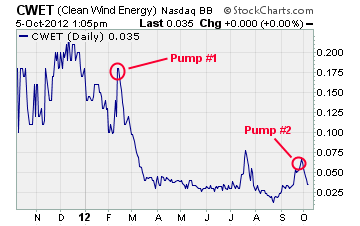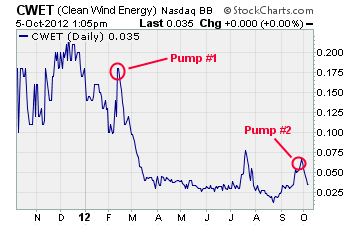 As you can see, each time the pumpers got to work… the stock simply fell apart.  My guess is, if I scan back into July, we'd see yet another campaign pumping this penny stock.
If investors were sucked into CWET back during February's pump and dump scheme, they'd be sitting on an 80% loss!  (That seems to be a common theme today…)
Next time you hit our site and see we're warning of a pump and dump scheme, simply stay away – no matter how cool the company's technology may seem.  The pumping is about stock price manipulation – not the future of the company.  Remember that!
A final word (and warning).
These are just a few of the potential "pump and dumps" we've seen lately.
Remember, there's a lot more of this going on than we can highlight here.
As you know, penny stocks are a great place to invest your money.  You just have to do your due diligence to stay away from all the schemes and scams out there these days!
Until next time,
Brian Walker
Category: Pump & Dump Alerts