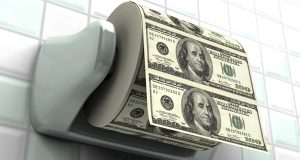 This week we're exposing these three popular Pump & Dumps: Cal-Bay International (CBYI), TeleFix Communications (TLFX), and Great Wall Builders (GWBU).
That said, welcome to Pump and Dump Friday, where every week we identify a few of the potentially "bogus" promotions going on in penny stocks today.
If you don't know how these schemes work, be sure to check out this free report that exposes the whole thing.
Without further ado, here are today's "disasters waiting to happen":
Cal-Bay International (CBYI)
My inbox was crammed with emails this week from Hot Stock Profits (HSP), Alpha Penny Stock, and Moving Pennies all touting CBYI.   All were paid for their efforts with HSP collecting $10,000.
In our weekly Pump And Dump reviews, we've brought you some "diverse" companies.  You know, a little bit of this, a little bit of that.  Most of the time it's companies grasping at straws for a way to make any money…
This time is no different!  Meet Cal-Bay, real estate development and green energy solutions developer.  Now there's a combo you don't see every day.  Their real estate division is putting together a network of realtors and brokers, as well as looking to find property to directly invest in.
Commercial?  Residential?  Who knows what they're focused on!
The "Green Division" is even more non-specific.  CBYI is "actively pursuing" waste liquids to energy, and recycling.  Boy… does that cover quite a bit.  And the entire company has all of three people, including 2 full-time employees. 
How exactly do you run two "divisions" with just three people?
It's easy when you had $2,434 in revenue for 2011!  Better still, CBYI has over $36 million in accumulated deficit on the books as of December 2011.  That tells me this company just keeps rolling over loss after loss into the company stock.
But losses from what?
Well this company has been around since 12/08/1998.  Check out how the company has been jumping from business to business since then –

I pulled this straight from their latest annual report.  And as you can see, we're looking at a company with a clear identity problem.  That's not something you should be investing in.
Need another reason to avoid shares of CBYI?
Well, the company stopped reporting to the SEC back in 2007.  And if Cal-Bay can't even afford to continue filling with the SEC, I'd hold out no hope for any real return on your investment!
TeleFix Communications (TLFX)
There's a parade of shabby pump and dump stocks this week… and TLFX is the next in line.
My favorite pumper, Darth Trader (I get such a kick out of that name), hauled in a sweet $80,000 for their touting services.  And what did they tell you about TeleFix?
Just the usual technical mumbo jumbo.
"This is a scorcher that has torn up the charts…even as the market was falling hard."
That's quite the imagination… and they used scorcher, torn, and hard all in the same sentence.  Wow…  is that even technical analysis?  Not in my book!
Now, much like our last stock, CBYI… TLFX hasn't filed anything with the SEC since 2003!  And that was to terminate their SEC registration.  Quality stuff here.
Before anyone jumps on me for this, we're exposing a pump and dump on a woman-owned company.  Now, let me just say… I'm all for women owning and running successful businesses. However, I just have this crazy thing about them actually being profitable…
For example, as of December 2011, TLFX amassed $0 revenue.  Better still, the company racked up $249,799 in operating losses for the year.   Net income tallied -$549,621… not what I'd call successful.
What's more, Telefix needs a cash fix themselves.  They're only holding a whopping $363 in cash!  That's enough to cover my electric bill for the month…
Needless to say, with all the red flags I found with TLFX, don't waste your greenbacks buying this stock!
Great Wall Builders (GWBU)
This almost puts a smile on my face.  Ok, ok… it does put a smile on my face.
Watching my arch nemesis fall flat on their face is rewarding.  Finally, it looks like the pumping power of the almighty and powerful Centro Azteca S.A. might be fading out.
What do I mean?
Well, we highlighted GWBU last week and told you the same group that successfully caused massive spikes in NSRS, SNPK, and ABOT were trying to do the same with GWBU.  I pointed out that unlike the aforementioned stocks, Great Wall Builders was already trading over $1.
Why does that matter?
Well, for starters, the potential sheep won't cough up the coin to trade a "mega-cap" penny stock like GWBU.  How can they buy 100,000 shares and get a triple if it's trading at a $1?  That would mean they'd have to have more than $1,000 in their day trading account.
That's not going to happen…
I think the pumpers are wasting their time on this stock.  They've made the chart look so scary already, it looks like the Great Wall itself!  Take a peek…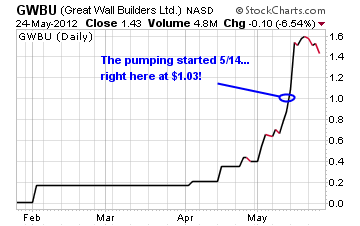 Sure, they popped the stock over 50% for all of what… a whole day or two?  I'd be willing to bet the potential sheep were too afraid of the huge downside to put up their cash.  I mean, the stock was trading at just $0.20 mere weeks ago.
If that's the case, the pumpers may fail on this one.  The bottom line, if they can't muster a better attack at these levels, look out below!
A final word (and warning).
These are just a few of the potential "pump and dumps" we've seen lately.
Remember, there's a lot more of this going on than we can highlight here.
As you know, penny stocks are a great place to invest your money.  You just have to do your due diligence to stay away from all the schemes and scams out there these days!
Until next time,
Brian Walker
Category: Pump & Dump Alerts