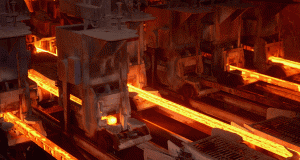 May has been a bloodbath for stocks.  In fact, the S&P is down by more than 100 points from the 52-week high set in early April.  While the broad market index is still up 4.8% in 2012, we're off by 6.5% from its highs.
That leaves a lot of new upside for stocks…
Of course, you'd have to believe the market is heading higher from here.  But after a 9% plus correction in May, technically we're in position to move higher.
Now, you may be reluctant to dive back into the market with all the fear over Europe still lingering.  But shopping for stocks in beat down sectors while volatility is high can be a great way to position your portfolio for big returns.
With that in mind, there's one sector that's deep in the red this year.
Right now, the basic material sector is the far and away worst performer.
Check out the ugly numbers –
1 Month – (10.6%)
3 Months – (16.4%)
1 Year – (17.8%)
With the overall stock market in the black this year, it's fairly obviously this sector is out of favor.  Buying into a sector so beaten up isn't always a prudent decision.  But in this case, it makes perfect sense.
Think about it… in the basic materials group, we're looking at the raw materials the world uses to make pretty much everything.  It's not like everyone will stop using chemicals, agricultural products, oil, gas, or iron any time soon.
The bottom line…
No matter how fast or slow the economy is growing at any given point in time, basic materials will always be in demand. 
So how do we play the basic materials sector using penny stocks?
I'll get back to that in a minute.  First, let's look at one large cap stock standing out right now that's been virtually decimated for almost no other reason than volatility, short selling, and fear.
That company is Cliffs Natural Resources (CLF).  Take a look at the chart to see how roughly Cliffs is being treated by traders…
It's been a pretty rough ride for holders of CLF shares… obviously.  However, the good news is CLF has re-tested lows set in October of last year and held.  What's more, the company is absurdly cheap by virtually any valuation standard.
Take for example Cliffs P/E ratio – it's at an insanely low 4.4x.  Even the forward price to earnings ratio is just 4.6x.
So what does CLF have to do with penny stocks?
Cliffs is a leader in the steel and iron industry.  If we see CLF move higher, usually stocks in the same industry will follow suit.  However, if you're not ready to cough up $50 a share for CLF… start looking at penny stocks in this industry.
As always, make sure to look for earnings and a good valuation before pulling the trigger and buying just any old steel penny stock.
There are a bunch of great names out there that should follow behind Cliff's coming move higher… just make sure they're worth the investment.
Editor's Note:  If you aren't sure how to pick winning penny stocks, let Gordon Lewis show you how to put together a rock solid portfolio of penny stocks.  Discover his secret to picking winning penny stocks…
Until next time,
Brian Walker
Category: Investing in Penny Stocks, Penny Stock Tips