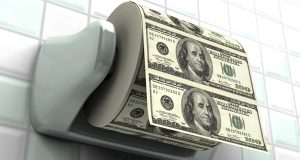 This week we're exposing these three popular Pump & Dumps: Barfresh Foods Group (BRFH), Great Wall Builders (GWBU), and Eyes On The Go (AXCG).
That said, welcome to Pump and Dump Friday, where every week we identify a few of the potentially "bogus" promotions going on in penny stocks today.
If you don't know how these schemes work, be sure to check out this free report that exposes the whole thing.
Without further ado, here are today's "disasters waiting to happen":
Barfresh Foods (BRFH)
With a company like Barfresh Foods Group, you never know what you're going to get.  In fact, if you've bought stock in this company in the past few months… you'd be wondering the same thing.  "What the hell did I buy?"
You see, BRFH wasn't always Barfresh… no sir.  Back in 2011, this company was known as Moving Box, Inc.  The original business of Moving Box was to acquire scripts for movie opportunities.   And their first unpublished script they bought was "A Box for Rob". 
You know that smash hit… right?
Well, apparently things didn't turn out to well for Moving Box, so the company decided to change their business and became Smoothie Holding, Inc.  This was on February 13th of this year…
But that wasn't enough change for the management team.  So three days later, Smoothie Holdings filed to become Barfresh Foods Group… as you know them now!
But the pumpers won't tell you any of that, will they?  Nope.  For their $30,000, Penny Stock Pros only tried to hype up the "trading gains" to be had on BRFH.
The pumpers would never tell you the company lost $78,000 in the last nine months of 2011.  That's what I'm here to do.
Clearly, you can save your trading capital for much better opportunities.  For starters, try buying companies who know what business they want to be in and aren't being pumped.  That means avoiding BRFH!
Great Wall Builders (GWBU)
The mega stock touting group that brought us names like NSRS and SNPK are back with a new stock – GWBU.  Now, Great Wall Builders is a much different stock these pumpers usually tout… it's already trading over the $1 level!
For GWBU, the pumpers have yet again changed around ownership of the penny stock sites.  Just last month, Bright Tech Media Group owned some of these sites, and Centro Azteca S.A. owned the rest.  Now it appears that Centro Azteca S.A. owns all of the pumping websites.
In any case, their take to hype shares of GWBU ranges from €15,000 to $100,000 each.  And with at least 13 websites promoting this stock, that adds up to a lot of coin!
So what's the hype with GWBU all about?
Umm, nothing really.  The pumpers have even stooped low enough to refer to their past pumping jobs.  Check out this section of an email from Explicit Penny Pics on Wednesday…


Seriously?
Let me point out NSRS is now trading at just $0.03.  It was near $0.20 when they first started pumping that stock.  Nice work guys.
And SNPK?  It's down near $0.12 now.  Yet another great piece of work.
Also, you can tell these guys are illiterate hacks… if you actually read the first sentence above, it say "these time of plays".  Ha!  Learn how to write fellas…  I guess those third world interns aren't working out too well, are they?
So what about the company?
It gets ugly here.
As of December 2011, Great Wall Builders had $0 cash and an accumulated deficit of over $126,000.  I don't know how many "Great Walls" you can build with $0 cash!
What's really scary here is, this time… the sheep can get stuck losing big.  With NSRS and SNPK, many investors bought in when the stock was under a buck.  But with shares of GWBU trading near $1.73 right now, there's a lot more to lose!
I wouldn't try to gamble on this penny stock pump and dump… and neither should you!
Eyes On The Go (AXCG)
Our final pump and dump today certainly has a strange stock symbol given the company name.  I'd love to ask how they got AXCG out of Eyes On The Go?
Anyway…
Let me just start by saying, Epic Stock Picks has been caught pumping both AXCG and our first stock, Barfresh Foods Group.  They hauled in $25,000 for touting Eyes On The Go.  Better still, another pumper, The Stock Psycho, pulled down over $80,000 to also pump these shares.
Clearly someone wants to see AXCG get a pop.
I would too if I already owned shares, because investors won't be knocking down their door to buy into this company.  That's because in 2011, AXCG posted a $447,947 loss.  What's more, the company has over $500,000 in current liabilities and just $52,301 in cash on hand.
If revenues were growing strong, I could see looking past a loss.  But they're not.  Last year, AXCG did $4,048 in sales… but it cost them $7,705!  They're just better off not even doing business at this point.
With a number of pumpers touting shares of this company and poor financials… save your cash for shares of something better – like Facebook (FB)!
A final word (and warning).
These are just a few of the potential "pump and dumps" we've seen lately.
Remember, there's a lot more of this going on than we can highlight here.
As you know, penny stocks are a great place to invest your money.  You just have to do your due diligence to stay away from all the schemes and scams out there these days!
Until next time,
Brian Walker
Category: Pump & Dump Alerts