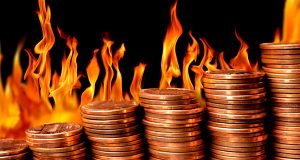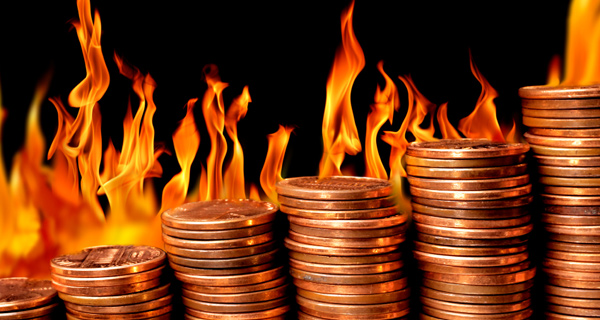 It's an exciting time for penny stocks, especially hot penny stocks like Spherix (SPEX), India Globalization Capital (IGC), and Advanced Photonix (API)…
Spherix (NASDAQ: SPEX)
SPEX is making a move!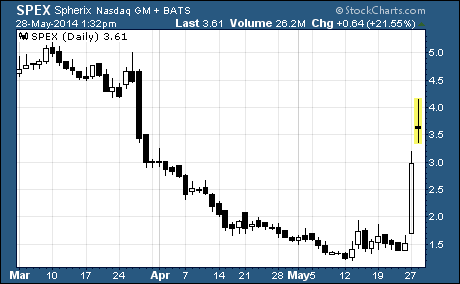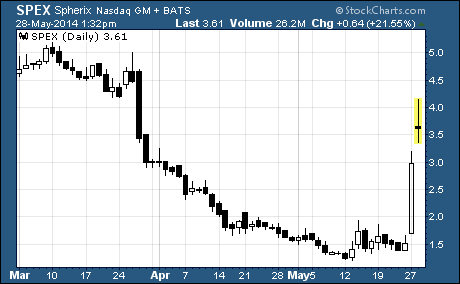 The stock has surged from $1.51 a share last Tuesday to a price of $3.61 as I write. That's a stunning one-week gain of 139%! And the breakout has been accompanied by a significant rise in trading volume.
Why's SPEX taking off?
The stock's getting a huge boost from recent activity on Capitol Hill. Yesterday, the Senate Judiciary Committee removed a patent reform bill from its calendar. And its demise is expected to remove a cloud of uncertainty that has been hanging over Spherix and the entire industry.
The bill was designed to cut down on frivolous lawsuits brought by "patent trolls" – companies that acquire patents with the sole purpose of filing patent enforcement actions.
Spherix is an intellectual property company that owns approximately 330 patents and patent applications on wireless communications, telecom, artificial sweetener, and prescription refill technologies. The company seeks to monetize its undervalued intellectual property assets through partnerships, licensing, and enforcement.
Despite the stock's major two-day jump, it may still have a ton of upside potential remaining. Before the patent reform bill was introduced in late January 2014, SPEX was trading for around $8.50 per share. And in August 2013, the stock hit a 52-week high of $27.86.
India Globalization Capital (NYSE: IGC)
This Bethesda, Maryland-based company is engaged in the beneficiation, trading, and rental industries in the US, China, and India. While the company plans to create cash flow from existing assets in the near-term, its medium-term plan is to expand its asset base through opportunistic acquisitions.
Speaking of acquisitions…
IGC announced today that it will acquire Golden Gate, a trading company out of Hong Kong. Golden Gate was profitable in fiscal year 2014 with unaudited revenue of approximately $10 million.
The deal is expected to close in the current quarter once satisfactory due diligence is complete and board approval is provided. What's more, the acquisition is expected to be immediately accretive to earnings.
CEO Ram Mukunda had this to say about Golden Gate and the combined company's future…
"With their expertise and India potentially opening up again with the election of a new pro business Prime Minister, we have a potential opportunity to drive growth both in revenue and in earnings…. We continue to make steady progress developing our business in the legal cannabis and solar energy areas and expect to announce developments soon."
As you might imagine, IGC is soaring on the news…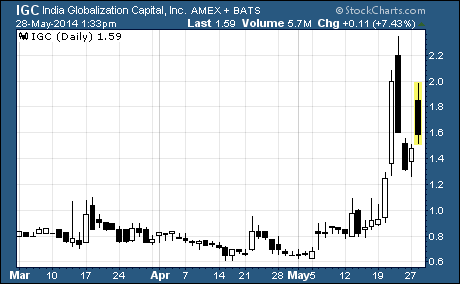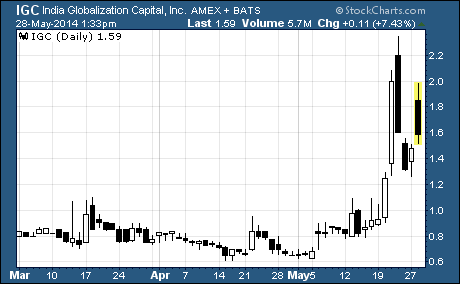 The above chart shows the stock has skyrocketed from just 93 cents on May 19th to a current price of $1.59. And thanks to this monster gain, IGC shareholders have seen their investment increase by 71% in little over a week.
It's hard to say just how much higher the shares can go from here. But at the current price level, IGC appears to be undervalued as it's trading for less than book value per share of $1.72.
Advanced Photonix (NYSE: API)
API is rising rapidly in a steep new uptrend…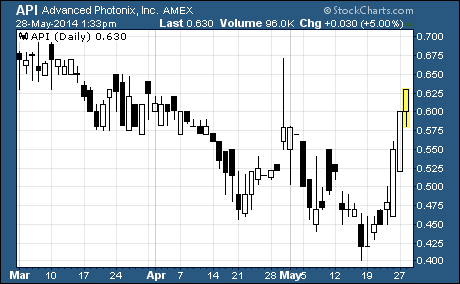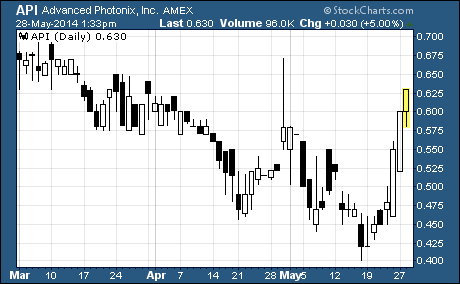 As you can see, the stock has traded up from a low of 40 cents hit on May 16th to a current price of 63 cents per share. That's a robust gain of 58% in less than two weeks' time.
What's going on?
API's moving higher following the recent announcement of several new orders for the company's latest products. Over the past two weeks, Advanced Photonix has received orders for nearly $2 million worth of T-Gauge sensors and CR-100D high-speed optical receivers.
These orders are significant considering the company posted revenues of just under $7.5 million in the most recent quarter. What's more, the orders show that demand for the company's newest products are accelerating.
With that said, you may want to wait for a pullback before establishing a position in API.
The stock's quickly closing in on the analyst's 12-month price target of 75 cents per share. And at a price of 63 cents, API is trading for a hefty 18.8x the company's projected earnings of 4 cents for fiscal year 2015.
Profitably Yours,
Robert Morris
Category: Hot Penny Stocks