Pot Stocks For You To Look At…
Every so often you find a super hot industry that's attracting investors like no other… And right now, the Pot Industry is taking the market by storm.
It all started about 15 months ago when Colorado led the nation by decriminalizing the use of Pot for recreational purposes.
Medical Marijuana became legal.
Recreational Marijuana became legal…
And Cannabis sales went through the roof.  Last I heard, the state reported $50 million in tax revenue from Pot sales alone!
Before you start seeing a gold rush, realize it's still illegal on the federal level.  And the Feds can put you away for holding, using, transporting, or selling the stuff.  For now, they're looking the other way.
Yet the legalization movement is picking up steam…
Trends In Pot Stocks
The legalization movement has created a lot of interest from investors.  They can smell a growing industry a mile away… and the profits can be huge!
So it seems like barely a day goes by that I'm not asked for my favorite Pot Penny Stock.
To be honest, I don't have one.
The hype last year drove investors to bid up stock prices through the roof.  And that's never a good thing.  So, I decided to bide my time and see what the market shook out.
Just look at this pot stock chart and you'll see the craziness…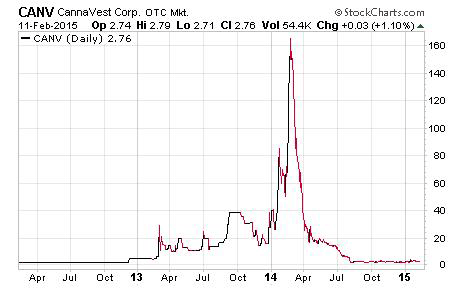 For a time, the biggest shareholder was a billionaire… but not for long.  As you can see, the hype in the industry got a little crazy.
But now the industry is starting to mature… and while Pot sales are still a risky business, it's becoming a more legitimate industry.
There are lots of public companies out there… and while I still think we're too early to pick a winner… but no harm in starting to look around… Right!?!
So, I took a few days and put together a quick list of a number of pot stocks for you to be aware of.
Your List Of Pot Stocks
Let me be very clear here…
I'm not saying to rush out and buy these pot stocks… if you do your research and start watching them, you might pick a winner… or you might lose it all.
Go into this with your eyes wide open.
So here's your list of 54 pot stocks to look at (In alphabetical Order)… these are pot stocks to watch:
22nd Century Group (XXII)
Abattis Bioceuticals (ATTBF)
Advanced Cannabis Solutions (CANN)
Affinor Growers (RSSFF)
Agritek Holdings (AGTK)
American Cannabis (AMMJ)
American Green (ERBB)
Bedrocan Cannabis (BNRDF)
Cannabis Sativa (CBDS)
Cannabis Science (CBIS)
Cannabis-Rx (CANA)
CannaGrow Holdings (CGRW)
CannaVest (CANV)
Chuma Holdings (CHUM)
Dewmar International BMC (DEWM)
Easton Pharmaceuticals (EAPH)
ENDEXX (EDXC)
Enertopia  (ENRT)
FutureWorld (FWDG)
Green Cures & Botanical Distribution (GRCU)
GreenGro Technologies (GRNH)
Growblox Sciences (GBLX)
Growlife (PHOT)
GW Pharmaceuticals (GWPH )
Hemp (HEMP)
IMD Companies (ICBU)
Indie Growers Association (UPOT)
InMed Pharmaceuticals (IMLFF)
Integrated Cannabis Solutions (IGPK)
International Consolidated Companies (INCC)
Lexaria (LXRP)
Latteno Food Corp. (LATF)
Medical Marijuana (MJNA)
Mentor Capital (MNTR)
MJ Holdings (MJNE)
Monarch America (CANK)
Mountain High Acquisitions (MYHI)
Novus Acquisition & Development (NDEV)
OXIS International (OXIS)
Players Network (PNTV)
Primco Management (PMCM)
QED Connect (QEDN)
Sipp Industries (SIPC)
Stevia (STEV)
Supreme Pharmaceuticals (SPRWF)
Surna (SRNA)
Tauriga Sciences (TAUG)
Terra Tech (TRTC)
The MaryJane Group (MJMJ)
Totally Hemp Crazy (THCZ)
Tweed Marijuana (TWMJF)
United Cannabis Corporation (CNAB)
United Treatment Centers (UTRM)
Zoned Properties (ZDPY)
So that's the list… Did I miss something?
If I missed a company, shoot me an email, or leave a comment on the website below.
[a few more from readers]
Water Technologies International, Inc. (WTII)
54 Pot Stock Ideas… What's the Best Pot Stock Now?
So I know what you're thinking… which of the list above is the Best Pot Stock?
I have no idea… (But I will soon!)
I'll tell you this much… just the limited research I did to add a name to the list uncovered a bunch of red flags.  Some of these companies have been labeled with the skull and crossbones by the OTCmarkets group.
Others had junky websites… still others had no revenue or earnings… Some were nothing more than a press release (no real business… just an idea)!
Needless to say, there's lots of research to do on these Pot Stock companies before you want to put a single dollar to work.
In the coming months, I'll do some analysis and share my thoughts with you!
Good trading…
Brian Kent
Note:  Brian Kent has been trading the markets for more than 2 decades and now writes and edits for PennyStockResearch.com.  You can sign up for the penny stock research newsletter a trusted source for the truth about penny stocks! Sign up today and get a free research report – http://pennystockresearch.com/free-reports/.
Link the last phrase to:
Category: Penny Stock List