How He Exposed An Energy Penny Stock Scam
You know how much we love to beat up on the bad guys here at Penny Stock Research…
We're always working hard to expose the scum and lowlifes in the penny stock pump and dump industry.  We work hard to warn you of stocks that could cost you thousands…
So, we love it when other writers and bloggers jump on the bandwagon and help out.
My good friend Justin exposed a promoter, and caught them red handed in the act!
How'd he do it?
He looked at the financials!
How To Expose An Energy Penny Stock Scam
In his first article, he asked is this an Oil Stock To Buy?
The promoter put out glowing news on the company.
Justin dug into the numbers and made a startling revelation…
The company reported revenues of just $1,000… for the quarter… and had less than $12,000 in total assets!
Not a good start for a company looking for investors.
I don't want to steal his thunder… but he found so many red flags.  Anyway, read Justin's article for his detailed analysis… Needless to say, his conclusion was to AVOID this stock at all costs…
What happened next?
Following An Energy Penny Stock Scam
After releasing his scathing article… Justin continued to monitor the situation… and a few days ago he put out his update on Falcon Ridge Oil Technologies (FROT).
In it, he showed the collapse of the stock.
I updated the chart for today… Take a look!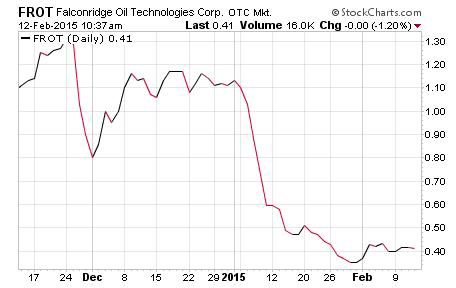 Justin saved investors tens of thousands… if not hundreds of thousands of dollars.
He exposed this Pump and Dump for what it's worth.
Read his follow-up article here…
http://www.commoditytradingresearch.com/cheap-stocks-recognize-energy-stock-scam
It's a great recap on what he witnessed, and his notes on how he knew it was a penny stock scam!
Did you own this stock?  Do you know someone who did?  If so, tell us about it… Shoot us an email or comment on the website below.
Good trading…
Brian Kent
Note:  Brian Kent has been trading the markets for more than 2 decades and now writes and edits for PennyStockResearch.com.  You can sign up for the penny stock research newsletter a trusted source for the truth about penny stocks! Sign up today and get a free research report – http://pennystockresearch.com/free-reports/.
Category: Pump & Dump Alerts