Elray Gaming In The Midst Of A Penny Stock Pump And Dump
WARNING – There's another Penny Stocks pump and dump in the works and this one is dangerous.
I logged into my secret email account and found a message from a promoter I thought died off.
He was back up to his old tricks… and this time he wasn't holding anything back.
His target is Elray Gaming… a penny stock traded on pink sheet markets.
Why is this stock so dangerous?
Because it looks like the management team is really working to turn the business around… but the promises in the hype email don't live up to the reality of the situation…
Let me explain…
Crazy Claims By a Pump and Dumper!
Our scam artist starts by highlighting a recent press release put out by the company on their recent financial performance. Nothing wrong with that.
They note revenues are up and the future looks bright for the company… True… Kind of…
Management calls December a "record month"… and says when comparing Q3 and Q4, "revenues were up considerably."
This is great news… except…
Where's the support?
I looked at the press release… there were no financial numbers attached. So, what does a growing revenue number look like? Are they up 100 bucks over last quarter – or 100%?
I went to the website… no information… I went to the SEC.gov filings… nothing filed to support their claims.
This is getting fishy.
Our promoter goes on to highlight a recent acquisition, how revenues are growing. He highlights how the company is in the "extremely lucrative online gaming space". His words… not mine.
He even goes on and on about how online gaming is being legalized state by state and internet use is growing.
But there's a few things he forgot to mention…
What Our Penny Stock Pump And Dump Left Out
Since I was on the SEC website anyway, I pulled up their latest filing from November – it had the financials for the quarter ending September 2014.
What I read made me choke on my coffee.
On the very first page… the issuer had 1,335,890,027 shares of common stock issued and outstanding. Holy Cow!
1.3 billion shares? 
Look, share counts like this are a dead giveaway that either management and the board is clueless… or they're playing games with the stock (neither is good).
Consider this…
MGM Resorts International (MGM) – you know, the huge casino operator in Las Vegas… the one that does $2.4 billion in sales a quarter… Yea those guys… they only have 491 million shares outstanding…
Does that prove my point – Of course it does!
Want to see what having 1.3 billion shares and a tiny business does to a stock? Just look at this chart.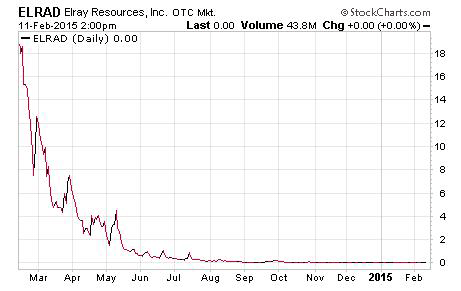 Now you'll notice something strange on the chart… the company name is Elray Resources… not Elray Gaming. Did I get the wrong company?
So I dug a bit more… and discovered something funny… this company was originally called Elray Resources… they were founded to own and operate a "90 square kilometer gold and copper claim located in Cambodia".
Yep, they were a mining company… in Cambodia.
It's a long way from gold mining to online gambling… and if that's not a blazing red flag, I don't know what is.
ANYWAY, back to our Pump and Dump Scam.
I turned to page 2 of their quarterly filings… and kept reading.
The Company reports assets of $2.9 million – not bad… EXCEPT… $2.6 million of the assets are intangible!
Cash, Accounts Receivable, and Prepaid expenses total… just over $257,000… Ugh.
Elray also shows $11.3 million in liabilities… $1 million in accounts payable, $2.4 million in a settlement payable, and a few million more in Convertible notes and Derivative liabilities…
This is getting crazy… the company has (maybe) $2.6 million in assets and owes $11.3 million in debt. That's a problem.
So let's keep digging – we don't need to, but this is fun.
Revenue in the September quarter was $67,318… and they had expenses of just over $778,000.
So not only is the company deeply in debt… they are also losing gobs of money!
Of course this means the company gets… yep, there it is… on page 7 of their quarterly report a "Going Concern" notice. This is what the accountants are required to put into the filings when the company might not survive!
So they have no money… how do they pay people?
Here it is on page 17… they are issuing stock in exchange for services… in October 2014, they issues 66 million shares!
This is ugly.
What Our Scammer Gets For This Penny Stock Pump And Dump
So the signs are clear that while the company is finally generating revenue, they have a very long road ahead of them before making any real money…
So why does the email scammer do it?
From their own email… 
"…. has been compensated up to six thousand usd for investor awareness of elray and we own no shares in the profiled company. It is to be assumed that one or more third parties as well as current shareholders may have shares and may choose to liquidate them at or about the same time these services are performed, which may negatively affect the stock price. This compensation constitutes a conflict of interest as to our ability to remain objective in our communication regarding the profiled companies."
There you have it… they got paid $6,000 to hype the stock… and they admit the payment is a conflict of interest.
If you're considering buying ELRAD – Please Don't!
Good trading…
Brian Kent
Note: Brian Kent has been trading the markets for more than 2 decades and now writes and edits for PennyStockResearch.com. You can sign up for the penny stock research newsletter a trusted source for the truth about penny stocks! Sign up today and get a free research report – http://pennystockresearch.com/free-reports/.
Category: Pump & Dump Alerts