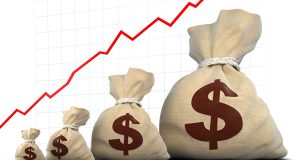 Here we go.  It's the start of a new year and a fresh beginning for the markets… and your portfolio.
So what should we be looking for in 2012?  What are the major trends going to be?  And most importantly, how will they impact penny stocks?
Of course, there are countless moving parts in the market.  And predicting the future is never a sure thing.  However, I've pinpointed three major trends that will have significant impact on penny stocks in 2012.
Let's take a look at these three trends now…
Macroeconomic Data Is Key
These days, macroeconomic events are more important than ever.  Markets are moving daily on headlines about European and US debt, central bank policies, unemployment figures, housing data, and much more.
That trend will continue in 2012.
Macroeconomic news often determines how much risk investors are willing to take in the markets.  And the more risk investors are comfortable taking, the more they buy penny stocks.  Keep in mind, penny stocks are often considered risky.
No question about it, major macro headlines will be a key factor in how penny stocks will fare in 2012.
Commodities Are On The Rise
2011 was an off year for commodities.  The iPath Dow Jones-UBS Commodity Index ETN (DJP) declined over 13% in 2011.  Needless to say, commodities were one of the worst performing asset classes for the year.
But 2012 could be a rebound year for commodities.
Crude oil is already off and running to start the year, and it's leading the energy complex higher.  Moreover, agricultural commodities are off to a great start.
Several penny stock companies are involved with or directly impacted by commodities.  It's especially true for oil… there are lots of small exploration and production companies trading at penny stock levels.
I expect a rise in commodities to give a boost to penny stocks in the months ahead.
2012 promises to be a big year for the tech sector.
Mobile devices like smartphones and tablet PCs are wildly popular.  Growing industries like cloud computing and social media are taking the markets by storm.  And big name IPOs are on tap in the coming months.
And don't forget, 2012 is the year of the Facebook IPO.  It's on track to be the biggest tech IPO of all time.
Here's the thing…
With so much buzz around tech stocks this year, the sector is going to attract big investment dollars.  And there are plenty of tech penny stocks to choose from.
Bottom line…
Macroeconomic data, commodities, and technology are three important reasons why penny stocks could be big movers in 2012.   One thing's for sure, I'll be keeping a close eye on these trends in the weeks and months ahead.
Yours in profit,
Gordon Lewis
Category: Investing in Penny Stocks, Penny Stock Tips