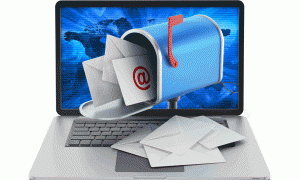 Investing in penny stocks can be a great way to make gobs of money in the market.  But it isn't an easy thing to do.  There are thousands of penny stocks out there to choose from. 
And separating the legitimate penny stocks from the growing number of penny stock scams is tedious, painstaking work.
The good news is… we're here to help.
Every Friday we publish a "Pump And Dump Alert" which identifies penny stocks that are being pumped by penny stock promoters.  Our goal is to expose potentially "bogus" promotions happening in the penny stock universe.
By bringing these to light, we help our readers avoid getting taken out to the woodshed.
Now, since we started publishing the Pump And Dump Alert three years ago, it has become a huge hit with our readers.  In fact, our readers email us almost every day to ask for our opinions on various penny stocks. 
Unfortunately, we just don't have the resources to personally respond to every email. 
As a result, we're going to start answering reader questions here.  So if there's a penny stock you'd like our opinion on, just shoot us an email at customerservice@pennystockpublishing.com. 
Also, we'd appreciate any feedback you can give us about Penny Stock Research.  Let us know what you really think about the site and the content we provide.  And if you've made money or avoided losses based on our research, analysis, or recommendations, we'd love to hear those stories too.  
One penny stock that we've received a lot of questions about is Makism 3D (OTCQB: MDDD).  A number of readers are excited about the company as it plans to launch its lineup of 3D printers early next year. 
Let's take a closer look at it now…
I didn't have to do hardly any research to find out that MDDD is a penny stock to avoid.  I'll explain why in a moment. 
But first, a word of warning. 
If you were thinking about buying this stock, I strongly suggest you look at other options.  And if you own the shares, I highly recommend that you sell them as soon as the stock reopens for trading (if it reopens).
Here's why…
I attempted to pull up a quote of MDDD on OTCMarkets.com like I usually do when I begin researching a penny stock. But instead of a quote, I was greeted with the following message:
"OTCMarkets Group Inc…. has discontinued the display of quotes on www.otcmarkets.com for this security because it has been labeled Caveat Emptor (Buyer Beware)…"
For those of you unfamiliar with this website, OTC Markets attempts to protect investors by labeling certain stocks with a "Caveat Emptor" designation (complete with skull and crossbones symbol).  The site assigns the label when it has reason to believe investors should "exercise additional care and perform thorough due diligence in making investment decisions for a particular security."
In addition, OTC Markets includes an explanation for the Caveat Emptor designation.  Here's the one given for the labeling of MDDD with the skull and crossbones…
"Buyer Beware.  There is a public interest concern associated with the company, which may include a spam campaign, questionable stock promotion, known investigation of fraudulent activity committed by the company or insiders, regulatory suspensions, or disruptive corporate actions." 
For me, this would end my research into the company.  I'm not about to take a chance on a stock that OTC Markets won't even provide a quote for.
But with so many readers interested in this stock, let's dig a little deeper into the company. 
Makism 3D is indeed the subject of an ongoing promotional campaign.  At least 10 different newsletters have been paid over $170,000 to hype the stock since November.  And according to one promoter, the paying party's disclosed promotion budget is a whopping $3 million!
No question about it, this is one huge pump campaign.
And it certainly got off to a good start…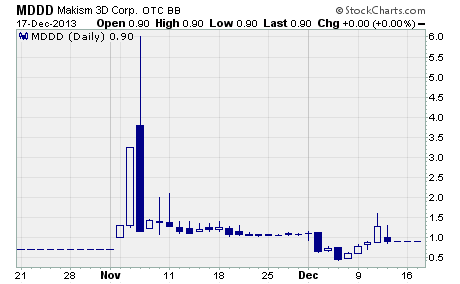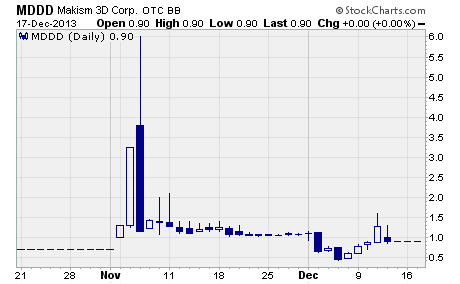 As you can see, MDDD soared from $0.70 to a high of $6.00 in just the first three days of trading as a public company.  That move was good for a gain of 757%!
But the euphoria didn't last long.
After hitting that sensational high, the stock plunged to a low of $1.16 and closed there for the day.  Anyone buying at the top and holding through the close found themselves with a massive one-day loss of 80%.
What's really interesting is that the stock plunged again when the promotional emails flooded inboxes in early December.  MDDD dropped from $1.10 to $0.44 for a three day loss of 60%.
Now the stock did recover over the next few days, but it was drifting lower again just before it was halted.  MDDD had declined from a high of $1.60 on December 11th to its last quoted price of $0.90 per share.
That's a 44% drop in just two trading days.
It certainly looks like there are shareholders out there ready to dump their stock anytime MDDD starts to move higher.
If you're still not convinced MDDD is a penny stock to avoid, you should take a close look at their numbers.
According to the most recent quarterly report, the company has generated zero revenue, has total assets of just $320, and has a shareholder deficit of $45,139.  That compares to total liabilities of $45,459 and a net loss since inception of $96,389.
Moreover, it's hard to believe the company has developed a line of 3D printers with a total investment of less than $100,000.
Bottom line…
There are several red flags surrounding Makism 3D and its stock.  As such, I urge you to avoid buying MDDD if it reopens for trading.  And if you already own the stock, you should unload it at your earliest opportunity.     
Profitably Yours,
Robert Morris
Category: Penny Stock Tips, Pump & Dump Alerts