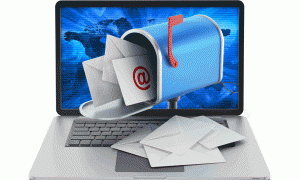 On Friday we publish the extremely popular Pump And Dump Alert, which identifies penny stocks that are being pumped by penny stock promoters.  Our goal is to expose potentially "bogus" promotions happening in the penny stock universe.
By bringing these to light, we help our readers avoid getting taken out to the woodshed.
Now, since we started publishing the Pump And Dump Alert nearly four years ago, it has become a huge hit with our readers.  In fact, we receive email almost every day asking for our opinions on various penny stocks. 
Unfortunately, we just don't have the resources to personally respond to every email. 
To remedy this problem, we frequently publish the Penny Stock Research Mailbag to answer readers' questions about penny stocks.  So, if there's a penny stock you'd like our opinion on, just shoot us an email at customerservice@pennystockpublishing.com. 

Also, we'd appreciate any feedback you can give us about Penny Stock Research and my investment advisory, Penny Stock All-Stars. 

Let us know what you really think about the websites and the content we provide.  And if you've made money or avoided losses based on our research, analysis, or recommendations, we'd love to hear those stories too.

By the way, those of you who provide feedback and/or testimonials about Penny Stock Research or Penny Stock All-Stars will be more likely to have your questions answered here!
 

A Penny Stock Readers Are Asking About
Penny Stock Research subscriber, Alfred M., recently inquired about electronic cigarette maker, American Heritage International (OTCQB: AHII).  Here's what he wrote…
I am wondering about AHII now – a new E-Cig company. What can you tell me about that one? I have been reading and appreciating your messages for some time now and have acted on quite a number of your suggestions, about which I will say more in the future. Thank you. You seem to be one of a very few who are on the level.

-Alfred M. 
Thanks for the kind words Alfred.  We work hard to provide our readers with independent, unbiased penny stock analysis.  And we do our best to expose penny stocks that are being promoted through potential pump and dump schemes.
We're glad to hear you're having success following our suggestions. 
Now, let's take a closer look at AHII…
In August 2013, American Heritage International changed its name from Cumberland Hills Ltd. and abandoned its paper products business.  At the same time, the company purchased intellectual property related to the electronic cigarette business from American Heritage LLC.
Thus began the company's effort to participate in the booming e-cig business.
American Heritage currently offers four different kinds of disposable electronic cigarettes.  These products are purchased from a Chinese manufacturer and then sold in the US through grocery stores, convenience stores, wagon jobbers, warehouse clubs, and the company's website. 
American Heritage does not currently manufacture any of its products.
A quick review of the 2013 annual report shows the company is still in its infancy.  It hasn't generated any meaningful revenue since its inception in January 2010.  And after producing a net loss of $168,761 in 2013, the company has now racked up over $300,000 in losses during the development stage.
What's more, the company desperately needs a cash infusion.  As of December 31st, American Heritage had just $15,746 in cash and total current assets of $48,966.  That compares to total current liabilities of $123,271.    
While the company plans to grow quickly, it faces stiff competition from larger, more established e-cig companies.  And with big tobacco companies now moving into the business, it will be even more difficult to grab meaningful market share.   
But perhaps the most concerning point is that many industry observers believe the FDA will soon begin regulating e-cigs like tobacco products.  According to a recent Reuters article, the FDA is expected to release new rules this year that would, among other things…
Ban internet sales of e-cigs! 
Banning or even restricting online sales of e-cigs would be a huge blow to the smaller e-cig companies like American Heritage.
Another concern I have with AHII is that it's currently the subject of a penny stock promotion campaign.  My sources indicate that several well known promoters are hyping the stock through a campaign with a $25,000 budget.
This probably explains why the stock plunged more than 65% over four days in late March.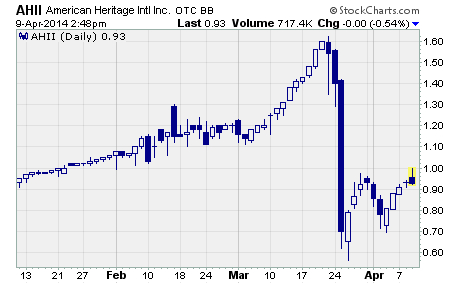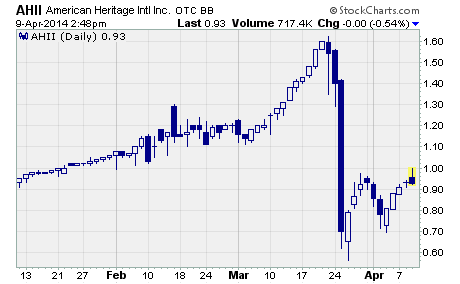 Now, the shares have rebounded off the recent low to nearly $1.00 per share.  But I'd still be wary of buying AHII right now.  With the promotion campaign ongoing, the stock is sure to exhibit heavy volatility in the near-term.
If you're looking to play the e-cig trend, I'd suggest doing some research on Vapor Corp. (OTCQB: VPCO).  This small-cap company is in stronger financial shape than American Heritage.  And analysts are projecting rapid revenue and earnings growth over the next two years.
While VPCO may not be a "true" penny stock, its market cap of $112 million is just slightly larger than AHII's market cap of $97 million.
Profitably Yours,
Robert Morris
Category: Penny Stock Tips, Pump & Dump Alerts