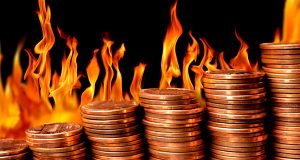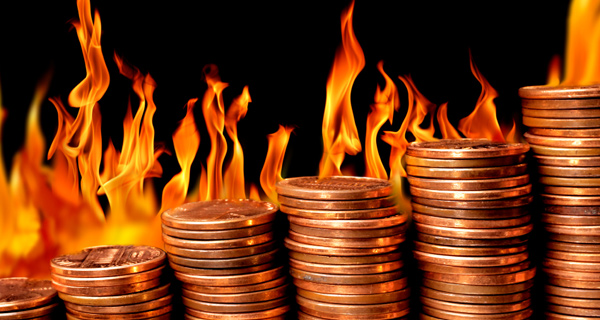 It's an exciting time for penny stocks, especially hot penny stocks like BioFuel Energy (BIOF), KiOR (KIOR), and IsoRay (ISR)…
BioFuel Energy (NASDAQ: BIOF)
BIOF soared last week but couldn't hold onto all of its gains…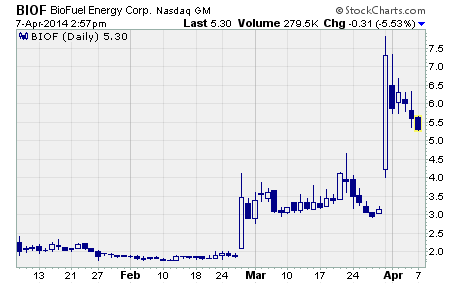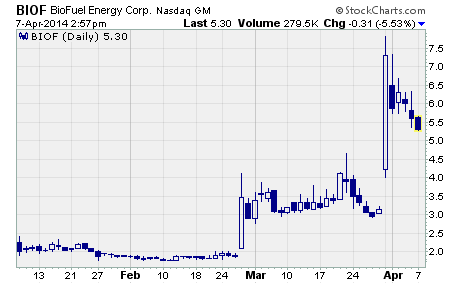 Last Monday BIOF shocked the world by trading up to $7.30 per share for a stunning one-day rise of 132%.  It was the highest price the stock had reached in nearly 18 months.
However, the shares were unable to finish out the week with the gain intact.  Over the following days, BIOF gave up ground until it finally closed at just $5.61 on Friday for a one-week gain of 79%.
What happened?
It appears the huge rally on Monday was fueled by the misreporting of an important news event.  Several news sources announced late Friday afternoon that hedge fund, Greenlight Capital, had made an offer to buy BioFuel Energy for $275 million.
However, a press release from BioFuel clearly indicates that wasn't the case.  The deal proposed by Greenlight was for BioFuel to purchase two real estate companies from Greenlight.
With that said, Greenlight did reveal another interesting piece of information last week.  The hedge fund reported that it has increased its stake in BioFuel Energy from 26.2% in December to 35.5%.
BioFuel Energy does not have significant operations at the moment.  The company previously operated two dry-mill ethanol production facilities in Minnesota and Nebraska. 
Apparently, BioFuel defaulted on a $177 million loan in September 2013.  And as a result, its lenders have opted to acquire the company's ethanol plants and then sell them to Green Plains Renewable Energy (NASDAQ: GPRE).
KiOR (NASDAQ: KIOR)
KiOR is a renewable fuels company based in Pasadena, Texas.  It produces cellulosic gasoline and diesel fuel from lignocellulosic biomass using its proprietary biomass-to-cellulosic fuel technology.  The company intends to sell its products to refiners, terminal and rack owners, and fleet users for use in their vehicles.
Last week, KIOR jumped 73% on important news.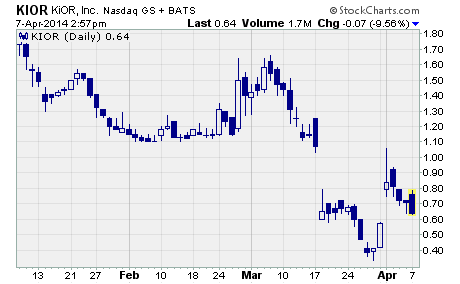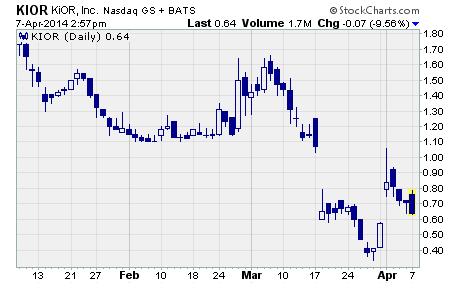 The stock rallied after the company reported it has obtained $25 million in financing from billionaire backer, Vinod Khosla.  According to MarketWatch, "the funding follows $100 million that KiOR received in October from Khosla Ventures LLC and Bill Gates Ventures LLC."
Khosla was a co-founder of Sun Microsystems and is KiOR's largest shareholder.
Unfortunately, the financing arrangement is only expected to keep the company afloat until August. 
In January, KiOR shut down its Columbus, Mississippi plant to perform a needed upgrade on the manufacturing process.  And in mid-March, the company notified shareholders and regulators that it would likely default on its debts without additional funding.
Despite last week's rally, KIOR is down 58% year-to-date and has lost 84% of its value over the past 12 months.     
 

IsoRay (NYSE: ISR)
ISR is on fire!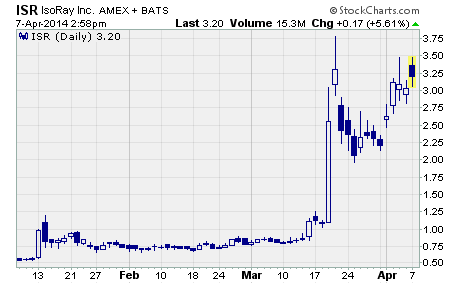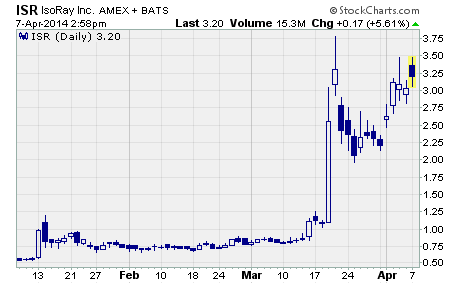 After surging 178% in March, ISR is continuing to move higher in early April.  The stock has moved above the $3.00 per share level thanks to a 31% gain last week. 
And it's now trading at levels last seen more than six years ago.
IsoRay provides isotope-based medical products and devices for the treatment of cancer and other malignant diseases.  The company's Proxclean Cesuim-131 brachytherapy seeds are used for the treatment of many different kinds of cancer.
Why are the shares rocketing higher?
The stock received a boost thanks to IsoRay's participation at a major medical conference last week.  The company hosted a booth at the Annual Meeting of the American Brachytherapy Society in San Diego.  And several leading physicians discussed their experiences and successes in using IsoRay's products.
What's more, the stock is jumping again today on more exciting news. 
The company announced this morning the world's first successful implant of Cesium-131 seeds in a patient with prostate cancer.  Dr. Steven Frank, who performed the procedure, said…
"IsoRay's Cesuim-131, with its short half-life, offers rapid resolution of the acute side effects that can be associated with prostate treatment with brachytherapy."
The shares are up more than 4% as I write to $3.16 per share.
You may recall that this isn't the first time we've discussed ISR.  A couple of weeks ago, we highlighted the stock's big gains following news of the world's first pediatric implant using Cesium-131.  You can read the full article here.
No question about it, IsoRay is on a roll.     
Profitably Yours,
Robert Morris
Category: Hot Penny Stocks