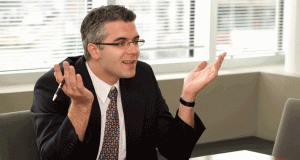 Piggy-backing the moves of company insiders is a popular strategy for many investors.  After all, no one has more knowledge of what's happening at a company than its executives and directors.
While there is some debate about whether this strategy still works, there is research to support it.
One source is the book, Investment Intelligence From Insider Trading (2000), written by University of Michigan finance professor, Nejat Seyhun.  This fascinating book shows how investors can use insider trading data to their advantage.
Based on data from his extensive research, Professor Seyhun concluded that a stock's price tends to rise more following net purchases by company insiders.
He reached this conclusion after analyzing all insider trades in every publicly held firm over a 21-year period.  That's more than one million insider transactions!
Professor Seyhun's findings are strong evidence that following the moves of company insiders can be profitable for individual investors.
With that in mind, you also need to be careful about just blindly scooping up stocks because insiders are buying.  You never know the real reason behind a move by management!
Here's one stock that's seen strong buying by the CEO recently… let's take a look.
Sitestar Corp. (OTCBB: SYTE)
According to their site:
Sitestar is an Internet solutions provider that offers consumer and business-grade Internet access, wholesale managed modem services for downstream ISPs, Web hosting and other value-added services. With a focus on competitive pricing, reliability, service and speed, Sitestar delivers value.

Founded in 1999 and traded on the over-the-counter bulletin board exchange (OTCQB) under the symbol SYTE, Sitestar has the financial muscle and staying power to sell and support a comprehensive portfolio of existing and emerging services.
Despite the impressive sounding business, the stock has done little but gyrate around the $0.03 to $0.05 cent mark.
As you can see, the stock was trading at two pennies just a year ago, and has climbed to a current price of $0.0383.
But that's not the interesting part…
What caught my eye was the purchase of 250,000 shares by Director Jeffrey Moore.  He already owns 5.3 million shares… so this $10,000 purchase is a drop in the bucket for him.
I wanted to see what might be driving this purchase, and the latest news is not stunning.
The company reported their quarterly numbers and it's less than impressive… and I figured out why.
First, the numbers… March 2014 numbers showed Revenue of $679 thousand, and a profit of $52 thousand.  Not bad, at least they are making money.
But if you look at 2013 as a comparison, they had reported $735 thousand in Revenue and a profit of $81 thousand… so revenue and profit are down.
But what's even more interesting is the MD&A – otherwise known as Managements' Discussion & Analysis of the business.
What gives me pause is the business shift.  You see, they are now investing in distressed real estate.  And that part of their business has grown significantly… while the internet side of the business is shrinking.
To give me further pause, the company website is badly out of date.
If management can't keep the info on their site current, what else are they letting slip through the cracks?
While insider buying is often a good sign of things to come, this one company has too many red flags.  Make sure you do your diligence before investing in anything!
Category: Penny Stock Alerts