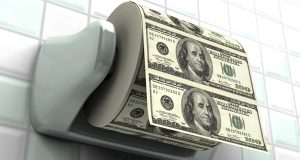 Welcome to Pump and Dump Friday, our weekly feature where we identify potentially "bogus" promotions going on in penny stocks.
Today we're exposing one of the most extensive penny stock pump and dump campaigns of the week:  Pacific Clean Water Technologies (OTCQB: PCWT).
If you don't know how these schemes work, be sure to check out our free report that exposes the whole thing.
Without further ado, here is today's disaster waiting to happen:
Pacific Clean Water Technologies (OTCQB: PCWT)
PCWT is one of the most heavily hyped penny stocks of the past week.  According to our sources, 11 promoters with 91 newsletters have been paid more than $500,000 to pump the stock.
That's a lot of coin to spend on hyping a stock… even for the companies we cover here.
The first red flag we see is that the pumping campaign is being led by Awesome Penny Stocks and Victory Mark.  We've talked about these promoters in the past.  They are notorious for hyping penny stocks that all too often plunge, leaving many investors with huge losses.
And we're not the only ones concerned about this promotion.
OTC Markets Group is clearly worried about it as well.  I know this because the financial marketplace has classified PCWT as a "Caveat Emptor" stock, complete with skull and crossbones insignia. 
What does this classification mean? 
Here's how OTC Markets Group describes it:
"Buyer Beware.  There is a public interest concern associated with the company, security, or control person which may include but is not limited to a spam campaign, questionable stock promotion, investigation of fraudulent or other criminal activity, regulatory suspensions, or disruptive corporate actions.  During the time it is labeled Caveat Emptor, any stock that is not in OTC Pink Current Information or OTCQB will also have its quotes blocked on www.otcmarkets.com."
Yikes!  After reading that warning, I don't see how anyone could be foolish enough to risk their money on a stock that carries the Caveat Emptor label.
But apparently some investors either don't know about the warning or don't care.  Over 7 million shares of PCWT have traded already this morning.  And over 40 million shares have traded so far this week.
What's that saying about a fool and his money?
Now, thanks to the pumpers' relentless efforts to hype PCWT, the stock is actually moving higher.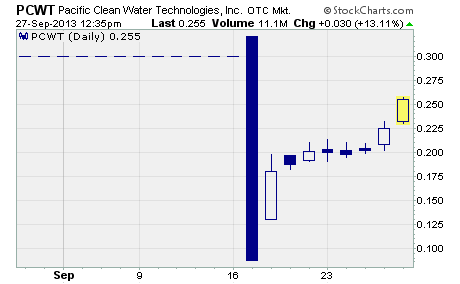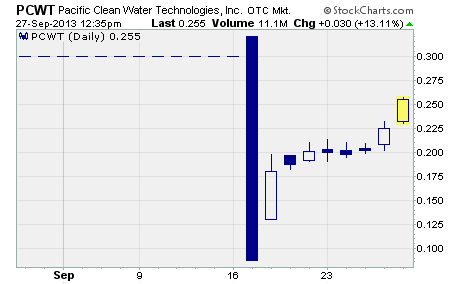 As you can see, the stock has climbed from around $0.09 on September 17th to over $0.25 per share today.  That's a huge move in a short period of time.  Clearly, there's no shortage of traders willing to throw caution to the wind.
However, the big blue bar on the chart is most likely a sign of what's to come.
That single bar shows the kind of losses this stock is capable of delivering.  On that one day of trading, PCWT opened at $0.32 and then proceeded to plunge all the way to just under $0.09 per share. 
That's a one-day drop of over 71%!
So, why are investors buying this stock?
The pumping campaign certainly has a lot to do with it.  But another reason is the company's most recent quarterly report.  It shows the company generated revenue and a small profit during the period.
But even the company is skeptical that it can produce profits on a regular basis.
According to the most recent 10-Q, the company "has not yet established an ongoing source of revenues sufficient to cover its operating costs and allow it to continue as a going concern."  In fact, over the first six months of 2013, the company "realized a net loss of $103,377 and had a working capital deficit of $247,068."
Like most of the companies we discuss here, PCWT needs to raise capital in order to survive. 
But management does not appear confident that it can get the funding this company desperately needs.  They specifically state in the 10-Q that the company "cannot provide any assurances that [it] will be successful in accomplishing any of its plans."
Not quite the ringing endorsement you'd expect from a confident management team.
There's no question in my mind that the recent rally in PCWT is a direct result of the extensive pumping campaign and one good quarter.  Save yourself some heartache and financial destruction by avoiding these shares at all costs.  There are better opportunities for profit in the penny stock space than PCWT.
Other Penny Stocks Being Pumped This Week
Plandai Biotechnology (OTCQB: PLPL) – 20 promoters with 171 newsletters have been paid over $100,000 so far this month to hype PLPL.
The Pulse Network (OTCQB: TPNI) – 30 promoters with 159 newsletters have been paid over $100,000 in September to plug TPNI.
As you know, penny stocks are a great place to invest your money.  You just have to do your due diligence to stay away from all the schemes and scams out there these days!
Profitably Yours,
Robert Morris
Category: Pump & Dump Alerts