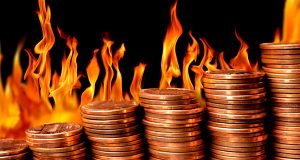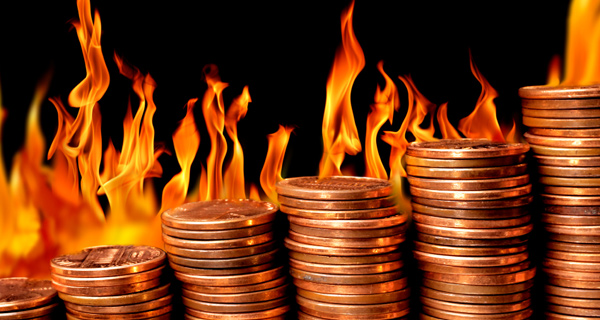 It's an exciting time for penny stocks, especially Chinese penny stocks like Andatee China Marine Fuel Services (AMCF), Skystar Bio Pharmaceutical (SKBI), and Country Style Cooking Restaurant Chain (CCSC).  Let's take a closer look at these three hot penny stocks…
Andatee China Marine Fuel Services (NASDAQ: AMCF)
A good number of Chinese penny stocks took off last week and posted huge gains.  Investors appear to be pouring back into them after stronger than expected economic data out of China.  Today, we're going to examine three of the biggest Chinese penny stock winners of the past week.
The first stock we're going to look at is AMCF. 
Prior to last week, AMCF had been decimated by a three-year downtrend.  Shares of the tiny shipping fuel company had declined from a high of $8.50 in March 2010 to a low of $0.45 in January of this year.  And it had been bouncing along the bottom in a range between $0.45 and $0.89 for much of the year.
But it appears the devastation has finally ended.
Last week, AMCF soared liked it had been shot out of a cannon!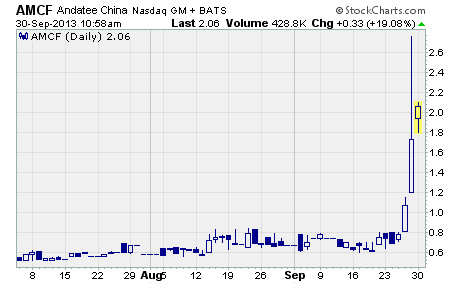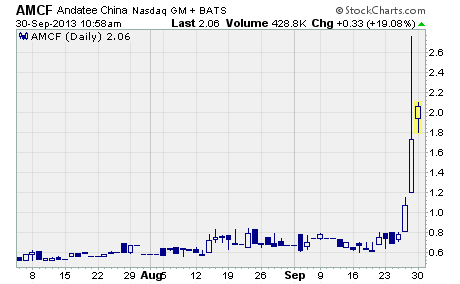 As you can see, AMCF shot up from the prior week's close of $0.75 to a high of $2.75 last week.  That move provided a stunning gain of 266% in just five trading days.  And while the stock gave up some of those heady gains, it still finished the week 131% higher.
Like I said… shot out of a cannon.
It looks like investors are snapping up shares of AMCF on news of stronger economic data out of China.  But that's not all.  A surging Baltic Dry Index and China's newly declared Free -Trade Zone in Shanghai are also behind the gains.
You see, Andatee China Marine Fuel Services engages in the production, storage, distribution, and trading of blended marine fuel oil for cargo and fishing vessels in China.  And the shipping industry appears to be finally recovering after years of decline due to the financial crisis. 
The faster growing Chinese economy, surging shipping rates, plus the creation of a free trade zone at the world's busiest shipping container port, all suggest a major rebound in the shipping industry is underway.  Of course, this is great news for Andatee which supplies the fuel these ships need to operate.
As such, AMCF is one stock to consider if you want to play the strong uptrend happening in shipping stocks right now.
Skystar Bio Pharmaceutical (NASDAQ: SKBI)
SKBI is another Chinese penny stock riding the tailwind provided by surprisingly strong Chinese economic data.  The company develops and supplies veterinary healthcare and medical care products in China.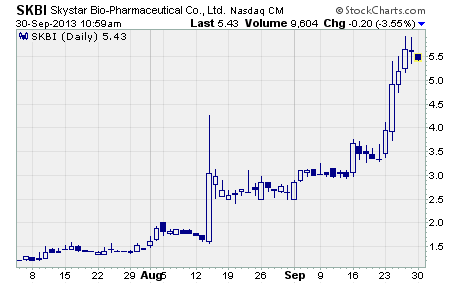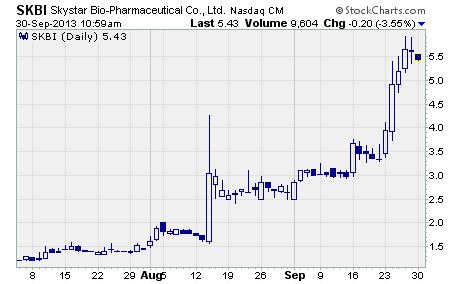 As you can see, SKBI has been moving higher in a strong uptrend since the end of June.  In fact, the stock's up by more than 366% over that time.  And just last week, SKBI tacked on another 69%, rising from $3.33 to $5.63 per share.
What's going on?
You need look no further than the company's strong second quarter numbers to see it's mounting a major comeback.  In fact, the quarter was the company's strongest in a year-and-a-half.
Revenue jumped 28% year-over-year to $11.3 million on increased demand and additional sales and marketing efforts.  The company also benefited from increased manufacturing capacity provided by two of its veterinary medication facilities resuming operations.
And as you might expect, the company's surging sales drove big increases on the bottom line. 
Net income rose by a whopping 121% during the quarter to $3.75 million.  And earnings more than doubled from $0.23 to $0.49 per share.
A terrific quarter any way you slice it.
What's more, the outlook is for more robust growth ahead.
The company is now moving into the strongest half of its fiscal year.  And as CEO Mr. Weibing Lu said, Skystar "is well positioned to make forecasted fiscal guidance for 2013, positioning itself for solid revenue growth and expansion in 2014."
While SKBI has made a huge upward move in recent months, it may have more room to run.  However, you may want to wait for a pullback before establishing a new position.    
Country Style Cooking Restaurant Chain (NYSE: CCSC)
Country Style Cooking operates a quick service restaurant chain in China.  The company specializes in serving Sichuan-style fast food over the counter.  As of June 30, 2013, it operated 268 restaurants.
To say CCSC has been trending higher would be an understatement…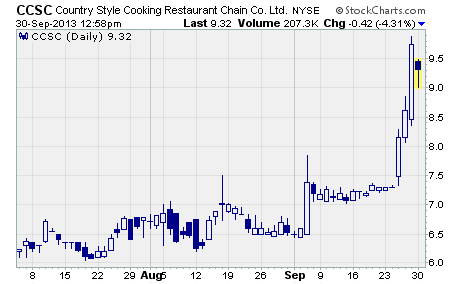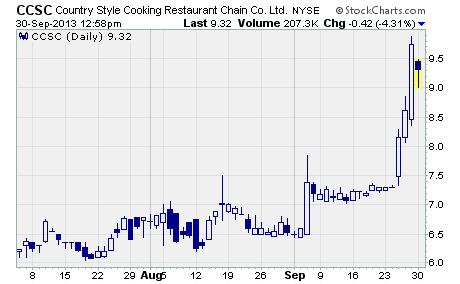 As you can see, the stock has soared from a low of $5.98 in late June to $9.34 as I write.  That's an impressive 56% gain in just three months' time.  And a good portion of it was generated just last week as CCSC surged by more than 33%.
The recent run up was due mostly to high expectations for the company's upcoming third quarter earnings results.  And based on recent comments from management, it looks like investors were right to be optimistic.
Last Wednesday, the company announced terrific preliminary results for the quarter.
Management said it expects revenue to hit the top-end of its guidance range of $61.9 to $63.5 million.  If so, it will represent a 22% rise over the year ago quarter's revenue of $52 million.
They also expect to report improved operating margin and net income compared to the same quarter of last year.  What's more, same store sales growth is projected to be in the mid-to-high single digits driven by continuing traffic recovery and a market-adaptable pricing strategy.
Last but not least, management says the company has continued to expand vigorously.
14 new restaurants were opened during the quarter, bringing the total number of restaurants to 282.  That's up from 238 restaurants a year ago.
CCSC is a solid company with strong financials that is expanding its footprint throughout China.  And the improving economy is certain to boost traffic levels and therefore revenue and earnings in the quarters ahead.
Profitably Yours,
Robert Morris
Category: Hot Penny Stocks