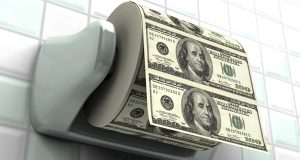 This week we're exposing these three popular Pump & Dumps:  OriginOil (OOIL), Great Wall Builders (GWBU), and Sky Power Solutions (SPOW).
That said, welcome to Pump and Dump Friday, where every week we identify a few of the potentially "bogus" promotions going on in penny stocks today.
If you don't know how these schemes work, be sure to check out this free report that exposes the whole thing.
Without further ado, here are today's "disasters waiting to happen":
OriginOil (OOIL)
The StockRoach and Beacon Equity are at it again… this time they're pushing OOIL.  No, it' not oil, but OOIL…
You probably aren't aware of the relationship between these pumpers… so let me explain.  First off, BlueWave Advisors, LLC owns Beacon Equity outright.  In addition, Blue Wave owns a 75% stake in StockHideout, LLC… owner of StockRoach – get it?
BlueWave was paid $92,000 for previous pumping of OOIL (last year…) and also received 31,101 shares of OOIL.  They've sold these already, but they picked up another 45,000 shares for their efforts this time.  Boy, this slimy business is confusing sometime!
So what are the pumpers spewing about OOIL anyway?  What else but the same old technical mumbo jumbo.
– "If OOIL makes it above 279,000 by the close, that's a RECORD volume spike."
Of course they'll never tell you about the horrid financial condition of the company (why spoil my fun?)
For OriginOil, there's nothing funny about a $1.7 million loss in the first quarter this year.  That equates to roughly $0.25 a share.  Even worse, they have $1.1 million in assets compared to $2.4 million in liabilities!
But get this… OOIL has amassed over $18.7 million in accumulated deficit over the past five years of operation.
Does that sound like a company you should be putting in your portfolio?  Not in my book!
Great Wall Builders (GWBU)
Oh yeah, you read it right.  They're back again… but this time GWBU is being promoted by a handful of mini-pumpers.
If you recall, the big pumping outfit, Azteca Cortez S.A., was running the show on this penny stock a month ago.  They manipulated this stock all the way up to $1.80!  But alas, like almost every single stock we cover here, it fell off a cliff once the pumping ended.
So where is it now that they're pumping it again?  Take a look for yourself…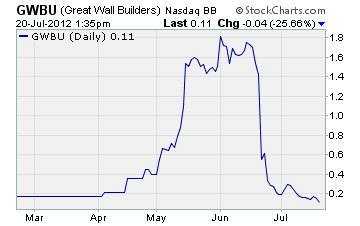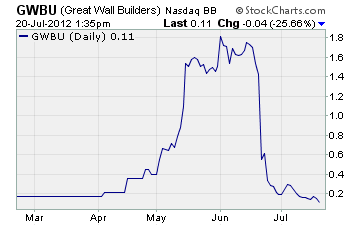 While the current pumpers ran this from $0.12 to $0.16 in just a day or two… GWBU now trades back down below where it was before the pumping started.  What a mess!
So has anything new happened with Great Wall Builders?
Nope.  The company is still showing no revenues with a $10,000 loss for the first quarter of the year.  And the "news releases" have stopped hitting the wires.
Shocking, isn't it?
Once again, the pumpers are simply taking the little guy for a ride –even if it's for just a few cents.  You shouldn't look at this chart and see opportunity.  Instead, you should be running the other way.
Sky Power Solutions (SPOW)
Stock Brain and Liquid Tycoon are taking a shot at pumping an oldie but goodie with Sky Power.  Most of our new subscribers won't remember SPOW as it was pumped back in September of last year.
For their part, these two pumpers collected $15,000 and $35,000 respectively.  And just like most pumpers… all they can talk about is the technical patterns on the stock.  You'll see terms like "Short-term Bull Pennant Pattern" or "Positive MACD & MFI."
Well, I have a question of my own for the pumpers.  Can you tell me the name of this technical pattern?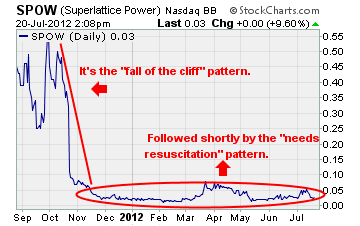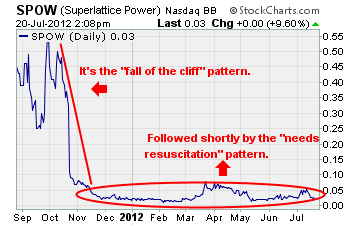 As I pointed out in the chart above, we're looking at the famous "fall off the cliff" pattern.  And that's followed shortly by the "needs resuscitation" pattern!  Take that pumpers… I can be a technician too (no, don't bother calling me with a job offer)!
Why would the pumpers bother telling you this battery and solar generation developer is losing money hand over fist?  Unfortunately, that's the real deal on SPOW.  Not only have they generated no revenue for the past nine months, but they've lost $83,360 in the process.
It's not all gloom and doom is it?
Of course it is… considering the company has $0 cash on the books and has a working capital deficit of approximately $2.3 million.  With these stats, it's pretty obvious this company isn't long for this world.
Hopefully my glowing review of SPOW has you running for the exits!
A final word (and warning).
These are just a few of the potential "pump and dumps" we've seen lately.
Remember, there's a lot more of this going on than we can highlight here.
As you know, penny stocks are a great place to invest your money.  You just have to do your due diligence to stay away from all the schemes and scams out there these days!
Until next time,
Brian Walker
Category: Pump & Dump Alerts