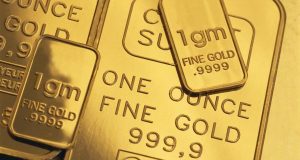 Like many other analysts (and investors), I've been waiting for gold to make its move higher.   After all, with all the global event risk out there, you'd think the world's most popular safe-haven investment would be highly sought after.
There's the European debt crisis to contend with.  Iran is rattling its sabers once again.  China's economy is at risk.  Even the domestic economy is showing renewed signs of weakness.
However, gold is up a mere 1% for the year.  And, it's down 1.5% over the past month.
What gives?
There are several reasons why the yellow metal may be stagnating.
For one, the US Dollar has been an extremely fashionable investment over the last several months.  It's basically taken over as investors' favorite low-risk asset.
The explanations behind the dollar's popularity are numerous, but one main reason it's overtaken gold is stability.  Gold can go through periods of high volatility.  In fact, just last May, gold plunged over $100 an ounce in under two weeks.
That's not the sort of behavior you typically see from US Dollar investment vehicles, such as Treasury bonds.  Even central banks seemed to have fulfilled their gold buying needs and have shifted back to Treasuries.
And that's not all…
Margin calls may actually be the leading cause for gold's doldrums.  You see, many investors who made money on gold have had to sell their positions to meet margin requirements on other losses.  Keep in mind, almost every asset class has been hit hard in recent months.
However, there's a silver lining for gold investors…
There are potential catalysts on the horizon that could vault the precious metal back to record highs.
The most important factor is the possibility of additional central bank stimulus.  For instance, if the Fed initiates QE3, the dollar will get crushed.  And, investors will pile into gold if that happens.
In other words, we could be on the verge of a significant upside breakout in gold.
As always, there are plenty of good penny stock plays on gold and other precious metals.  Remember, large cap miners – and gold itself – are often very expensive.  Thankfully, penny stock miners are a very affordable way to get exposure to gold.
Yours in profit,
Gordon Lewis
Category: Gold Stocks