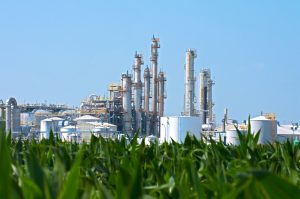 It's been a tough week for Pacific Ethanol (PEIXD).  The leading provider of ethanol for the West Coast is down more than 30% over the past week.  Ouch!
But, it's not all bad news.  In fact, this could just be an excellent buying opportunity.
I'll get back to the opportunity in a minute.  First, let's take a look at why Pacific Ethanol has been getting clobbered lately…
To start with, corn prices are rocketing higher.
And since ethanol is made mostly from corn, it's no surprise ethanol companies are taking a beating.  It can be very difficult turning a profit when your product's key input is setting record high prices.
To put it in perspective, corn recently traded just below $8 a bushel… far and away a record high price.  Just a year ago, the price was under $3.50 a bushel!  Do you think ethanol producers miss those days?
As if that isn't enough, Congress is talking about ending ethanol subsidies.
Here's the deal…
Ethanol production is supported by the US government… and the monetary benefits are huge.  You see, the production of ethanol is an expensive business.  Those subsidies are a significant reason why ethanol companies are able to exist in the first place.
Why the subsidies?  For one, ethanol is supposed to be environmentally friendly.  But more importantly, the more ethanol is used in gasoline, the less crude oil is needed.  And anytime you can switch from dependence on a limited, foreign supplied resource to a renewable one produced domestically… well, it's clearly a good thing.
And the government agrees… or at least they did.  Soaring corn prices, partially due to ethanol demand, is causing Congress to rethink the subsidies.  They don't want food prices to get jacked up because of ethanol demand.
So the ethanol industry is trying to overcome both soaring corn prices and a possible loss of subsidies…
And Pacific Ethanol has its own negative catalyst impacting the share price.
Just recently, the company went through a 1 for 7 reverse stock split.  Traditionally, reverse splits are followed by a period of heavy volatility, usually in the form of selling.  This has certainly been true with penny stocks like PEIXD, which have dropped sharply since the reverse split.
But here's the thing…
The relentless pummeling of PEIXD just means there's a great opportunity to buy these shares for next to nothing.
Look, the worst is over for this company.  Corn prices are already retreating from the record highs.  And they should continue dropping once the new corn crop starts producing actual results.
What's more, as the reverse split settles in, we should see buyers return.  The selling associated with a reverse split is usually just temporary.
Here's the best part…
As of this writing, the vote to end ethanol subsidies died on the Senate floor. That legislation shouldn't be brought up again anytime soon.
Bottom line is, before all the negative industry news hit, Pacific Ethanol was clearly headed in the right direction – toward profitability.  And I see no reason why they won't pick up where they left off now that the dust is settling.
Better yet, there's a chance to grab these shares at ridiculously low levels.  We're talking a P/E of 0.25! At those levels, what's there to lose?
Don't let the recent selloff in PEIXD scare you away.  You might be missing out on amazing upside potential in the ethanol industry.
Yours in profit,
Gordon Lewis
Category: Penny Stocks On The Move