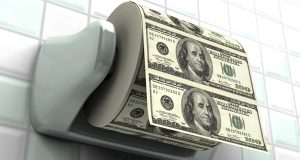 Welcome to Pump and Dump Friday, our weekly feature where we identify potentially "bogus" promotions going on in penny stocks.
Today we're exposing one of the most extensive penny stock pump and dump campaigns of the week:  On The Move Systems (OTCQB: OMVS).
If you don't know how these schemes work, be sure to check out our free report that exposes the whole thing.
Without further ado, here is today's disaster waiting to happen:
On The Move Systems (OTCQB: OMVS)
OMVS is one of the most heavily hyped penny stocks for the month of August.  According to our sources, more than a dozen newsletters have been paid $175,000 to pump this stock.
And it appears there's no shortage of unsuspecting investors as the stock has soared this month…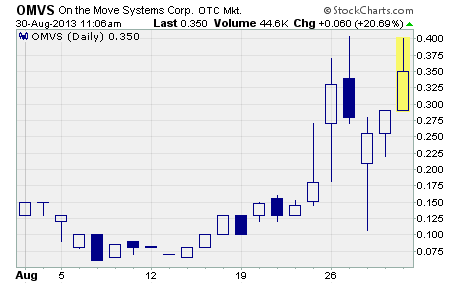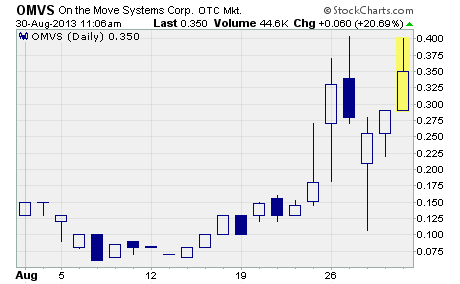 As you can see, the stock has climbed from a low of 6 cents set earlier this month to 35 cents today.  That's a gain of 483% in just a few weeks' time.  And it has even traded as high as 40 cents.
I'm sure a number of investors who bought these shares are feeling pretty smart at the moment.  Hopefully they're smart enough to lock in their profits and get out of this stock soon.
After all, it's just a matter of time before the dumping begins.
Right now the company's not engaged in any business whatsoever as far as I can tell.  A recent press release barrage, carefully timed to coincide with the stock promotion campaign, states the company is "exploring" the idea of engaging in the online travel business.
As the company boldly puts it, they plan to compete with the likes of Orbitz, Priceline, Kayak, and Expedia.
However, according to On The Move Systems' most recent annual report, the company has no experience in this industry.
Since March 2010, the company has been providing "mobile electronic services" in Tampa, Florida.  More specifically, the company has been engaged in the sale, installation, and servicing of after-market electronic and audio/video upgrades for vehicles.
And it hasn't been very successful to this point.
The 10-Q for the most recent quarter (ending May 31, 2013) shows a company struggling to survive.  In fact, the report states that the company "has not generated positive cash flow from operations since inception and does not expect to generate positive cash flow from operations during the coming year."
Total assets stood at just $164,457 compared to total liabilities of $611,249.  And the company generated a net loss of $90,739 for the quarter.
That loss follows a loss of $373,176 for all of fiscal year 2013 (ending February 2013) and a loss of over $4 million for fiscal year 2012 (ending February 2012).
There's no question that On The Move Systems has proven adept at mounting a marketing campaign for its common stock.  However, it doesn't appear the company is very proficient at running a profitable business.
Trade these shares at your own peril.  After the huge run up over the past few weeks, it's just a matter of time before they fall back to earth.
Other Penny Stocks Being Pumped This Week
Caribbean International Holdings (OTCPINK: CIHN) – 42 promoters with 200 newsletters have been paid over $100,000 in August to hype CIHN.
Kleangas Energy Technologies (OTCQB: KGET) – 10 promoters with 73 newsletters have been paid over $70,000 in August to plug KGET.
As you know, penny stocks are a great place to invest your money.  You just have to do your due diligence to stay away from all the schemes and scams out there these days!
Profitably Yours,
Robert Morris
Category: Pump & Dump Alerts