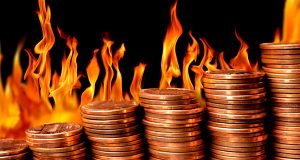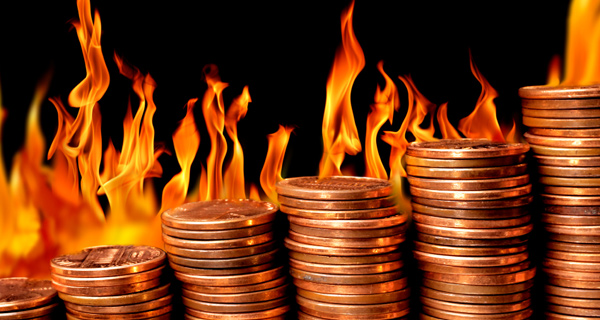 It's an exciting time for penny stocks, especially Analysts International (ANLY), Catalyst Pharmaceutical Partners (CPRX), and Constellation Energy Partners (CEP).  Let's take a closer look at these three hot penny stocks…
Analysts International (NASDAQ: ANLY)
ANLY's up big time!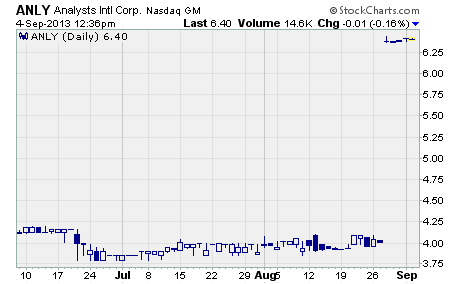 The stock shot up from $4.01 last Tuesday to $6.38 on Wednesday for a stunning one-day gain of 59%.  And it continues to hold its ground a week later.  As I write, ANLY's trading at $6.40 per share.
What's going on?
Last Wednesday, the company announced it's being acquired by privately-held American CyberSystems (ACS) for approximately $35 million.  ACS plans to purchase all outstanding shares of ANLY at $6.45 apiece.
The deal is expected to close in the fourth quarter of 2013.
Analysts International provides IT staffing and consulting services to various industries in the US.  The company was founded in 1966 and is headquartered in Minneapolis, Minnesota.
Over the past 12 months, ANLY has generated earnings of $0.07 per share on revenue of $102 million.
ACS is a global provider of IT consulting and staffing services, systems integration, and business solutions.  It has been delivering its IT solutions to Fortune 1000 companies worldwide since 1998.
With ANLY trading so close to the acquisition price, there doesn't appear to be much profit potential left in these shares.  The only way a trade makes sense here is if you expect a bidding war to break out for the company.
Catalyst Pharmaceutical Partners (NASDAQ: CPRX)
CPRX is a development-stage specialty pharmaceutical company out of Coral Gables, Florida.  It focuses on developing novel prescription drugs targeting rare neuromuscular and neurological disease.
The company's leading drug candidate is Firdapse for the treatment of symptoms associated with Lambert-Easton Myasthetic Syndrome (LEMS).  Catalyst acquired the marketing rights to the drug from BioMarin Pharmaceutical (NASDAQ: BMRN) in October 2012.
Firdapse has already been approved to treat symptoms of LEMS in the European Union.  And it has been granted orphan drug status by the FDA, which provides seven years of marketing exclusivity for the drug.
Catalyst is now evaluating the drug in a phase 3 clinical trial.  Top-line results are expected in the second quarter of 2014.
So, why's the stock jumping?
Catalyst received more good news from the FDA just last week.  The regulator officially labeled Firdapse as a "Breakthrough Therapy."  That designation means Catalyst will receive additional guidance and advice from the FDA.
And it may have accelerated the timetable for FDA review of Firdapase.
As a result, investors sent CPRX soaring to a high of $2.50 per share last Tuesday.  That move provided an exciting intra-day gain of 76% for shareholders.  And even though CPRX has since settled in around $2.00 per share, the stock is up 54% in little over a week's time.
With a major catalyst on the horizon, I wouldn't be surprised to see the stock move higher from here.  Just be careful.  If the trial data aren't positive, CPRX will drop like a stone.
Constellation Energy Partners (NASDAQ: CEP)
This tiny company engages in the exploration, development, and production of oil and natural gas in the US.  It has oil and natural gas properties in Kansas, Oklahoma, Louisiana, and Texas with 2,832 net producing wells.  The company's estimated proved reserves are approximately 93 billion of cubic feet equivalent.
Here's the thing… CEP has taken off over the past week!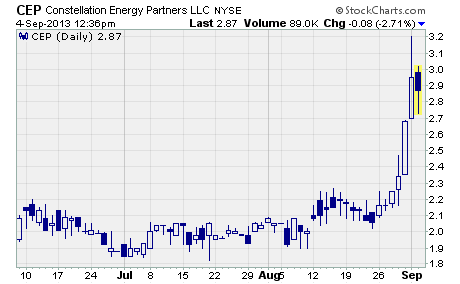 As you can see, the stock has climbed from a low of $2.09 last Tuesday to around $2.87 today.  That's a gain of 43% in just one week's time.  And the stock's up by a whopping 150% year-to-date.
What's going on?
Investors have been driving the stock higher ever since the company reported results for the second quarter of 2013.  And it's not hard to understand why.  The company posted strong growth during the quarter.
Revenue jumped 67% year-over-year to $15.4 million.  Net income improved from a $5 million loss in the second quarter of 2012 to a profit of $1.1 million.  And after posting a loss of $0.21 in the year ago quarter, the company reported earnings of $0.05 per share.
Not too shabby.
What's more, Constellation entered into a new business relationship earlier this month with Sanchez Oil & Gas.  Under the deal, Constellation acquired valuable oil and gas assets from Sanchez in Texas and Louisiana.  And Constellation is now in position to benefit from lucrative asset contributions and joint ventures with Sanchez in the future.
Investors clearly see this relationship as a major long-term growth opportunity for the company.
Constellation Energy Partners has been wandering through the wilderness for several years now.  But it may be starting to get its act together.  You may want to take a closer look at this rebounding penny stock for your own portfolio.       
Profitably Yours,
Robert Morris
Category: Hot Penny Stocks