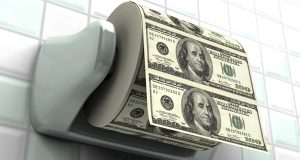 Welcome to Pump and Dump Friday, our weekly feature where we identify potentially "bogus" promotions going on in penny stocks.
Today we're exposing one of the most extensive penny stock pump and dump campaigns of the week:  Bravo Enterprises (OTCQB: OGNG).
If you don't know how these schemes work, be sure to check out our free report that exposes the whole thing.
Without further ado, here is today's disaster waiting to happen:
Bravo Enterprises (OTCQB: OGNG)
OGNG is one of the most heavily hyped penny stocks of the past month.  According to our sources, 14 promoters have been paid over $100,000 to pump the stock through more than 120 newsletters.
Let's take a look at how the stock has performed…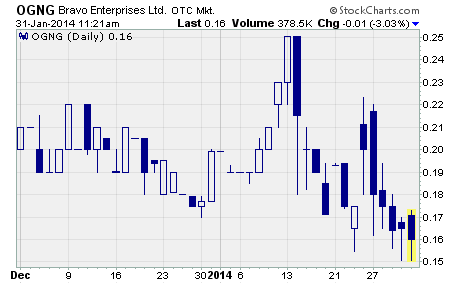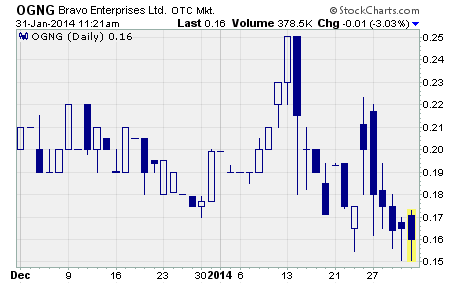 When the current campaign began on January 9th, OGNG was trading for around 20 cents per share.  But after the promotional emails went out, the stock shot up to a high of 25 cents for a quick 25% gain.
Then the sellers came out in force…
Apparently looking to cash in on the promotion-driven rally, sellers began dumping their shares of OGNG on the market.  As a result, the stock has plunged to a recent price of 16 cents per share. 
That's a 36% drop in just a little over two weeks.
It looks like buyers were sucked into the stock on claims that the company's Atmospheric Water Harvesters are the solution to the world's growing water crisis.  The company says these machines can create clean drinking water from moisture in the air.
The question is… can Bravo execute their latest business plan?
The company was formed in 1983 and has been a development stage company since at least 1996.  It has gone through several name changes and multiple business plans over the years.  And according to the most recent quarterly report (September 2013), Bravo "has not generated any significant revenues to date and has incurred losses of $25,547,544 since inception."
Not the kind of track record that inspires a whole lot of confidence.
And it's not like the business has been improving in recent months…
The quarterly report shows the company has just $1,301 in cash and $48,405 in total current assets compared to total current liabilities of $521,595.  What's more, Bravo generated just $4,800 in revenue over the first nine months of 2013 while racking up a net loss of $345,854.
It should come as no surprise then that Bravo needs to raise additional capital in order to continue as a going concern.  The quarterly report states the company "will depend almost exclusively on outside capital through the issuance of common shares" to finance its operations going forward.
This should be a concern to shareholders as the issuance of new shares can dilute the holdings of existing shareholders.
The bottom line…
There's no question Bravo has a unique product and promoters have come up with an exciting story to entice investors to buy their shares.  However, it seems to me that management has failed to demonstrate any ability to run a profitable business over nearly two decades.
Based on this, I find it hard to understand why this company deserves its current market cap of $23 million let alone anything higher than that.  I suggest you look for better opportunities in the penny stock area for your investment dollars.
Other Penny Stocks Being Pumped This Week
Amalgamated Gold & Silver (OTCPINK: BCHS) – 19 promoters with 62 newsletters have been paid more than $100,000 so far this month to hype BCHS.
Axxess Pharma (OTCPINK: AXXE) – 24 promoters with 69 newsletters have been paid over $150,000 in January to plug AXXE.
As you know, penny stocks are a great place to invest your money.  You just have to do your due diligence to stay away from all the schemes and scams out there these days!
Profitably Yours,
Robert Morris
Category: Pump & Dump Alerts