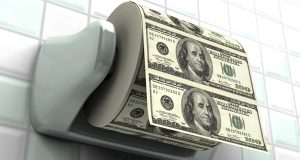 This week we're exposing these three popular Pump & Dumps:  North Springs Resources (NSRS), Water Technologies Intl. (WTII), and HearAtLast Holdings (HRAL).
That said, welcome to Pump and Dump Friday, where every week we highlight a few of the "bogus" promotions that are going on in penny stocks.
If you don't know how these schemes work, be sure to check out this free report that exposes the whole thing.
Now without further ado, here are the rest of this week's disasters waiting to happen:
North Springs Resources (NSRS)
Well, we're watching the stages of a pump and dump scheme unfold for North Springs Resources… and awfully fast at that!  NSRS is down trading near $0.21 on Thursday… but hey, that's only a 40% loss from the previous day's close.  And an 85% drop from its recent high.  But there's been no pump and dump here… no sir.
If you missed my breakdown on the stages of a pump and dump scheme, take a second look at Lone Star Gold (LSTG).  They're a previous gold exploration pump and dump…  the same industry as NSRS.  It makes for a strong comparison.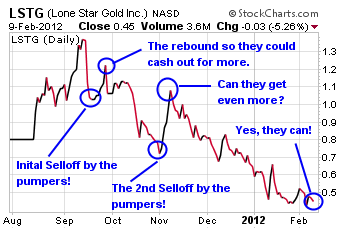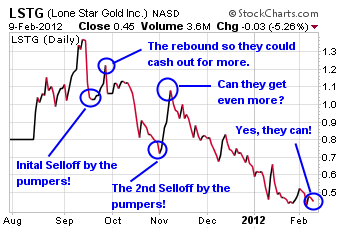 Based on the chart, we're clearly at stage 4 with NSRS… which is simply the 2nd selloff after the dead cat bounce.  Take a look for yourself…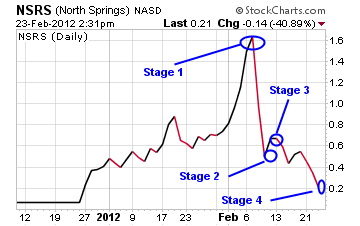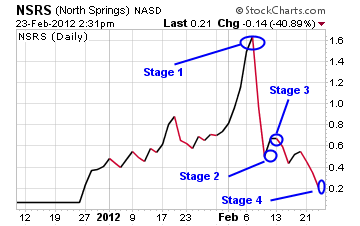 It's seems obvious to me that the third party selling off all their shares didn't waste any time here.  The pros milked LSTG for months.  The guys selling NSRS killed the stock in just weeks!  After burning investors this fast, they may not get a third shot at it.
Now, the scary part here is, the pumpers are trying their best to keep you interested.  Here are a couple of tidbits from their latest emails…
What on earth is happening with NSRS?
NSRS is still healthy, strong, and as promising as ever!
NSRS is setting up for a bounce!
It seems like the downtrend is over…
The pumpers are trying anything they can to get you to stay focused here… while shares are being dumped over there. 
You read it here first… next week will bring emails titled "a short squeeze is coming."  It'll go something like:
"Oh, the shorts have had their fun, but now they're going to get burned as NSRS makes them feel the pain.  Don't miss the short-squeeze rally!"
Guess what?  Even if you wanted to short NSRS, you couldn't borrow the shares from your broker!  My broker doesn't list them as available, and I'm using one of the biggest in the business.
Trust me, no-one has been shorting shares, it's just the "third party" selling outright to the sheep.
Remember, the pumpers don't really care about NSRS… they were paid $600,000 to do their job.  And they did it well.
I really hope none of our readers are left holding shares.
Water Technologies IntL. (WTII)
Moving away from gold this week, we have another penny stock pump and dump setting up here in WTII.
For starters, there are numerous pumpers out there hyping WTII right now.  Club Penny Stocks, USA Market News, Wall Streets Hottest Stocks, as well as all of the Blue Wave Advisors subsidiaries, are running campaigns.
Club Penny Stocks received $20,000, USA Market News collected $10,000, while Blue Wave hauled in $30,000.  Obviously, you can trust what they say, right?  All that money didn't skew their bias… nope, not a bit.
That's why I did my own legwork here.  So let's get right into the company specifics.
WTII is a manufacturer and distributer of atmospheric water generators (AWG). Their AWGs produce drinking water from humidity in the air, as well as provide air conditioning during usage.  Water Technologies is based in Port St. Lucie, Florida.
Not so bad, right?  It seems like pretty cool technology.  So how are the financials?
For starters, WTII shares are not registered with the SEC!  And that's always a concern for investors.  If they're not registered with the SEC, they have no set guidelines of how clearly and how often they disclose financial reports.
But what I did find was exactly what I suspected for a stock with paid promotion… horrifying numbers!
For 2011, WTII had sales of just $5,660.  The cost of goods sold was $4,319… leaving them with $1,341 in gross profit.  But…
Water Technologies racked up $187,854 in operating expenses for a loss of $186,513 last year.  That's not so good… but an improvement over 2010's $330,008 loss.
If that wasn't bad enough, WTII lost another $460,323 in joint ventures etc… for a grand total of $646,836 in losses!
But wait… there's more…
The balance sheet is a mess right now.  They're holding just $4,821 in cash on the books.
With massive expenses expected to continue, the company says in their own financial report that they'll need to raise additional capital to remain a going concern.
Obviously, you can save your hard earned cash for a much better investment than WTII.  Who knows how long shares will be around?
HearAtLast Holdings (HRAL)
Here at last, we have our third pump and dump scheme… HearAtLast Holdings (HRAL).  Am I good or what?
Well, my witty homonym doesn't match the ability of the pumpers to stretch the truth.  You can be sure of that.  In fact, Pennystock Newsletter wrote a glowing report about how "HRAL is, Simply Put, Potentially One of the Biggest, Most Potentially Profitable Plays You're Going to See This Year!"
Get this… the pumper was paid $150,000 for a one day email campaign on HRAL.  One day!  Boy, I'd say anything too for that kind of cash.
Now, HRAL shares are highly volatile, as they trade for just $0.0068 each!  Yes, six thousandths of a penny.  Not really high value stuff here.
And while the company may have a great business idea, their financial condition makes buying their stock a bad idea for sure.  Let me explain…
HearAtLast is a chain of hearing aid stores located in Canadian Wal-Mart stores.  The company looks pretty legit to me.  They have a real website and actual employees that answer the phone (I called a location in West Edmonton, Alberta).
But when I look at their numbers, I can't help but cringe.
You'll find this shocking, I'm sure… but HRAL terminated their SEC registration in 2009.  Again, not something investors should accept from a company they're investing in.
Even worse, their issued share count popped 150% from 2010 to 2011… 200 million to 500 million!
And while the company, on paper, turned a profit for the last nine months of 2011… they're balance sheet is a train wreck.
First off, the company has $18 in cash.  $18… yes.
What's more, HRAL has $3.2 million in current liabilities.
And the reason I said the company had a profit on paper, is solely due to an administrative refund of $81K.  So HRAL, after booking a refund of $81K… made 76K!  And the last three months of 2011, they ran a loss of $6,274.  It's safe to say, HRAL looks to be in some steep trouble.
While it's a great idea to drop hearing aid stores in Wal-Mart locations… it doesn't mean the company is a good investment.  Especially when shares of HRAL are being pumped by paid promoters!
Stay clear of HRAL shares… do you hear what I'm saying?
A final word (and warning).
So that takes care of a few of this week's inglorious "pump and dumps".
Remember, there's a lot more of this going on each week than we highlight here.
As you know, penny stocks are a great place to invest your money.  You just have to do your due diligence to stay away from all the scams out there these days!
Until next time,
Brian Walker
Category: Pump & Dump Alerts