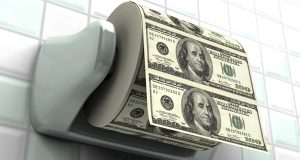 This week we're exposing these three popular Pump & Dumps:  North Springs Resources (NSRS), Spectrum Acquisition Holdings (SPAH), and Hybrid Fuels (HRID).
That said, welcome to Pump and Dump Friday, where every week we highlight a few of the "bogus" promotions that are going on in penny stocks.
If you don't know how these schemes work, be sure to check out this free report that exposes the whole thing. 
Now without further ado, here are the rest of this week's disasters waiting to happen:
North Springs Resources (NSRS)
Boy, I sure love being right!  Mostly because I've been warning you all to stay the hell away from this stock!
Gold mining, yeah right… Gold digging is more like it!
Last week, I left you with this warning…
Always be cautious of companies with paid promoters pushing their shares… gold mine or not.  More than likely, the "third party" paying the pumpers… has gold mine written all over you! 
And here we are one week later, and NSRS has completely imploded!
Take a look at the chart below…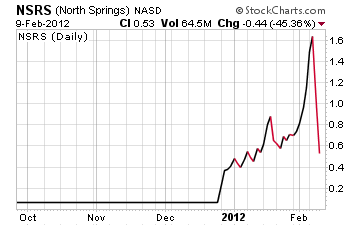 Shares of NSRS have simply fallen off a cliff… and without any news!  The stock is down over 67% in two days!  No earnings, no issues with any mining sites.  Not a peep.  Nothing on the news front whatsoever…
So what happened?
The pumpers are cashing out all at the same time… that's what!
And they're not done bilking money from you yet… nope.  The "third party", Nahulate S.A., may have cashed out for a huge chunk already.  But they've got more shares left to dump on you.
Trust me.  We've seen this time and time again…
Now that the major impact to the stock has been made, the marketing arm of the pump and dump is going back to work.  Remember, they know you won't sell your shares for such a huge loss… you bought into their hype. 
Here's what the pumpers are telling you now.
You can buy NSRS for very cheap right now!
There is Still Much More Upside to NSRS – Here's why…
NSRS consolidates Stay calm!  This is Deja' Vu
Stay calm?  Are you kidding me?  NSRS drops over 67% in two days and you want investors to stay calm?  No one in their right mind would stay calm!    
If you're holding NSRS shares right now, you're not in your right mind.  And sadly, they know it.
 They also know you're desperate for the stock to recover.  And you're in such a state of shock right now… they can get you to believe virtually anything they say.  Remember, you bought into their pipe dream to begin with! 
Now, I will agree with one part of the pumper's headlines… "This is Deja' Vu".  It's just not the kind of Deja' Vu the pumpers are talking about… 
Take a look at the chart I pulled up for LSTG below.  Lone Star Gold is another gold mining pump and dump stock we exposed last year.  And since the pump and dump ran its course, the stock has fallen back into obscurity. 
The Anatomy Of A Pump And Dump:  6 Easy Steps To Robbing Shareholders Blind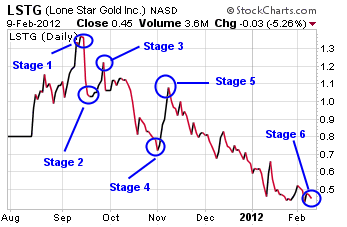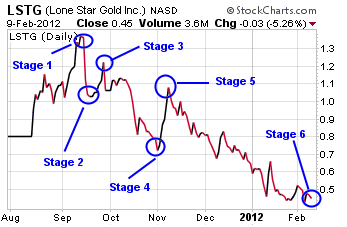 Stage 1:  Pump the stock up as high as possible, using whatever hype is needed.
Stage 2:  Sell off for as much as possible.  Put unsuspecting shareholders in a state of shock.
Stage 3:  Back off the selling to let the stock rebound, setting it up for another cash out.
Stage 4:  Sell off and collect even more from the sheep.  Sell big, because it may be over soon.
Stage 5:  If possible, pump up the stock yet again to milk more cash out of shareholders.
Stage 6:  Exit any remaining shares as the stock plummets back down to the cellar.
As you can see with LSTG, the pumpers aren't done working you over on NSRS yet.  Their job is to try to keep you in NSRS for as long as possible.  With any luck, they'll keep you around all the way to the bitter end. 
I'd be willing to bet the chart for NSRS will look pretty much the same in a month or so.  The pumpers are really tearing into this stock… so they'll have it cut to shreds in no time.
Moving forward, I suggest you ignore the news you hear from the pumpers.  None of it can be trusted.  And if I were still holding any shares of North Springs after this, I'd dump them all at the first chance I could get.
Spectrum Acquisition Holdings (SPAH)
In the wake of the NSRS blow up, I felt the need to hammer home my point.  After all, a stock hit with a pump and dump is easy to spot. 
So I'm pulling up one we warned you about last year, Spectrum Acquisition Holdings.
SPAH is a developmental stage company attempting to build green mining equipment.  And since our first write up on Spectrum, they've since acquired mining rights for three mines through the acquisition of Avalon Perspectives Inc.
Spectrum is one of those responsible companies that felt it was ok to terminate their SEC registration back in 2004.  That's a red flag alone.
And back in December, I made Penny Stock Research subscribers aware of a paid stock promotion that was going on with shares of SPAH.  At the time, Jackpot Penny Stocks was paid $20,000 to hype shares of Spectrum.  Yet another red flag.
So how have shares of SPAH fared?  Take a look for yourself…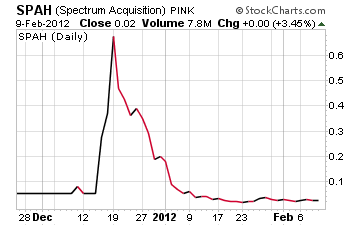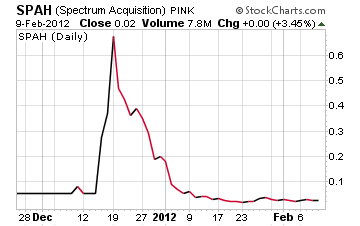 As soon as the pump and dump started, shares exploded from $0.06, all the way to $0.68.  That's a 1,000% gain!  But since then, shares have crashed hard… and now trade at just $0.02. 
This is another expensive lesson learned for someone.  I'm hoping it's just not our readers.
Hybrid Fuels (HRID)
I don't know what's worse.  Is it a company that jumps from one business to the next?  Or the pumpers who get paid to hype these crazy companies?
I'll let you decide on this one…because we're looking at both with HRID!
Hybrid Fuels was just your average penny stock that's traded under $0.04 since last June.  However, their shares have recently jumped from just $0.03 to over $0.11. 
Is there some great new product?  Have they started turning a profit, maybe?  Nope… not even close.
It's the pumpers at work, of course!  They started firing up the promo emails early this month, and voila… the stock nearly triples. 
Check out what brilliant analysis Stock Roach (a BlueWave Advisors subsidiary) is peddling…
"There are only 152 million HRID shares out there, so if Azul Instant can take just 0.6% of what Pfizer has built, this company will be generating revenue equal to its current market cap…"
"Azul Instant"… Pfizer?  Aren't we talking about a fuel company here? 
That's the crazy part about HRID.  They're in the process of changing their name and business! 
Apparently, the business of creating bio-fuels from organic waste wasn't doing the trick for Hybrid Fuels.  The company generated just $6,000 in revenue last quarter.  And they're sitting on all of $550 in cash… while current liabilities are $30,270. 
Moving forward, HRID is becoming Nouveau Life Pharmaceuticals, Inc.  And they're going to sell natural supplements to help with erectile dysfunction (ED) and acne.  Apparently Azul Instant is the name of their ED supplement. 
Super.  I'm comforted to know this company knows what they're doing… since bio-fuels and ED have so much in common.  Not! 
Before I wrap up here, let me mention HRID terminated their SEC registration in 2008!  Yes, they no longer felt it necessary to file SEC documents.  And that's never a good sign.
Needless to say, you can save your hard earned cash for a company whose stock isn't being manipulated higher and that has a stable business plan you can invest in.
A final word (and warning).
So that takes care of a few of this week's inglorious "pump and dumps".
Remember, there's a lot more of this going on each week than we highlight here.
As you know, penny stocks are a great place to invest your money.  You just have to do your due diligence to stay away from all the scams out there these days!
Until next time,
Brian Walker
Category: Pump & Dump Alerts