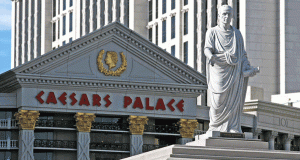 I've spent a fair amount of time discussing the positive side of IPOs.  For instance, I recently wrote how the upcoming Facebook IPO is going to be a huge deal… both for the company itself and for other social media stocks.
But what happens if an IPO isn't such a good thing?  What if the IPO is just masking deep-rooted problems at a company?
(It's too early to say, but this might be the case with Groupon (GRPN).  The company seems to have a whole lot of problems bubbling to the surface now that they're public.)
Take this week's IPO of Caesars Entertainment (CZR)…
You're probably familiar with Caesars.  They're a huge casino entertainment company.  If you've ever been to Las Vegas, chances are you've been to their most well known property – Caesars Palace.
But make no mistake, CZR is a mess.
Yes, the stock's opening day was a success, with shares jumping 71%.  But, those gains are nothing more than a mirage. 
And worse, the large first day gains were basically orchestrated by the investment banks.  The banks manipulated the market by only offering 1.4% of the company's outstanding shares.
With so few shares available, it didn't take much for the stock to shoot up. 
Here's the thing…
This IPO is only going to raise something like $13 million after bank fees and other expenses.  Wait, what? $13 million!
Did I mention this company has nearly $20 billion in long-term debt?
How exactly is $13 million going to help this deeply underwater company?  Will that even cover one interest payment?
Look, this IPO is nothing more than a manufactured method for the company's owners to dump their shares on the market… with as little damage to them as possible.
The company is primarily owned by two private equity firms, Apollo Management Group and Texas Pacific Group.  In 2007, these two firms took the company private for a whopping $17 billion.
But as of this writing, CZR only has a market cap of $1.7 billion.  So, you can see why the private equity firms are trying to inflate the stock price as much as possible.
As soon as the law allows it, these two firms are going to dump their roughly 100 million shares of CZR on the market.  And the stock's going to get crushed.
Bottom line… stay far away from this recent IPO.
Caesars is loaded with debt and the majority owners can't wait to unload their millions of shares.  Moreover, there are much better gaming stocks out there to invest in.  And, if you're interested in penny stocks, several regional gaming companies trade for cheap.
Yours in profit,
Gordon Lewis
Category: Penny Stock Alerts, Penny Stock Tips