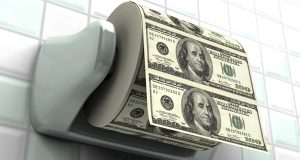 This week we're exposing these three popular Pump & Dumps: North Springs Resources (NSRS), Pure Spectrum (PSRU), and GreenCell (GCLL).
That said, welcome to Pump and Dump Friday, where every week we highlight a few of the "bogus" promotions that are going on in penny stocks.
If you don't know how these scams work, be sure to check out this free report that exposes the whole thing. 
Now without further ado, here are this week's disasters waiting to happen:
North Springs Resources (NSRS)
We've got a serious hype job going on here.  Its classic too… the pumpers keep finding new ways to get everyone excited over NSRS. 
Here are a couple of the latest headlines…
NSRS Hits New 52 Week High – It's Just Starting!
NSRS has $3.2 billion analysis at Goldstar!
NSRS keeps climbing! You may want to read this!
So why all the fuss?
It seems the recent drill program at NSRS's Goldstar site produced some test samples.  And the company is rushing out with "best case scenario" projections in terms of how much recoverable gold they're sitting on.  In fact, they're saying they can pull 1.9 million ounces of the precious metal from the ground. 
Of course, the company president is happy to announce, "Our new found knowledge of the property and area indicate that we could be sitting on up to 2,000,000 ounces of gold at Goldstar, which, if realized, could be worth approximately $3.2 billion at today's gold prices."
Now every analyst following the mining industry knows these projections are often pie-in-the-sky numbers.  There are always problems with drilling equipment, processing equipment, etc.  The list goes on and on.
And a question rarely asked of these companies is this…
Can you get the metal out of the ground, processed, and sold, fast enough to keep your company afloat? 
Hmmm… you won't find that anywhere in print will you now?
If you don't recall, NSRS only holds a 20% interest in the Goldstar property.  And they had to pay $500,000 to get it.  Furthermore… that $500,000 is borrowed money, at a whopping 10% annual interest rate. 
Before North Springs invested in this site, they had $16 in cash.  Yes… $16!
In addition, NSRS is spreading itself out all over the globe.  Now they've signed a deal in Ghana.  And they need to pay $250,000 right away to get into that one.  With some quick math, you can see NSRS has already spent $750,000 out of the $1 million they've borrowed. 
How will they fund the operational costs?
At some point, North Springs will probably need to issue more shares to keep things running.  Their future cash payments over their different projects exceed $1 million!  Remember, they've just spent most of the $1 million they borrowed.  Simply put… they're going to run out of cash again. 
If NSRS doesn't issue more shares, they'll have to add more debt to their books.  One way or another, they need to keep this party going.  And if they add shares… watch out below!  Shares of NSRS will plummet as dilution takes effect. 
My last word of warning is this…
Always be cautious of companies with paid promoters pushing their shares… gold mine or not.  More than likely, the "third party" paying the pumpers… has gold mine written all over you! 
Pure Spectrum (PSRU)
Winner winner chicken dinner… we've got ourselves a real hot stock here!
This company is so hot, shares are going for a whopping $.0004!  That's four thousandths of a cent… yes.  That's right up there with Apple (AAPL) or Google (GOOG) – not!
It seems like the promoters are trying to pump some life back into this stock.  In fact, Surfs Up Stocks was paid $2,000 to hype shares of PSRU. 
Of course I had to read the headlines to figure out what's going on. 
And it looks like Pure Spectrum has entered into a joint venture to acquire a working interest in producing wells.  The problem I see is PSRU makes lighting technology.  What the heck are they doing in oil and natural gas?
Well, I guess PSRU has to try something to make a buck, because all they've been able to do so far is lose money! 
Yep… according to their latest SEC reported financial statement, Pure Spectrum had $26,108 in revenue for the first six months of 2011.  But their total for cost of goods sold was $36,261.  Even worse, they lost over $892,000 in the same time period! 
Now, before you throw any money into shares of PSRU, be aware that they've pulled their SEC registration.  And that means they don't have to file documents with the SEC any longer.  Yet another red flag.
And it gets even better…
According to their latest financial filing covering the period up to September 2011, PSRU lost $1.19 million.  This company keeps bleeding cash!
I think we have a clear case of caveat emptor or "beware the buyer" here.  No matter what venture they're into now, stay away from shares of PSRU!
GreenCell (GCLL)
It's amazing what these pumpers will do for a buck… really.
Last year we exposed Atomic Trades for collecting $25,000 to pump GCLL shares.  This time, we've caught James Connelly of Penny Stock Prophet with his hand in the cookie jar.  Our pumper was paid $20,000 to hype shares of GCLL.
Late last year, we reported GCLL generated no revenue and lost $100,000 in their recent quarter. 
So what's changed?
According to their latest financial report… nothing! 
Oh, wait… I'm sorry.  I stand corrected.  GreenCell still has yet to sell anything, and actually found a way to lose even more money.  For the six months ending September 2011, GCLL lost a total of $219,955.  Now that's what I call progress.
Speaking of progress, how is product development coming along?
Well, they still need to complete development of their igniter, O2 sensors, fuel cells, and brake pad future products.   In other words… progress is at a virtual standstill.
Keep shares of GCLL shares far, far away from your account. 
A final word (and warning).
So that takes care of a few of this week's inglorious "pump and dumps".
Remember, there's a lot more of this going on each week than we highlight here.
As you know, penny stocks are a great place to invest your money.  You just have to do your due diligence to stay away from all the scams out there these days!
Until next time,
Brian Walker
Category: Pump & Dump Alerts