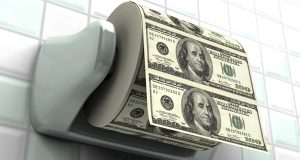 This week we're exposing these three popular Pump & Dumps: North Springs Resources (NSRS), Gold Dynamics (GLDN), and Sagebrush Gold (SAGE).
That said, welcome to Pump and Dump Friday, where every week we highlight a few of the "bogus" promotions that are going on in penny stocks.
If you don't know how these schemes work, be sure to check out this free report that exposes the whole thing.
Now without further ado, here are this week's disasters waiting to happen:
Editor's Note: This week, the gold rush is on!  I've spotted a number of pump and dump schemes at work in the gold exploration arena.  The pumpers know gold is red hot right now and they're cashing in on the gold bug.  Pay attention, because you're going to see a number of similarities between companies highlighted today.
North Springs Resources (NSRS)
After last week's spectacular collapse, NSRS shares are entering the next stage of the pump and dump scheme… "The Rebound."
The last time I talked about NSRS, I told you this would happen.  In fact, I told you the types of things the pumpers would say.  And sure enough, these guys are following protocol like they're in the Marines.  Here are a few of the headlines showing up in my inbox…
NSRS Shows Investors It is Not Done!
NSRS regains its mojo!
Could NSRS soar again this week?
NSRS should have no where to go but up!
NSRS short squeeze!  Almost back to a dollar this morning!
After all that nonsense, this one was my favorite…
Even NSRS couldn't weather the worst trading day of 2012!
The best part of this email is where the pumper tells you NSRS lost around 25% for the day…. and compared it to Zynga (ZNGA), which lost roughly 20%.
It's pretty clear, the pumpers are pulling out all the stops on this one.  They're using a classic tactic to help legitimize NSRS.   You see, by putting North Springs in the same sentence as a real company, Zynga… you're more likely to believe the two companies are both on the same playing field.
The problem is, North Springs isn't even in the same ball park as ZNGA!  Does NSRS have Facebook as its number one customer?  I think not.
Remember what I said last week… any chance you have to sell this stock, take it!  The pumpers are running their playbook to the letter.  And the next step is to drop more shares on unsuspecting sheep.
Wasn't the stock just trading over $1.60 last week?  Oh yeah, they won't remind you of that.
Gold Dynamics (GLDN)
We continue with the gold exploration theme today by exposing the pump and dump running on Gold Dynamics.
For starters, Stock Mister was paid over $23,000 to pump shares of GLDN.  In addition, Penny Stock Professor was paid $10,000 to also hype Gold Dynamics.  And finally, Surfs Up Stocks was paid $1,000 by Stock Goodies, LLC… for just a one day promo of GLDN.
Someone wants to see this stock pop… that's for sure!
As usual, I started digging into GLDN to see what's cooking.  What I did find, wasn't let's say… golden.
In their latest financial report, the company dropped a big fat goose egg on the top line… $0 in revenue.  Of course, they ran a loss for their latest quarter, as expenses tallied $7,217.
With currently liabilities of $37,432… and an accumulated deficit of $116,091, things aren't looking too good for GLDN.
While poor financials are bad enough, Gold Dynamics just started in the business of exploration and mining…GLDN used to be Vita Spirits. 
You know what?  I'll just let them tell you directly.  Here are the details, right from their latest financial report.
"Gold Dynamics Corp.'s primary operations began in April 2006. The Company intends to change its focus of primary operations from a producer of vitamin infused alcoholic beverages to exploration of mining opportunities. As part of the change in operations, the Company has undergone a name change from Vita Spirits Corp. to Gold Dynamics Corp. to better reflect the Company's new focus.
We anticipate that in order for us to begin exploration into the mining industry, we will need to raise additional capital. We currently do not have any specific plans to raise these funds."
Basically, GLDN told investors they're changing from alcoholic beverages to mining.  But to do any mining, they'll need to raise additional capital.  And… they have no specific plans to raise the money they need.  Oh, and the company has $0 cash on hand.
Now that's what I call a business plan! 
Needless to say, you can save your hard earned money for a more focused investment.
Sagebrush Gold (SAGE)
Last but not least, we have our third gold exploration pump and dump in a row… Sagebrush Gold.  SAGE shares are being pumped by both Shazamstocks and Mining Stock Alerts.  Shazam was paid $110,000 and Mining Stock Alerts received $25,000.
The crazy part is, both acknowledge owning and/or selling shares at any given time.  Now that seems a tad wrong… no?
Let's focus back on the issue at hand… SAGE.
As far as Sagebrush Gold goes, the company brought in revenue of $0.  Shocking, huh?  Even worse, they're burning cash like it's going out of style!  Their expenses are simply off the charts…
For the first nine months of 2011, Sagebrush Gold lost $93,170,078!
Whoa… that's a big number.  Of that, the company took a goodwill write-down of $72,397,654.  But that still leaves SAGE with a loss of over $20 million, after we pull out the impairment.
Now, when you see a company in this financial condition, it should be enough reason to avoid buying their shares.  But I've got one more for you.
Before becoming Sagebrush Gold, the company operated as the Empire Sports & Entertainment Holdings Co.  And before that… they were known as Excel Global, Inc.
But have no fear, they've been Sagebrush for all of nine months now.  Of course, they know what they're doing.
Lastly, I want to leave you with a chart of SAGE.  As the saying goes, a picture speaks a thousand words…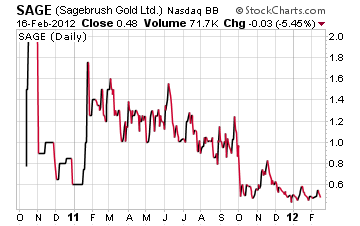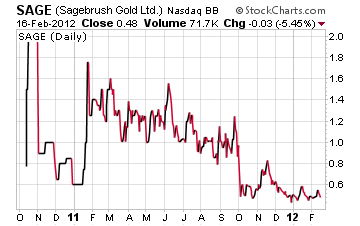 A final word (and warning).
So that takes care of a few of this week's inglorious "pump and dumps".
Remember, there's a lot more of this going on each week than we highlight here.
As you know, penny stocks are a great place to invest your money.  You just have to do your due diligence to stay away from all the scams out there these days!
Until next time,
Brian Walker
Category: Pump & Dump Alerts