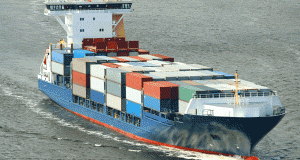 It's the event we've all been waiting for… Greece gets another bailout package.  Hooray!  The investment world is now safe once again.
Late into Monday evening, EuroZone finance ministers put a deal together designed to prevent Greece from defaulting next month.  The €130 billion package only materialized after private debt holders agreed to bigger write downs in their bonds.
There is, at long last, a concrete plan to help save the debt-laden nation of Greece…
Finally, investors can move off the sidelines and once again put their money back into the stock market.
I've found an interesting play to capitalize from the Greek debt deal.  Shockingly, this company is based in Greece.
Now, before we begin, I'm going to tell you a bit about the index this company relies upon heavily… the Baltic Dry Index (BDI).  If you're familiar with the BDI, you might be cringing right now.
But if you're unfamiliar with the BDI, it's an index used to track the daily average of prices to ship raw materials.  It represents the rate paid by end customers to have a shipping company transport materials across any of the 50 maritime routes.
If you need to ship something, the Baltic Exchange is the global marketplace for brokering shipping contracts.
Another important point to keep in mind is that the index is trading just above a 25-year index low. 
Back on February 3rd, the BDI fell to just 647.  And yesterday, the index closed at 717.  To put that number in perspective, in 2008, the BDI hit a record high of 11,793.  So the recent move from 647 to 717 is quite minor.
One thing's for sure… with the Baltic Dry Index this low, it offers brave investors an opportunity to profit.
Now, I'll be the first to admit, brave or not… buying stocks in an index that is trading near 25-year lows requires conviction.  But if you're convinced all of the US and global economic data is signaling expansion, it simply becomes a calculated risk.
And that's where our Greek shipping company comes in…
NewLead Holdings (NEWL) is an Athens-based international shipping company that owns tankers and dry bulk carriers.  NEWL operates both dry and wet transports.  And as of August 2, 2011, NewLead Holdings owns six wet tanker vessels and 16 dry bulk vessels.
There are a couple of reasons NEWL is an interesting play on both the Greek debt deal and a potential BDI rebound…
First off, from a valuation standpoint, NEWL trades at an absurdly low price-to-book ratio of just 0.32x.  Better yet, their price-to-cash ratio is 0.35x.  This means that the current share price of $1.42 is 35% of the cash the company has on hand… which is over $4.09 a share!
Now before you jump in and wildly buy shares at any opportunity, let me tell you the company has a massive pile of debt to service… and a debt-to-equity ratio of 17.3x.   While that's a scary thought, understand the entire industry has been plagued with massive debt loads as companies attempt to remain afloat.
But NEWL investors have taken a new found interest to this company recently.  Take a look at the chart and see the latest action…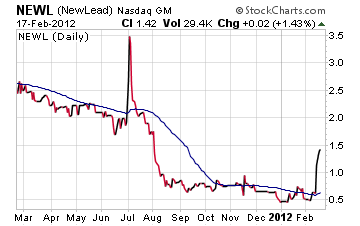 As you can see, shares of NEWL have rebounded hard off the $0.50 support level it has been trading at for some time.   And that's a bullish signal for the stock…
In the light of the recent Greek debt deal, we're certain to see investors return to oversold Greek and European stocks.  In addition, with the BDI hovering near record lows… a move higher isn't unlikely.  Especially if global growth is advancing as the data suggests.
Bottom line…
If you believe in the global growth story and can see a rebound in both Greek stocks and the Baltic Dry Index… shares of NEWL may be worth picking up for your portfolio. 
Editor's Note:  For more top notch penny stock picks, my colleague Gordon Lewis has put together a penny stock portfolio that's churning out winner after winner!  To learn more, check out his astonishing service, Penny Stock All-Stars.
Until next time,
Brian Walker
Category: Penny Stocks to Buy