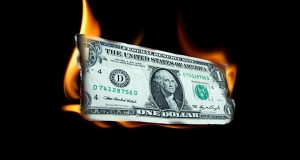 Welcome to today's Pump and Dump Alerts, where we will be exposing these two companies:  North Springs Resources (NSRS) and Auric Mining (AUMY).
Here we identify a few of the "bogus" promotions that are going on in penny stocks today.
If you don't know how these scams work, be sure to check out this free report that exposes the whole thing.
Without further ado, here are today's "disasters waiting to happen":
North Springs Resources (NSRS)
North Spring Resources is focused on the acquisition, exploration, and development of mineral resource properties.  Currently, NSRS is in the evaluation and acquisition phase of operations and generates no revenue.
The company just entered into a Minerals Lease and Agreement with MinQuest, Inc.  NSRS acquired the right to conduct mineral exploration activities for 20 years on various mining claims situated in Nevada.  This will cost North Springs Resource $140,000 up front and a total of $3 million over the next 20 years.
NSRS recently borrowed $1 million at a rate of 10% from Kazuo Holdings, Inc.  The company has already spent $500,000 of it on a phase 1 project at the Gold Star property in Wickenburg, AZ.  Since NSRS had just $16 in cash as of September 2011, their balance sheet is looking rather flimsy at best.
This penny stock trades near $0.05.
Free Penny Alerts, and all of their affiliate email outlets, were paid $600,000 by Nahulate S.A. to promote shares of NSRS.
For more detailed information on the NSRS pump and dump, please click here to view our recently published alert from 1/6/2012.
Auric Mining (AUMY)
Auric Mining operates as an investment company in Canadian mining projects.  They hold a 52% interest in the Dog Lake mineral claims in Ontario and an interest in the Dolly Gold Showing property in Saskatchewan.
AUMY has changed its name numerous times over the years.  The company was previously known as Focus Affiliates in 2009.  Before that, they were operating as Intellicell Corp. from June of 1996 until October 1999.  And prior to 1996, the company was named Cellular Telecom Corporation.
Shares are currently trading near $0.02.
Penny Stock Explosion was paid $5,000 to hype shares of AUMY.
A final word (and warning).
These are just a few of the current inglorious "pump and dumps".
Remember, there's a lot more of this going on than we can highlight here.
For more in-depth coverage of penny stock pump and dumps, be sure to sign up for our free newsletter, Penny Stock Research.
As you know, penny stocks are a great place to invest your money.  You just have to do your due diligence to stay away from all the scams out there these days!
Until next time,
Brian Walker
Category: Pump & Dump Alerts, Pump & Dump Daily