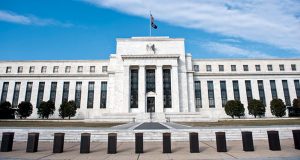 Last week I talked about some important trends that will significantly impact penny stocks in 2012.  One of those I mentioned was the effect of macroeconomic data on the markets.
By now, every investor has seen how economic headlines can move the markets.
Just look at what the European debt crisis did to stocks last year.  Even the tiniest bit of news whipsawed the market… like a Greek parliament vote or a quote from the Italian Finance Minister.
And don't forget what happened with US debt.
The government's ineptitude resulted in a ratings downgrade for Treasury bonds.  Remember how stocks nosedived on the news?
What's more, in 2011, central banks grabbed the spotlight more than ever before.  Monetary policy has quite possibly become the most important variable in investing and trading.
So what's in store for 2012?
Most likely, more of the same.
However, there's going to be one important difference this year.  And it's happening at the most important financial institution in the world – the Federal Reserve.
You see, the Fed is making some big changes.
Here's the deal…
Starting this month, the Fed will be more transparent about their interest rate policy.  They'll publish their own forecasts for the benchmark interest rate.  In other words, the Fed's going to show the public what their predictions are for the interest rate they set. 
Keep in mind, this info has always been shrouded in secrecy.  Investors could only guess at what the Fed was thinking.
But with Fed forecasts publically available, investors will have a better idea of what's in store for the economy.  And that means they may be willing to take on more risks, which could spark a buying frenzy in penny stocks.
Remember, many investors consider penny stocks to be riskier investments.
And that's not all…
The Fed also may be on the verge of adopting an official inflation target. 
If the Fed publishes an explicit inflation target, investors can get a better idea of the level of macroeconomic risk in the markets.  Granted, things can change in a hurry.  However, under normal circumstances, this could be a huge deal in terms of portfolio risk management.
And more importantly, it could significantly impact the amount of money investors are spending on penny stocks.
Here's the bottom line…
The more investors know about what the Fed is thinking, the more risk they should be willing to take.  Knowing the central bank's interest rate forecast, along with their inflation target, ought to make investors less risk averse.
And that could put penny stocks back on more investors' radar screens.
Yours in profit,
Gordon Lewis
Category: Penny Stock Tips