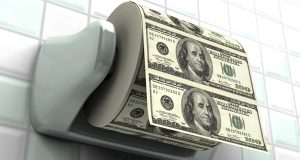 This week we're exposing these three popular Pump & Dumps : Nouveau Life Pharmaceuticals (NOUV), Uranerz Energy (URZ), and Great Wall Builders (GWBU).
That said, welcome to Pump and Dump Friday, where every week we identify a few of the potentially "bogus" promotions going on in penny stocks today.
If you don't know how these schemes work, be sure to check out this free report that exposes the whole thing.
Without further ado, here are today's "disasters waiting to happen":
Nouveau Life Pharmaceuticals (NOUV)
You might be asking yourself… where have I heard this name before?  For our regular subscribers, Nouveau Life has graced our pages in the past.  But it wasn't under this ticker symbol.
NOUV has finally completed its transformation from Hybrid Fuels (HRID).
Remember HRID?
They were that biofuel company that we exposed a pump and dump scheme on in February of this year.  If you don't recall, HRID went from biofuel processing to making a natural Viagra-type supplement to cure ED.
That's who I want to buy my supplements from… a bunch of people who were processing garbage into fuel a few months ago.  It's pure awesomeness…
Now that HRID is a chapter of the past, Nouveau Life has a new pump and dump scheme being run under this ticker symbol.  My favorite pumper, Darth Trader, was paid $85,000 recently to pump NOUV shares.  Combined, this pumper was paid $195,000 to tout shares of HRID/NOUV.
So how has all that pumping worked out for the mystery 3rd party shareholders?  Let's see…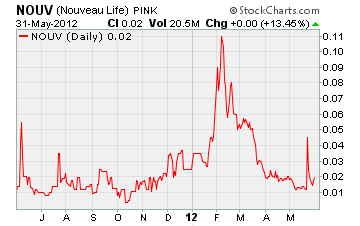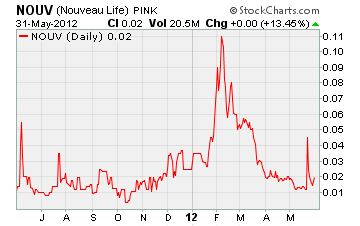 Well, when it was HRID in February… it went well.  But it doesn't look to promising at the moment.
So are there any fundamental changes that could pop this stock?
Nope… for the three months ending March 31st, the company booked $0 revenue and lost $145,268.
And for that reason alone… I'd stay clear of this pump and dump!
Uranerz Energy (URZ)
I guess the pumpers needed a new mining play to try and manipulate… and Uranerz is just the company for the job.  From what I can tell, we have four pumpers in on this game –
Stock Hunter
VIP Stock Alerts
Hero Stocks
Liquid Pennies
The interesting part here is these four pumpers are all part of one multi-headed hydra… Stock Appeal, LLC. 
To see how small the stock touting world really is, read the fine print in each of these pump and dump email blasts.  You'll see the parent company was paid over $10,000 by none other than Lake Group Media.
Now, just look back at a previous pump and dump to see where Lake Group Media fits in… remember FROG?  Frog Ads was the company that was going to clown Google, Ebay, and Craigslist!  Yeah, right.
But Lake Media Group was their "PR" firm!  If you went to FROG's website at the time, Lake Media Group published a "report" on FROG.
It's all one big joke really.  But not to investors getting sucked in to these pump and dump schemes.
So before you listen to anything the pumpers have to say about URZ, let me give you the company's bottom line numbers from an investment standpoint.
First, the company is a pre-production mining company.  That simply means URZ has $0 revenue.  Now they may be working toward actually producing uranium… I'll give them that – but they continue to operate at a loss and chew up cash.  In fact, URZ lost over $1.7 million in the first quarter of 2012.
Even worse, Uranerz has an accumulated operating loss of over $106 million from 1999 until March of 2012. 
What's more, they've yet to get final approval to start mining.  Who knows if and when they'll get it.
With all the stocks in the universe out there, obviously you can steer your way clear of this stock!
Great Wall Builders (GWBU)
I have a war brewing with the pumper Centro Azteca S.A.  It may be in my head… but it's an all-out war!
For every week they pump any stock… they're going to show up in my write up.  And that brings us back around to GWBU, Great Wall Builders.
So has the company produced any revenue since we last talked about them?  Have they turned a profit?
Of course not!
The latest financial report ending March 31, 2012 shows the company has yet to generate any revenue over the past two years!
Obviously with no revenue, GWBU is losing money.  For the nine months ending this past March, Great Wall Builders lost $36,579.  And for the past three months, the company lost just over $10,000.
That begs a question…
If the company lost just $10,000 over the past three months, are they doing anything?  Or just collecting a check from the cash they've collected for the 360,000,000 shares they have outstanding?  Hey, anything's possible.
Now, I've saved my favorite part for last.
The pumpers have lost their minds completely.  They're making comparisons between GWBU and Facebook (FB).  Say what?
You heard me, they're saying GWBU stock is beating the performance of FB shares.  See for yourself the ridiculous emails showing up in my inbox…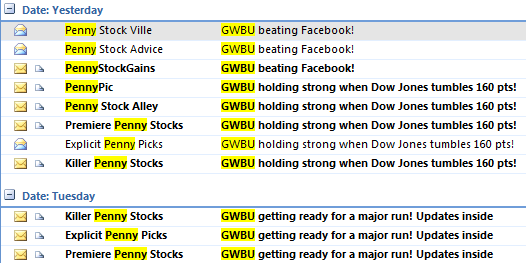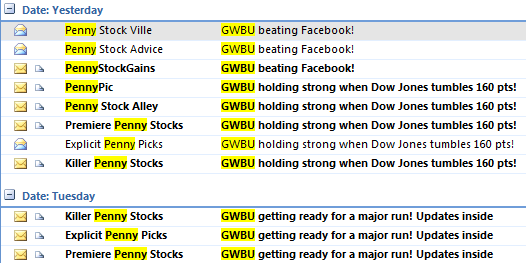 Sure, GWBU stock is holding up better than FB shares right now.  Thanks for stating the obvious and providing a great reason to buy your stock.
But how does revenue stack up?  Let's see…
GWBU – $0 vs. FB – $3.7 billion.
That's a great comparison guys… really.  Keep up the insightful analysis.
My final word of caution…
Shares of GWBU are holding up right now near $1.50… but don't expect that to last long.  As soon as the pumping stops, all investors and traders will have left to look at are the company's fundamentals.  And with no revenue, things are guaranteed to get ugly quick!
A final word (and warning).
These are just a few of the potential "pump and dumps" we've seen lately. Remember, there's a lot more of this going on than we can highlight here.  As you know, penny stocks are a great place to invest your money.  You just have to do your due diligence to stay away from all the schemes and scams out there these days!
Until next time,
Brian Walker
Category: Pump & Dump Alerts