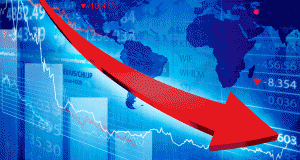 There's no doubt about it – it's been a rough month.  In fact, the S&P 500 was down a whopping 6% in May.  Even commodities got hit hard, down 9% for the month.
Even as I write this, the market is cratering and has given up all gains for the year.
To be frank, the global economic picture looks grim.  Last week was one of the worst in recording history in terms of domestic economic news.  Virtually every report came out worse than expected.
The biggest issue is of course unemployment.  Friday's jobs report was far worse than even the most pessimistic analyst had predicted.  Jobs grew by just 69,000 in May, the fewest in a year and substantially less than the 150,000 consensus.
Meanwhile, jobless claims jumped by over 10,000 for the week.  Talk about adding insult to injury.
Here's the thing…
The domestic economy is just part of the problem.
Europe's debt crisis deepens by the day.  No one knows when and if Greece will exit the Euro – and what the fallout might be.  And, now there's even talk that Spain might need to bolt the Euro as well.
What a mess.
Even the Facebook (FB) IPO was a flop!  The public debut of the largest social networking company in the world was supposed to provide a spark for tech stocks.  But, as you probably know, FB shares have pretty much done nothing but drop.
Is there no hope?
Keep in mind, when everything seems to be at its worst, that's generally the best time to buy.  Now, I'm not suggesting the market is going to recover next week, or even next month.
However, when there's this much bad news all at once, it generally means we're nearing the bottom.
So while the markets sort themselves out, how can you make money?
Believe it or not, there's still plenty of opportunity in penny stocks.
For one, penny stock gold miners are a screaming buy right now.  With the increasing likelihood of another round of Fed stimulus, gold's finally attracting investors again.
And don't forget about oil.
Crude oil plunged to under $83 a barrel.  It hasn't been this cheap since October of last year.  And we're approaching 2008 crisis lows.
I just don't see these levels holding.  Oil is just too important (and scarce) for investors to stay away for long.  And don't forget, there are plenty of high quality oil and gas exploration companies trading at penny stock prices.
Look, it may seem like there's no way to make money in the market right now.  But don't lose hope.  Savvy investors will use this opportunity to pick up first-rate stocks at bargain basement prices.
Yours in profit,
Gordon Lewis
Category: Breaking News, Investing in Penny Stocks