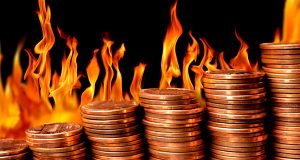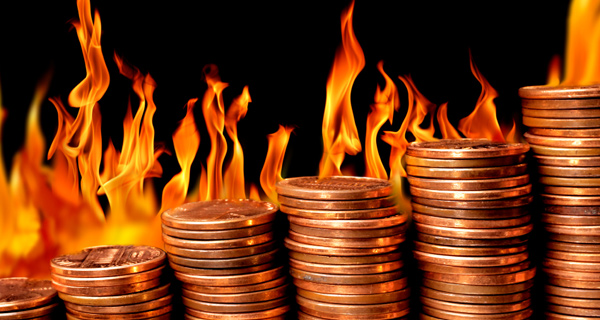 It's an exciting time for penny stocks, especially hot penny stocks like Energy Focus (EFOI), Pernix Therapeutics (PTX), and Minco Gold (MGH)…
Energy Focus (OTCQB: EFOI)
EFOI jumped last week!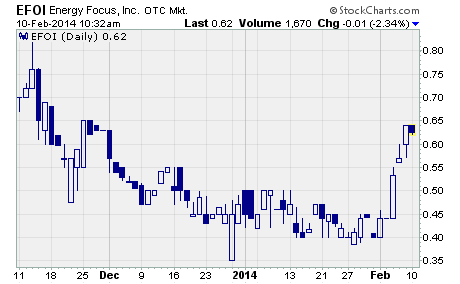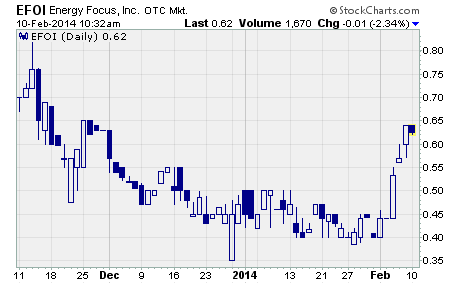 After finishing the prior week at $0.40, the stock soared to a high of $0.64 and closed there for the week.  That's an impressive 60% gain in short order.  Not too shabby.
What's going on?
Last Tuesday the company announced it expects strong growth in its military business for 2014.  The company has already signed $2 million in new orders through the first month of the year.  And those deals represent a better than 50% increase over the sales recorded in this segment for all of 2013.
Here's what CEO James Tu said about it…
"We have radically realigned our organization during the second half of 2013 to pursue a clear vision toward becoming the trusted LED lighting retrofit leader in the military, ESCO, and commercial lighting markets.  We are now starting to witness increasing pipeline momentum in all three markets.  The steep order growth in our military business, in particular, is an early indication that our sharp market focus coupled with industry leading product offering and intensive sales drive are setting the "New" Energy Focus on a path towards sustainable and significant growth."
It certainly sounds like EFOI is poised for strong growth in 2014.  And if that growth materializes, the stock should generate big gains during the year as well.
Energy Focus is a leading provider of energy efficient LED lighting products and turnkey energy efficient lighting solutions.  The company's customers include US government agencies, Fortune 500 companies, and the US Navy.
Pernix Therapeutics (NASDAQ: PTX)
Pernix is a specialty pharmaceutical company focused on developing, manufacturing, and marketing branded pharmaceutical products.  Its portfolio of branded products includes treatments for middle ear infections, head lice, cough and cold, ulcers, and insomnia. 
After trading sideways for the past three months, PTX soared last week!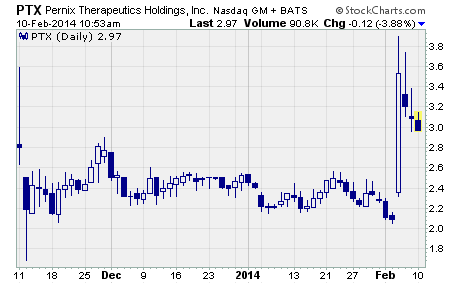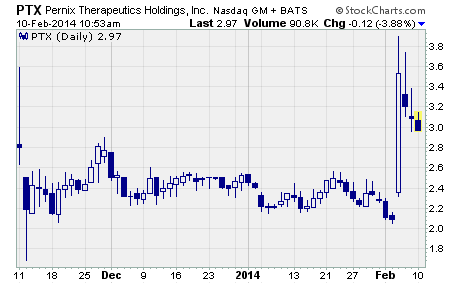 While the stock traded down to a low of $2.05 early in the week, it skyrocketed to a high of $3.89 on Wednesday before finishing at $3.09 on Friday.  All in all, the shares gained 35% for the week.
Why did PTX take off? 
Last Wednesday management announced several changes that bode well for the company's future. 
First off, Pernix hired industry veteran, Doug Drysdale, to be the new Chairman and CEO.  Mr. Drysdale most recently served as the CEO of Alvogen, which he helped build from inception into a global drug company.  Alvogen now operates in 30 countries with a portfolio of over 200 projects in development and registration.
What's more, the appointment of Mr. Drysdale has attracted a substantial investment to the company.  A group of institutional investors supporting the hire have agreed to purchase convertible notes issued by Pernix for $65 million.
And finally, the company announced it has achieved the favorable resolution of several legal matters.  With these matters now in the rear view mirror, management can focus all of its efforts on growing the company.
Investors are clearly excited by all of this news, but they're not the only ones. 
Wall Street analysts like it too and have raised their 2014 outlook for Pernix as a result.
They're now projecting revenue will grow 29% this year to $113 million.  And instead of an eight cent loss, they're estimating Pernix will turn a profit of $0.07 per share for the year.
The future is definitely looking brighter for Pernix.  This is one small-cap drug company worth a closer look.
Minco Gold (NYSE: MGH)
  MGH is moving higher in a strong uptrend.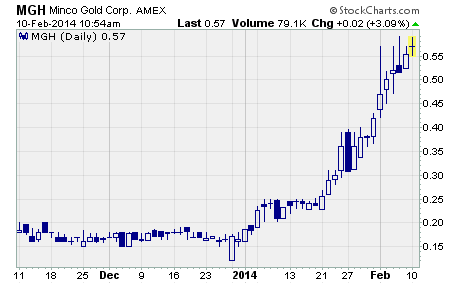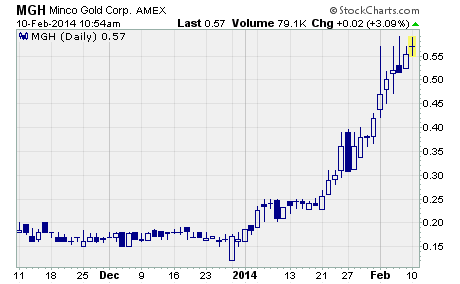 The stock surged last week from $0.42 to a high of $0.59 before finishing the week at $0.55 per share.  That's a 31% rise in just one week's time.  And the stock has gained a whopping 358% since hitting a low of $0.12 in late December 2013.
It's an impressive rally to say the least.
Minco Gold engages primarily in the acquisition, exploration, and development of gold mineral properties.  However, it also explores for iron, silver, lead, zinc, and other base metals.  The Vancouver-based company owns 10 exploration permits in the Longnan region of the Gansu Province in China.
The stock has been trending higher ever since the company announced the discovery of a large gold zone at its 100%-owned Yejiaba Project in China.  The gold zone is approximately 1,100 meters long and 400 to 600 meters wide, covering an area of about 340,000 square meters.
What's the next step?      
Minco is currently working to define the limits of the zone's gold mineralization.  After it completes this process, the company will have a better understanding of the distribution of gold mineralization within the project. 
And at that time, it can begin to select sites for an upcoming drill program.
No question about it, investors are driving MGH higher on optimism the company has made a major gold discovery.  Of course, the stock could post even bigger gains as more specific details about the discovery emerge.    
Profitably Yours,
Robert Morris
Category: Hot Penny Stocks