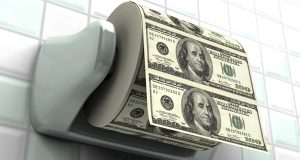 Welcome to Pump and Dump Friday, our weekly feature where we identify potentially "bogus" promotions going on in penny stocks.
Today we're exposing one of the most extensive penny stock pump and dump campaigns of the week:  Novus Acquisition & Development Corp. (OTCPINK: NDEV).
If you don't know how these schemes work, be sure to check out our free report that exposes the whole thing.
Without further ado, here is today's disaster waiting to happen:
Novus Acquisition & Development Corp. (OTCPINK: NDEV)
NDEV is one of the most heavily hyped penny stocks of the past week.  At least 63 different promoters have pumped the shares through 253 newsletters.
In fact, our research indicates this promotion is one of the most heavily financed campaigns we've seen in a while.  According to our source, a whopping $525,000 has been spent promoting NDEV in May.
And we're not even half way through the month!
The list of highest paid promoters includes the usual suspects. 
StockMister has received or expects to be paid $250,000 to promote NDEV.  Top Gun Stock Picks, Darth Trader, and The Stock Psycho have received $150,000 each for their services.  And there are many others being paid anywhere from $2,000 to $30,000 to pump NDEV.
So, what's the story on Novus?
The company was incorporated in Nevada in 1996 but has its headquarters in Miami, Florida.  It was incorporated under the name Shirazi Corporation, but the name was changed to Surface Tech, Inc. in 2003 and then changed again to BrandQuest Development Group, Inc. in 2006.
It's been operating under the current name of Novus Acquisition & Development Corp. since April 2009.
The company's current business model is to work "with newly acquired companies in branding their products and or services, advertise and market through all media forums, [and] build distribution by funding their efforts through investment and organically."
As such, Nova has recently acquired Voda Technologies, Inc., a water science based product company.  A recent press release states that Voda plans on launching in 2013 a number of alkaline, anolyte, and catholyte water-based products to be used in industrial, commercial, and consumer applications.
Judging by Novus' recent track record, I'm not too optimistic about their chances for success.
According to the company's most recent financial statement dated March 31, 2013, Novus had net income in 2012 of a paltry $34,235.  That slight profit followed losses of $6,550.87 in 2010 and $484.67 in 2011.
What's more, Novus' balance sheet shows total assets of just $2,890 with total liabilities of $180,000.
That's not a pretty picture.
Heck, the March 2013 financial statement itself states…
"These conditions create an uncertainty as to the Company's ability to continue as a going concern."
And it looks like investors aren't too keen on Novus' prospects either.  Despite a half a million dollar promotional campaign, Novus shares have plunged 86% so far in May.
Do yourself a favor and avoid NDEV.  If the pumpers aren't able to boost this stock, it's doubtful NDEV will move higher anytime soon.
Other Penny Stocks Being Pumped This Week
Neologic Animation Inc. (OTCQB: NANI) – 66 promoters with 239 newsletters have been paid $233,750 so far this month to hype NANI.
Multi-Corp International, Inc. (OTCPINK: MULI) – 16 promoters with 130 newsletters have been paid $1,225,750 so far this month to plug MULI.
As you know, penny stocks are a great place to invest your money.  You just have to do your due diligence to stay away from all the schemes and scams out there these days!
Profitably Yours,
Robert Morris
Category: Pump & Dump Alerts