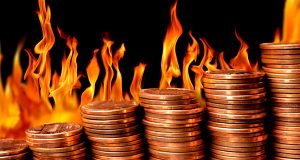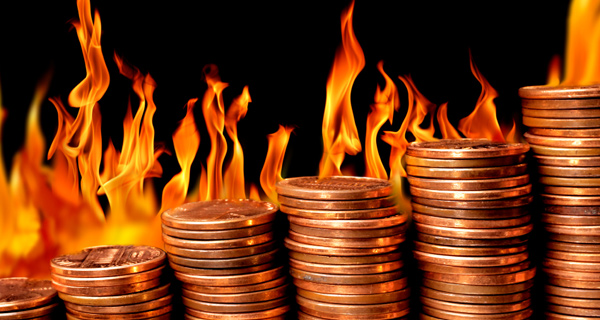 It's an exciting time for penny stocks, especially Torm A/S (TRMD), Dataram Corporation (DRAM), and Vermillion (VRML).  Let's take a closer look at these three hot penny stocks…
Torm A/S (NASDAQ: TRMD)
TRMD soared 267% last week!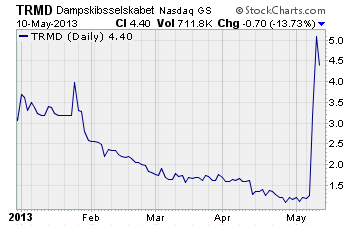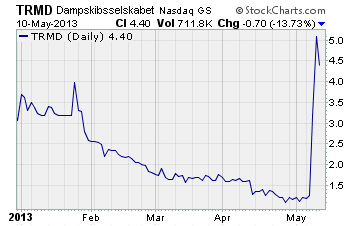 Torm A/S is a Danish shipping company that operates a fleet of product tankers and dry bulk carriers worldwide.  The company's product tankers carry refined oil products, such as gasoline, jet fuel, naphtha, and diesel oil.  Torm's dry bulk vessels carry iron ore and coal for utilities and the steel industry as well as commodities such as grain, bauxite, and fertilizers.
Why's the stock surging?
Torm reported their best first quarter since the beginning of the financial crisis.  EBITDA increased from a loss of $7 million a year ago to a gain of $36 million.  Net loss improved dramatically from a loss of $79 million to a loss of just $16 million.  And cash flow went from negative $57 million to positive $11 million.
Seasonally high product tanker freight rates, rising dry bulk freight rates, and cost cutting drove results. 
TRMD skyrocketed on the news.  After closing the prior week at $1.19 per share, the stock shot up to a high of $7.75 before ending the week at $4.40.
Dataram Corporation (NASDAQ: DRAM)
Dataram is a data storage device company based in Princeton, New Jersey. 
The company makes large capacity memory products for high performance network servers and workstations worldwide.  They offer customized memory solutions for original equipment manufacturers and compatible memory for computers made by various companies.  In addition, Dataram provides a line of memory products for Intel and AMD motherboard based servers.
Over the past week, DRAM has surged 99%!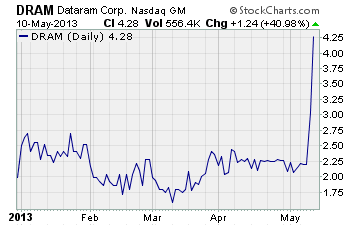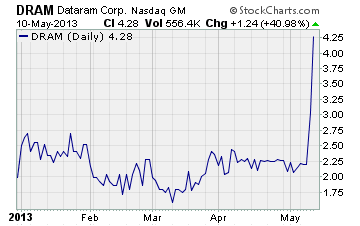 Here's why…
Dataram and Advanced Micro Devices (NYSE: AMD) announced an expanded partnership last week.  DRAM has been selected to produce AMD's new Gamer Series memory.  The two companies had previously announced that Dataram would produce an AMD-branded version of DRAM's popular RAMdisk software. 
The new Gamer Series memory is made of high quality components that help deliver top memory performance and reliability.  As such, the products will enable gaming enthusiasts to load their favorite games significantly faster.
The memory product is compatible with both AMD and Intel platforms.  And it's the only memory on the market that offers both XMP and AMP memory profiles in one package.
Investors clearly liked the news.  They sent DRAM surging from $2.15 to a high of $5.60 for a whopping 160% gain in just two days!  The stock eventually closed out the week at $4.28 per share.
Vermillion (NASDAQ: VRML)
Vermillion develops and markets diagnostic tests in the fields of oncology, cardiology, and women's health. 
The company's lead product is OVA1, an ovarian cancer blood test for pre-surgical identification of women who are at high risk of having a malignant ovarian tumor.  Vermillion also has a strategic alliance agreement with Quest Diagnostics (NYSE: DGX) to develop and commercialize diagnostic tests.
Shares of VRML jumped 66% last week!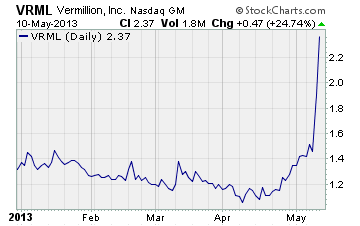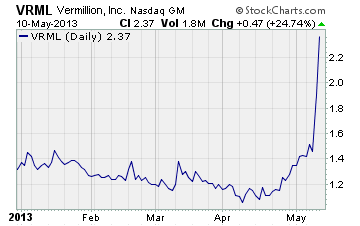 What's going on?
The stock soared on news that Oracle Investment Management and other investors have agreed to purchase 8 million shares of VRML for $13.2 million.  The investors will also receive 12.5 million warrants with a strike price of $1.46. 
If and when the warrants are exercised, the company will realize an additional $18.3 million in proceeds, bringing the total investment to $31.5 million.
Proceeds from the transaction will be used to increase test sales and improve reimbursement for OVA1.  What's more, the proceeds will be used to expand the commercial opportunity for OVA1 into new markets and advance one or more next-generation ovarian cancer diagnostic tests.
The deal was seen as a major positive for Vermillion.  The company's shares surged from $1.43 to a high of $2.44 before settling at $2.37 for the week.
Profitably Yours,
Robert Morris
Category: Hot Penny Stocks