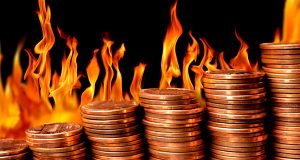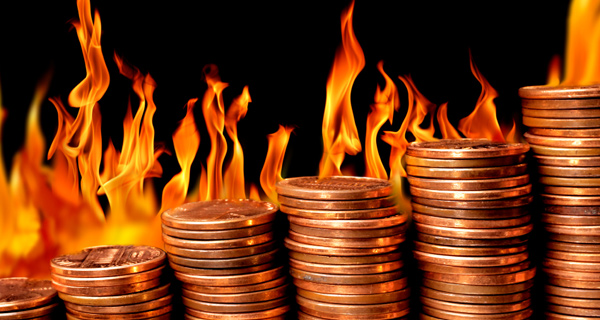 It's an exciting time for penny stocks, especially hot penny stocks like Microvision (MVIS), Lojack (LOJN), and Lightbridge (LTBR)…
MicroVision (NASDAQ: MVIS)
MVIS soared last week!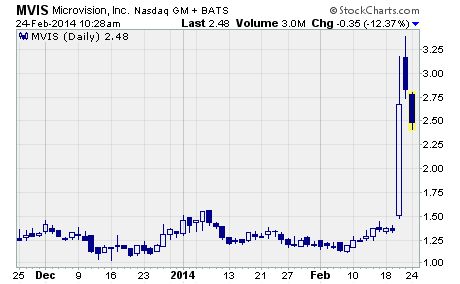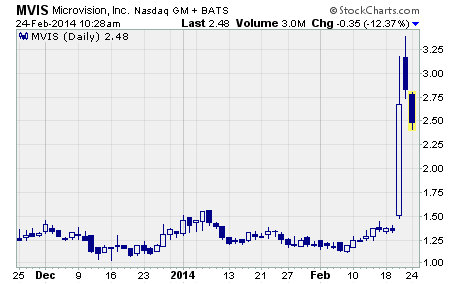 As you can see, the stock rose from $1.36 to a high of $3.38 before finishing the week at $2.83.  The move gave investors a monster one-week gain of 108%.  And the stock registered its highest weekly close in eight months.
MicroVision is the creator of PicoP® display technology, an ultra-miniature laser projection solution for mobile consumer electronics and automotive head-up displays.  This technology uses two dimensional micro-electrical mechanical systems, lasers, optics, and electronics to create a video or still image from a small form factor device.
So, what's going on with the stock?
It received a huge boost from Sony last week.  The electronics giant announced it is building a pico projector module with HD resolution that will incorporate MicroVision's PicoP technology.
Sony had this to say about it…
"By combining this module with Wi-Fi components and a battery, it can realize a compact, pocket-sized projector which can be used to project images from products such as smartphones or tablets, focus-free and in even higher resolution, on any flat or curved surface such as a wall or desk."
This could be a huge win for MicroVision. 
I would think a projector of this kind, if sold at a reasonable price, could become a must have item for millions of smartphone and tablet users.  With this new product, you would no longer be limited to watching video on the small screen of your handheld device.
MVIS is definitely a penny stock to keep an eye on.  The company's relationship with Sony could be the start of a new era of profitability for the company.
LoJack (NASDAQ: LOJN)
LoJack provides technology products and services for the tracking and recovery of mobile assets, stolen vehicles, motorcycles, construction equipment, cargo, and people at risk of wandering.  The company markets its products to owners of commercial equipment and consumers through its sales force, telemarketing, direct mail, and auto dealerships. 
After trading sideways for the past three months, LOJN soared last week!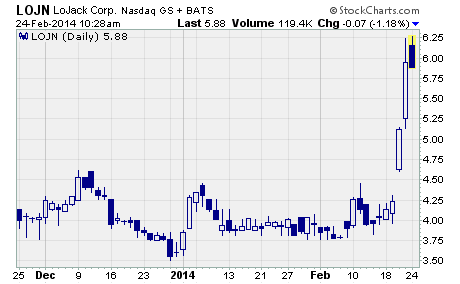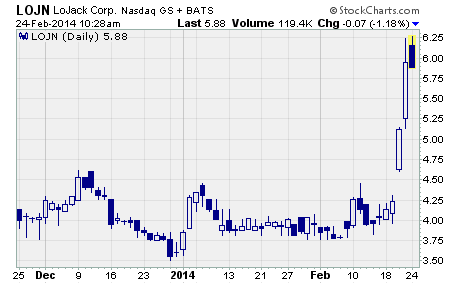 The stock jumped from $4.05 to a high of $6.24 before settling in at $5.95 for the week.  That's a 50% gain in short order.  Not too shabby.
Why did LOJN surge last week? 
The company reported much stronger than expected growth in the fourth quarter of 2013. 
Revenue jumped 20% year-over-year to $40 million thanks to the success of its pre-install strategy for the stolen vehicle recovery business.  Sales growth in this unit has now outpaced that of the broader US retail auto industry for 15 consecutive months. 
And earnings of $0.25 per share blew away analysts' estimates.  They were expecting just $0.11 per share for the quarter.
What's more, management provided a bullish outlook for 2014.
They expect revenue growth of 8% to 10% this year.  And analysts are forecasting a 77% rise in earnings.
It looks like LoJack is poised for solid growth over the next couple of years.  You may want to take a closer look at this penny stock for your own portfolio.
Lightbridge (NYSE: LTBR)
LTBR is moving higher in a strong uptrend.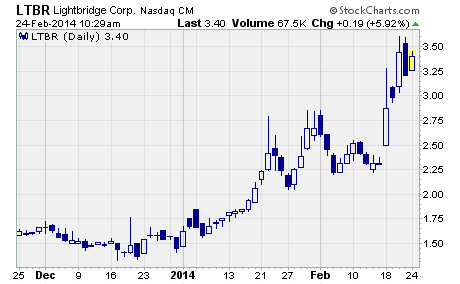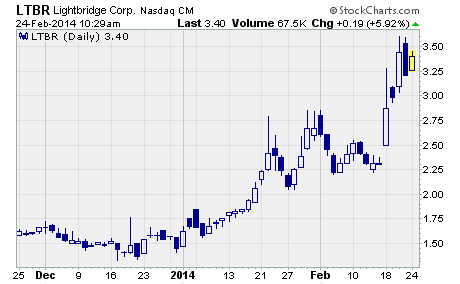 The stock surged last week from $2.31 to a high of $3.60 before ending the week at $3.21 per share.  That's a 39% rise for the week.  And the stock has now gained 121% year-to-date.
Lightbridge develops proprietary, proliferation resistant, next generation nuclear fuel technologies for current and future nuclear reactor systems.  Its breakthrough fuel technology is establishing new global standards for safe and clean nuclear power and leading the way to a sustainable energy future.
Why did the stock take off?
The company announced last Tuesday that it received a key patent covering its multi-lobed metallic fuel rod design and fuel assemblies.  The patent provides broad protection for the metal fuel element that will be used in all of the company's fuel assembly designs.
What's more, management believes the patent will likely spur teaming arrangements with major nuclear fuel fabricators.
The new patent should help Lightbridge generate new royalty revenue going forward.  And it should help the company secure new contracts for engineering support services.
LTBR is a penny stock to keep an eye on this week.  The company is expected to report fourth quarter and full year 2013 earnings.     
Profitably Yours,
Robert Morris
Category: Hot Penny Stocks