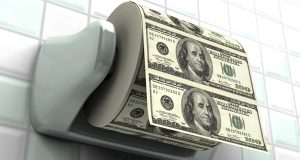 This week we're exposing these three popular Pump & Dumps:  Mustang Alliances (MSTG), Bioflamex (BFLX), and VGTel (VGTL).
That said, welcome to Pump and Dump Friday, where every week we highlight a few of the "bogus" promotions that are going on in penny stocks.
If you don't know how these schemes work, be sure to check out this free report that exposes the whole thing.
Now without further ado, here are this week's disasters waiting to happen:
Mustang Alliances (MSTG)
For a second week in a row, we're talking about Mustang Alliances.  This week we have even more reasons to expose the pump and dump happening with MSTG.
Before we get into that, here's a quick recap if you missed last week's write up…
Mustang Alliances is yet another mineral exploration company hoping to find gold.  They're planning to test drill at half a dozen mining concessions they've purchased in Honduras.  And like many of the companies we highlight, MSTG has sad financials…
$0 Revenue
$620,562 loss for the first 9 months of 2011
$62,206 in cash
Obviously, the financials alone are enough to avoid investing in the company.  But the stock is also being manipulated in a pump and dump scheme.  Since January 28th this year, hundreds of thousands of dollars have been paid to pumpers to hype shares of MSTG.  Pumpers like Stock Castle, Wall Street Penny Stock Advisors, Stock Mister, Bull in Advantage, and of course, the latest… Obscure Stocks (who was paid over $300,000 to promote these shares).
One of the problems I have with MSTG (outside of the pump and dump), is the press releases they're putting out.  It's as if they're knowingly feeding the pumpers fodder to help them promote the stock.  Take a look at one of the comments from their March 5th press release talking about their Bonanza Concession…
"The acquisition of potential nearby ounces coupled with an aggressive exploration program dovetails very well with our production plans for the Potosi…"
Let's break that down…
"The acquisition of potential nearby ounces" – Loose translation… We have no clue if there's anything in the ground… but we're guessing there is and we're going to let you think it too.
Could you imagine Apple coming out and announcing, "We're excited to announce we have a new parts supplier for our new iPad 3.  We think their parts will work well, so we're pushing ahead with production."
You simply wouldn't hear that kind of talk from a major corporation!  But somehow, a puny little gold exploration company can get away with that.
Better still… "coupled with an aggressive exploration program dovetails very well with our production plans…"
Wait, the exploration program dovetails well with production plans?  Don't you have to have exploration complete prior to having production plans?
I mean, how do you know where to dig?  How much to spend?  What type of equipment will work best?  How much it will cost to maintain?
Oh, wait, I almost forgot… we're talking about a pump and dump here.  You don't need to know about those silly little details.
Moving back to the pump and dump scheme, let's take a look at the chart to see how things are progressing…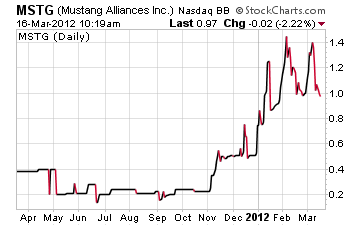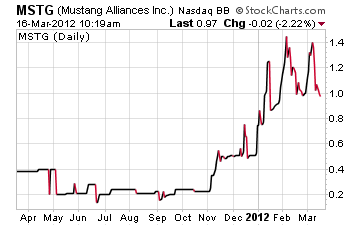 Last week, MSTG was sitting up at $1.40 again.  Apparently, the ride must be coming to an end as we've seen a double top already… followed by a massive selloff.
Is that the "3rd party" cashing out once again?
I warned you of this exact thing last week.  And with MSTG still a dollar, you can still get out before this thing totally collapses… and trust me, it's headed there!
Bioflamex (BFLX)
Alright, I've been waiting since Tuesday to get into BFLX.  Now it's time to expose Bioflamex for what it truly is… a pump and dump!
If you missed my article Tuesday, I basically called out the CEO for complaining about his stock tanking in a single day.  This guy basically blamed short sellers for smashing his company's shares from $.050 to $0.10 in a single day.
Of course, it had nothing to do with the over $500,000 in promotional fees paid to pumpers…
The problem I pointed out is that short shares are on limited supply, at least at my broker.  And I use Interactive Brokers, one of the largest in the business.  If they have limited supply, then many brokers probably won't even have shares you can borrow to short.  It doesn't add up.
For more details, you can read the article after you're done here.  But you'll want to stick around to learn more about the company itself first…
For starters, BFLX has a jagged history.  Before they became Bioflamex, the company was run as a mining exploration company.  The name of the previous company was Deer Bay Resources, Inc, and was run by a different owner… Gary Wong.
That's an obvious leap for a company to make, gold exploration to fire extinguishers.  Why didn't I think of that myself?
I'd bet the new owners, Henrik Dahlerup and Kristian Schiorring, were just looking for a way to have a US-based company.  You see, the company is registered in Nevada, but their headquarters are in Denmark!
While the business change last year is a red flag, the financials are even worse…
From January 2011 until November 2011, BFLX pulled in $0 in revenue.  But wait, don't they sell fire extinguishers?
Not yet…
They've yet to produce a saleable product.  In fact, they've only now just entered into a production partnership with a "mystery company".
That's right… in their press release, Bioflamex left out the name of their production partner.  They simply said their new partner is a "highly specialized European aerosol production company".  I guess investors have no way of checking up on BFLX.  So how do we know what they're up to?  You'll have to trust what they're telling us in press releases.  And that just doesn't cut it for me.
The only thing we're left with is the financials… so let's get back to them.
With $0 in revenue, BFLX's bottom line is obviously in the red.  For the nine months ending November last year, the company lost just over $100,000. 
And cash on hand… let's just say they're a bit light with $276.  That's enough to keep the lights on for a week or so.
I'm not quite sure how this company will succeed with those numbers, but one thing's for sure… even a pump and dump can't save BFLX.  Stay far, far away from this stock.
Just yesterday, over $62,700 was spent to pump shares of VGTL.  Some of the big boys in the pump and dump game were quite busy… RDI and all of their pumper outlets, and also the group of Blue Wave Advisors stock touting services.
The pumpers have been hyping VGTel for over a week now.  And shares have been bouncing between $0.38 and $0.74.   Regardless of the praise the pumpers are singing, I'm going to give you the dirt on VGTL.
First off, we have an extremely unfocused company on our hands…
VGTL started out known as Tribeka Tek, Inc.  Management ran the company from 02/02-01/06 during which they provided "Edgarizing services" for publicly traded companies.  Ok, fair enough.
But then, the company switched focus and bought technology to compete in the voice over IP (VOIP) business.  VGTel systems ran this way from 01/06-02/11.
And after a series of failed share purchase agreements, VGTL ended up as a true "shell company".  Meaning they're actively searching for a new business to run.
Fast forward to current affairs…
VGTL is now a "digital media firm actively pursuing the online distribution of digital entertainment products".  And they're doing business as 360 Entertainment & Productions.
Ok, so let me recap.
They've been a financial service provider to corporations, a player in VOIP, a shell company, and now an entertainment company.  Can we get these guys a clown nose and shoes next?
With such a crazy past, their financials are equally as frazzled…
Looking at their balance sheet, VGTel has $2,690.  Wow, that's impressive.  And that represents their total assets.  Even better, VGTL has $834,510 in current liabilities. That math certainly doesn't equal out to the plus side.
With $0 revenue and a $1.7 million loss last year… it's going to take a whole lot to save this company!
Their stated goals for 2012 are to design and build a website, and find businesses and assets to acquire.  I can tell you, they won't get very far with $2,690!
Steer clear of VGTL shares, no matter what the pumpers say!
A final word (and warning).
So that takes care of a few of this week's inglorious "pump and dumps".
Remember, there's a lot more of this going on each week than we highlight here.
As you know, penny stocks are a great place to invest your money.  You just have to do your due diligence to stay away from all the scams out there these days!
Until next time,
Brian Walker
Category: Pump & Dump Alerts