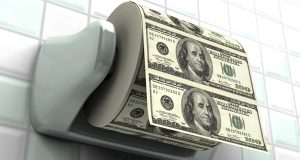 Welcome to Pump and Dump Friday, our weekly feature where we identify potentially "bogus" promotions going on in penny stocks.
Today we're exposing one of the most extensive penny stock pump and dump campaigns of the week:  mLight Tech (OTCQB: MLGT).
If you don't know how these schemes work, be sure to check out our free report that exposes the whole thing.
Without further ado, here is today's disaster waiting to happen:
mLight Tech (OTCQB: MLGT)
MLGT is one of the most heavily hyped penny stocks of the past week.  According to our sources, 35 promoters with over 150 newsletters have been paid more than $200,000 to pump the stock.
And it appears to have served its purpose…
You see, the stock has been eligible for trading on the OTC market since the company's inception in September 2010.  However, not a single share had ever been traded in the open market until this pumping campaign began.
Not having a way to cash in on their shares was probably very frustrating for company insiders.
But thanks to the penny stock hype machine, there is now (at least for the time being) a market for the company's stock.  In fact, over 8 million shares of MLGT changed hands yesterday.   
But traders and insiders hoping for a sustained rally were sorely disappointed.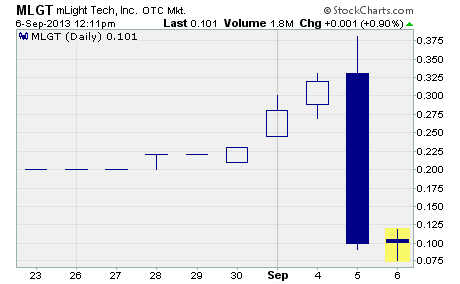 While the stock climbed for three days straight, the air finally came out of the pump yesterday.  After hitting a high of $0.38, MLGT plunged all the way down to $0.09 before finishing the day at $0.10 per share.
Those who bought MLGT near the top and didn't dump it on the way down are now sitting on losses of up to 74%!
And it's hard to justify a price of even 10 cents for this stock.
According to the most recent quarterly report (June 2013), mLight Tech is a development stage company with no products or customers.  It has never generated a single penny of revenue. 
And what's more, it has racked up losses of $29,844 since inception.
The quarterly report says mLight's "plan" is to provide software solutions that simplify the management of networked personal computers.  But it appears the company has given up on that plan before it ever got off the ground.
A recent flurry of press releases that appear timed to coincide with the stock pumping campaign tell a different, more exciting story.  The company now says it is "planning to acquire several companies in the automotive industry that will provide significant revenue in 2014."
The first acquisition target is The Ding King Training Institute.  It's a training school that teaches paintless dent repair and sells paintless dent repair tools.
mLight Tech CEO Todd Sudeck, who is also the CEO of Ding King, claims the acquisition will provide mLight with revenue of $10 million next year.  He's expecting great success from a new Ding King infomercial that is supposedly in the works.
The press release further states that Mr. Sudeck is authorized to finalize the transaction for both parties.
While the new and improved mLight Tech story certainly sounds exciting, there are plenty of red flags surrounding it.  
No business or financial success in three years of operation.

Press releases boasting of the company's new direction coming out at the same time a massive stock pumping campaign unfolds.

The claim of huge revenues to come next year without many facts to back it up.
And my favorite… mLight Tech's future success appears to hinge on the acquisition of a company for which its CEO also serves as the CEO. 
Ding King is a private company so I couldn't find any information regarding Mr. Sudeck's ownership interest.  But I'd bet dollars to donuts he stands to benefit personally from this deal.
Steer clear of MLGT if you value your money. 
This story has all the signs of a classic pump and dump routine.  If you already own MLGT, you may want to dump your shares now and cut your losses.       
Other Penny Stocks Being Pumped This Week
InoLife Technologies (OTCQB: INOL) – 32 promoters with 132 newsletters have been paid over $40,000 so far this month to hype INOL.
Limitless Venture Group (OTCPINK: LVGI) – 28 promoters with 102 newsletters have been paid over $50,000 in September to plug LVGI.
As you know, penny stocks are a great place to invest your money.  You just have to do your due diligence to stay away from all the schemes and scams out there these days!
Profitably Yours,
Robert Morris
Category: Pump & Dump Alerts