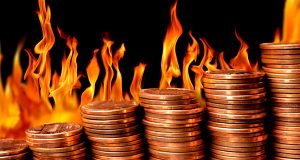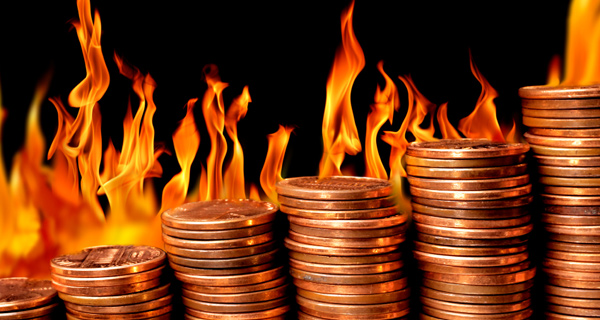 It's an exciting time for penny stocks, especially GenVec (GNVC), Rockwell Medical (RMTI), and Genco Shipping & Trading (GNK).  Let's take a closer look at these three hot penny stocks…
GenVec (NASDAQ: GNVC)
GNVC's surging off its 52-week low!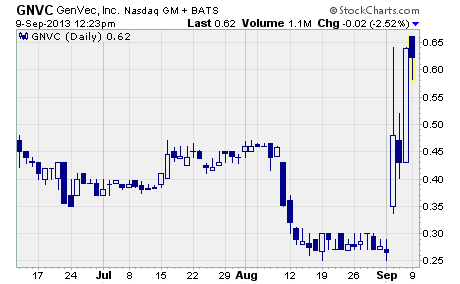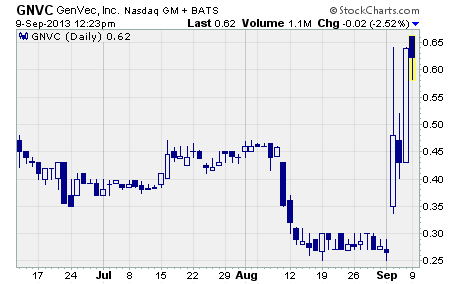 Prior to last week, GNVC appeared headed for the dustbin of history.  Management was pursuing plans to dissolve the company, and the stock had fallen to a new 52-week low of $0.25 per share. 
But that all changed on Tuesday…
Management announced the withdrawal of its plan for complete liquidation and dissolution of the company and replaced its President and CEO.  GenVec will now focus on "maximizing the value of its technology and assets, including its collaboration with Novartis to develop novel treatments for hearing loss."
As a result, GNVC soared 137% and closed at the weekly high of $0.64 per share.
GenVec is a small, development stage biotech that uses proprietary technologies to create therapeutics and vaccines.  The company's currently focused on developing treatments for hearing loss and vaccines against various infectious diseases. 
And it boasts collaborative partnerships with Novartis AG, Merial Limited, and the US government.
Management withdrew its plan of dissolution because they've "grown more confident in the success of [GenVec's] hearing loss program."  They now believe the company will achieve its milestones and bring expenditures in line with resources.
Management also noted that GenVec has enough cash to fund operations at least through the end of 2014.
If you like speculative, penny stock biotechs, GNVC may be a play worth considering here.  Even though the stock has soared off the bottom, it still has plenty of upside potential. 
Back in February, before the plan of dissolution was announced, GNVC traded as high as $2.10 per share.  A move back up to those levels would provide a stunning gain of 239% from the current price of $0.62 per share.
Rockwell Medical (NASDAQ: RMTI)
RMTI is another small biotech that provided big news last week.  The company announced on Wednesday that a second phase 3 trial of its experimental anemia drug, soluable ferric phosphate (SFP), was a huge success.
Rockwell is developing SFP as a treatment for iron deficiency in patients receiving hemodialysis for chronic kidney disease.
Top-line results from the trial showed SFP met the primary endpoint and key secondary endpoints of the study.  These data follow positive results from the first phase 3 trial announced in July.
Rockwell now has sufficient clinical data to file for FDA approval of SFP.
According to CEO Rob Chioini, "the demonstrated efficacy and excellent safety data from each of the two [phase 3 trials] gives us great confidence in obtaining FDA regulatory approval."  He went on to say that management believes "SFP will establish a new paradigm in iron therapy treatment for hemodialysis patients."
As you might imagine, RMTI soared on the news…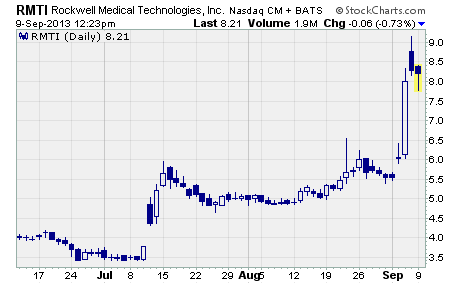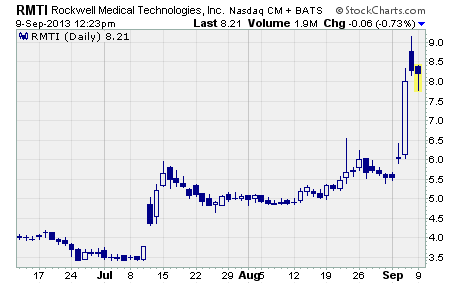 After finishing the prior week at $5.53, RMTI shot up 65% to an intra-day high of $9.14 last Friday.  Not too shabby.  And even though it succumbed to a bit of profit taking, RMTI still finished the week with a gain of nearly 50%!
What's more, RMTI may have significant upside potential from here.
A Stifel Nicolaus analyst commented on the trial data and the stock last week.  He said the results from both SFP trials are strong, and the safety data is favorable.  The analyst went on to say he continues to rate the stock a "buy" with a price target of $11.
Genco Shipping & Trading (NYSE: GNK)
Genco engages in the ocean transportation of dry bulk cargoes through its fleet of 59 dry bulk carrier vessels worldwide.  It transports iron ore, coal, steel products, and other dry bulk cargoes for commodity traders, producers, and government-owned entities.
Here's the thing… GNK has taken off over the past week!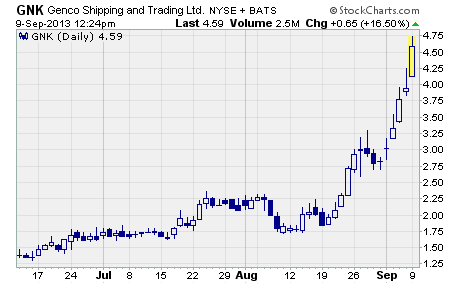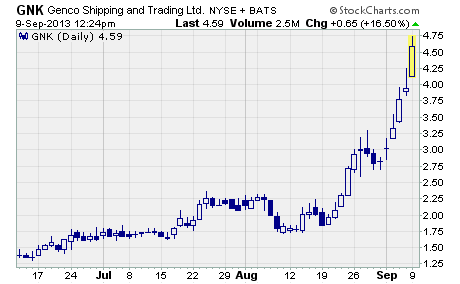 As you can see, the stock climbed from $2.83 a week ago Friday to a high of $4.25 this past Friday before finishing the week at $3.94.  That's a gain of 39% in just one week's time. 
And the stock's continuing to move higher today.
As I write, GNK is up more than 10% intra-day to a price of $4.36 per share.  It also set a new 52-week high of 4.73 in mid-day trade.
What's going on?
Investors are piling into stocks of dry shippers, including GNK, after last week's surge in dry bulk shipping rates.  The Baltic Dry Index, which tracks these rates, jumped 19% last week.
It was the biggest spike in over two years.
The price rise is being attributed to a couple of inter-related factors… a lack of ships and red hot demand for iron ore from China. 
Of course, a big rise in shipping rates is bullish for dry bulk shipping companies.  And GNK appears to be perfectly positioned to capitalize on the situation.
Profitably Yours,
Robert Morris
Category: Hot Penny Stocks