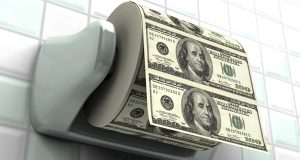 This week we're exposing these three popular Pump & Dumps:  Mistal Ventures (MILV), Game Face Gaming (IKCC), and PTS (PTSH).
That said, welcome to Pump and Dump Friday, where every week we highlight a few of the "bogus" promotions that are going on in penny stocks.
If you don't know how these scams work, be sure to check out this free report that exposes the whole thing. 
Without further ado, here are this week's disasters waiting to happen:
Mistral Ventures (MILV)
You have to hand it to these guys… Awesome Penny Stocks is pumping a real joke of a company this week.  They're telling us they've "stumbled onto a phenomenal article" about MILV.
So what's "the amazing news surrounding the company and the deserving attention from Wall Street"? 
They're talking about a MILV puff piece, written by some washed up real estate investor, who's now blogging on Seeking Alpha.  What's the "phenomenal" part of the article?  His random target of $1.00 on MILV. 
How he gets there is anybody's guess. 
Why all the hype about a crazy article?  The pumper's motives are pretty transparent… They were paid $10,000!
It only gets worse from here…
I went to take a look at their filings on the SEC website.  The problem is… they don't have any filings with the SEC! 
Of course, I couldn't stop there.  Instead, I eventually found some financials online… I'll tell you what, I unearthed some really disturbing stuff.
My first red flag was their employee count…
The company has just one employee!  Yep, that's it… one.
What the company does is even crazier…
They say their primary business is the development of iPhone apps. 
The problem is they don't have any iPhone apps!  Right on page 8 of their annual report they write, "The company has not recently announced any new products or services."
To make things even more confusing, at some point they purchased a medical billing and collections company which represents the bulk of their financial activity. 
In addition to a handful of other non productive acquisitions, they've recently purchased Nature's Bioceuticals… which is a natural supplement/herbal medicine company.
This is a company with an identity problem. 
Are they an iPhone app developer, a medical billing company, or a natural supplement company?
Regardless of their business, their numbers are horrible.  I almost fell off my chair…
The company has just $4,700 in cash.  Wow, that's almost enough to keep the lights on for another month. 
Best of all, their revenue is out of sight… literally.  They don't have any revenue! 
I can't make this stuff up. 
Clearly, there's nothing good going on here.  But this last detail takes the cake.  Get this… they have over one billion outstanding shares!  It explains why their stock trades for around $0.07.    
I could go on and on, but I'm pretty sure you get the picture.
Game Face Gaming (IKCC)
We've got another classic pump here with IKCC… you may have heard all about them from Rocking Stocks.  Recent news was so good our pumper felt compelled to share it. 
Oh wait… the pumper was paid $3,500 to share it!  In the pumper's disclaimer, I also found out the $3,500 was for a three day pump… and it ran from 10/31 to 11/2.  Now that's a truly long term strategy!
Here's the big news… IKCC entered into a partnership with Card Player Cruises to promote their Face Up Gaming platform.  So what's the deal look like?
Card Player Cruises is planning six cruises in which they'll be marketing IKCC's platform.  Yep, that's the big news.  A marketing campaign…  Wow.  Glad they got that out there. 
Of course, they never mentioned a word about the company's financials… so I dug up what I could on IKCC. 
As of their latest filing, IKCC has no revenue posted over the last three months.  And the only revenue they do show in 2011 is a "White Label Solutions Contract" for $105K.  What's worse is they've posted a $209K loss!
Now running a loss is manageable if you're sitting on a pile of cash.  But that's the problem here… IKCC has a whopping $6,130 in cash on hand.  While that's a red flag right there, they're staring down over $195K in outstanding loans!
Clearly, they're not in the business of making money.
I have a funny feeling their hyped marketing campaign isn't going to right the ICKK ship.  There's no doubt, you should avoid this capsized stock at all costs.
The pumpers are back at it again with one of our old favorites… PTSH.  If you recall, we covered them back in August.
And this time, OTC Penny Stock Reporter bagged a whopping $67,500 to pump this savory stock!  That's a lot of coin for a couple days work guys.
In true pumper form, they're coming out of the gates with mind-boggling coverage.  Here's what they said about PTSH, "It's beginning to rally like I thought it would".  Now that's some riveting analysis boys…
A PTSH subsidiary, Navistar Logistics, just entered into some sort of deal.  Apparently a UK pallet distributor has entered a "code share agreement" with Navistar.  I'd love to know what a "code share agreement" actually is. 
Now, the company president tells us they'll see added revenue from this deal. Yeah, I'll believe it when I see it.  Will this deal really add revenue and make them profitable?
Hmmm… let's take a look at their SEC filings to get a better picture…
Unfortunately, they don't have any SEC filings!   In fact, they voluntarily withdrew their registration for their stock.  This means they'll never be filing documents with the SEC again! 
There isn't a shred of evidence as to how this Chinese company is performing… and the most recent numbers are from November of last year!
The bottom line…
Who cares about a new agreement if there's no financials… it's like wandering aimlessly in the dark. 
Obviously, you know well enough to keep away from these guys.
A final word (and warning).
So that takes care of a few of this week's inglorious "pump and dumps".
Remember, there's a lot more of this going on each week than we highlight here.
As you know, penny stocks are a great place to invest your money.  You just have to do your due diligence to stay away from all the scams out there these days!
Until next time,
Brian Walker
Category: Pump & Dump Alerts