New Customer Questions About Penny Stocks…
Last week's article on customer questions inspired a whole new round of emails.
Remember, if you have a question on a stock, shoot it over to me and I'll give you my opinion.
It is worth repeating:  Itchy and Twitchy – My two crackerjack attorneys are asking that I remind you these are not recommendations – just my opinion… penny stocks are risky and you can lose everything – even if I think the stocks are great…. And you trade at your own risk.
So with the legal stuff out of the way, here we go…
What's Your Take On Baja Mining (BAJFF)?
This question comes from Tony C.
He notes the stock is all over the place and it's been bouncing between $0.02 and $0.06.
Well, my first observation is this isn't a US based company and the stock does trade on the TSX Venture Exchange… there Baja Mining Corp. has the symbol "BAJ".
Now here's a teaching moment…
Baja files their legal documents up in Canada… and to get to those documents, you need to go to SEDAR.com… it's the Canadian equivalent of Edgar here in the US.
Anyway…
The documents have a ton of information in them…
Here's what I've uncovered… Baja is looking to start up mining operations in Baja, Mexico.  But they ran into financing issues for the project.
You can read all about the drama on pages 5 and 6 of their latest financial filings.
Look… this company is a risk.  They might strike gold… they might go bust.
But as of right now, they don't really have any operations – and right now have ZERO revenue.  And from what I read, their ownership in the mining interests is dropping like a rock – from 70% in 2012 to about 10% today.
So the future doesn't look too bright.
What you have here is a lottery ticket… not an investment.
Treat it as such.
Now a new question….
What About Penny Stock PSID?
This question is from Jacco V.
Well Jacco, we actually talked about PSID back on July 18th… when it was written up in our Pump & Dump Alerts…
Find the article here:  PSID – Pump And Dump Alert – July 18, 2014
I decided to give it another look.
So the first thing I did was pull up a chart.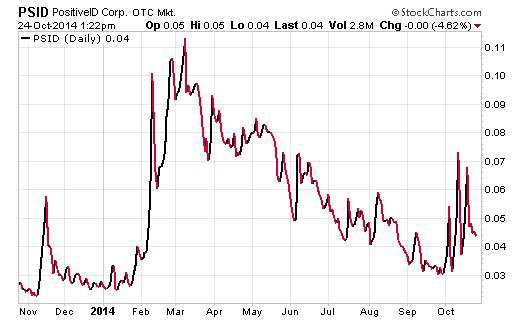 As you can see, the stock slid lower after we warned you about the company.  And now it's getting more volatile.
I take it as a sign of continued manipulation and promotions.
What's happened is the company is jumping on the Ebola threat saying their product can help detect these biological problems.
Might it work?
I hope it does… a product like this could help save the world from the spread of dangerous diseases like Ebola…
The problem is, we won't know for a while…
According to their financial filings, they still have a going concern issue… which means they're about to run out of money.
But on the good side, they made their first sale.   $420,000 from a government contractor working for the Department of Defense.  But don't get too excited… the purchase was for an evaluation of the product.
I like that they're getting sales.  But, I hate the financial situation the company is in.
And I don't like the stock volatility…
So PSID is a mixed bag… I can see how a big order in the near future for their products could really turn the business around – but will the company survive until they get that order?
It's a risky proposition… not one I'd take personally right now… but definitely a company to keep an eye on…
More Questions On Penny Stocks
I don't have much more room for today, but if you have questions on penny stocks you own or are considering buying… shoot me a quick email and let me know what company you're looking at and what concerns you have.
I'll try to get to as many questions as I can!
Profitably Yours,
Penny Stock Research
Category: Penny Stock Tips