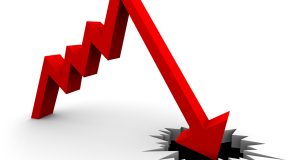 Just when you think you've seen it all, something entirely new and crazy happens that leaves you in complete amazement.  And this is after having my own nephew ignore my advice and not sell a pump and dump stock, North Springs Resources (NSRS), I warned him about!
Obviously, the following story would have to be a bit shocking to raise the hairs on my neck.  Let me start at the beginning…
Last week I exposed a pump and dump being run on shares of Bioflamex (BFLX).  At the time, I uncovered that Global Investment Advisors was paid $50,000 by a third party, CNF Inc., to pump shares of BFLX.
Since then, I dug up a promotional fee of $500,000 paid to Hole In One Stocks to do a pump on shares of BFLX as well.  This all went down on March 6th, last week.
Right on cue, shares of BFLX surged 350% in a single day!  Take a look at the chart below…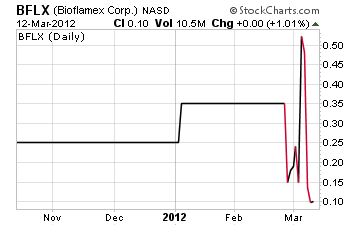 You can see shares surged from $0.15 to $0.525.
So the spike was certainly welcomed by shareholders, but the action two days later must have left quite a sting!  You can also see that shares plummeted on March 8th to just $0.10… less than where they started before the pump and dump.
Now on the big up days, trading volume was 19.5 and 12.8 million respectively…
But when BFLX sold off on March 8th, over 36.7 million shares traded hands.  What's more, on March 9th, over 38.4 million shares were bought and sold.   That's huge volume on a stock that averages just half that per day (18.3 million shares).
Here's why that matters…
Because that level of volume represents over 92% of the float!  You see, there are 92.4 million shares of BFLX common stock outstanding.  And each of the two company owners each holds 25,428,333 shares.
Let's do some quick math… 93.6-50.8=42.8 million shares freely tradable and publicly held (which is the definition of the float).
Here's what's getting under my skin…
Last Friday (which was March 9th) the CEO of the company, Kristian Schiorring, came out with a press release.  In the press release, he's crying about how short sellers have killed his stock…
"It appears that a very high volume of short selling has negatively affected the share price.  There has been a slander campaign on the message boards, and even a press release about a sell-off issued by rocket alerts under our ticker to induce panic selling so the short sellers can profit."
I'm absolutely blown away by the CEO's gall.  Are you serious?  You really think short sellers did this?
Let me tear this theory a new orifice…
First, let's talk about the short seller theory.  Are you telling me that everyone and their brother had a conspiracy to drop the hammer on little ol' BFLX?  Come on.
The CEO's theory assumes that shares are available to short…
Of course, I went to my own account at Interactive Brokers to check out share availability for short selling.  As I expected, IB is showing there are limited shares available to sell short.
But that wasn't enough for me to be satisfied.  Not in the least.
My next stop was the OTCBB exchange site to check in on the most recent short interest report.  The problem is there's nothing showing up for short interest on BFLX!  So how is it the "short sellers are profiting" here?  It's a fair question I'm sure some of the retail shareholders would like answered Mr. Schiorring.
Lastly, does anyone remember the pump and dump scheme I told you was happening on the stock?
Well, you'd think the CEO might actually Google his own company before firing off a press release screaming about short sellers attacking.  He might find out that a number of stock touting websites are hyping his company.
But that assumes he wasn't aware of the pump and dump going on…
Yet again, we're talking about this tiny little company based in Denmark, run by two guys with some fire extinguishing equipment.  How do you think the pump and dump started to begin with?
Each of the two owners does hold over 25 million shares each…
It seems awfully odd to see a CEO, whose shares were clearly involved in a pump and dump scheme, cry about short sellers attacking his stock when the shares are hard to short… all on the day his stock tanks over 80%.
Sounds like thou dost protest too much, no?
I guess the game goes like this…. Make a little noise in a PR statement to make the bag holders feel better that you're doing something for them.
So you announce an internal investigation and review?  Wow.  I'm sure most people aren't aware it's only two of you who own over 54% of the shares!
Better still, we know there's a pump and dump on the shares.  So what's to review?
Let me tell you, I'm far from done with Bioflamex… bank on that.  Make sure to come back Friday for a more in-depth breakdown on BFLX… it'll definitely be worth it.
Editor's Note:  If you're interested in learning about what to look for in real penny stocks, check out our free report.  Our in-house penny stock expert, Gordon Lewis, has the knack for spotting penny stocks that are the "real deal".  Click here to learn more about his service.
Until next time,
Brian Walker
Category: Pump & Dump Alerts