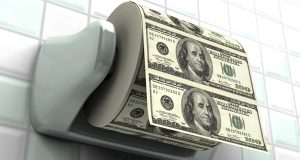 This week we're exposing these three popular Pump & Dumps:  IZEA Holdings (IZEA), Searchlight Solutions (SLLN), and Neah Power Systems (NPWZ).
That said, welcome to Pump and Dump Friday, where every week we highlight a few of the "bogus" promotions that are going on in penny stocks.
If you don't know how these scams work, be sure to check out this free report that exposes the whole thing.
Without further ado, here are this week's disasters waiting to happen:
IZEA Holdings (IZEA)
Well, Perfect Penny Stocks was like a kid on Christmas Eve… They had a big pick planned for Friday, but couldn't hold the idea back.  So they fired it out on Thursday…
Our pumper said, "We believe IZEA has massive profit potential both near and long term!"
Once again, stunning analysis.  It's wrong, but stunning anyway.
Why do I say their analysis is bad?
Well for starters, the pumper was paid a cool $10,000 to send out the email.
That alone makes me question the validity of their analysis.  The other reason… I looked at IZEA's filings at the SEC.gov website.  Let me tell you, it wasn't pretty.
Now their cash position and liabilities were ok… nothing really jumped out at me.  But when you took a look at their Equity section… well, I threw-up a little in my mouth.  Talk about complex.
For starters, this isn't a Fortune 500 company…
Yet, the company has seven… YES SEVEN… different types of equity instruments.
They have a Series A convertible preferred stock, a Series A-1 convertible preferred stock, a Series A-2 convertible preferred stock, Series A common stock, a Series B nonvoting common stock, and a Series A convertible preferred stock, not to mention their Common Stock.
Look, we're not dealing with Ford Motor Company here… this is a penny stock!
Now I will admit I'm impressed they have revenue.  But what's depressing is their loss from operations.  Last quarter the company lost half a million dollars.
Of course, losses are always frowned upon by the bean counters.
As a result, IZEA has a going concern statement on their financials.  Unfortunately, we all know it means the accountants don't think the company survives the year.
Do I really need to find any more reasons to avoid this stock?
I didn't think so.
Searchlight Solutions (SLLN)
This trade idea (and I use the word – idea – loosely) comes from the pumpers at Simply Best Penny Stocks.  They tell us to "Put SLLN back on your radar……"
Once again, the depth of the analysis is shocking.
They did include a press release from the company about ramping up "Operations Plans".  I didn't quite get if they were actually ramping up operations or ramping up their plans for operations?  Either way, that's a weak reason to put out a press release.
Now, in their disclaimer, our pumper did say they were not compensated for this news.
However, they did get $30,000 from one group and $20,000 from another for earlier promotions.  It makes me wonder if they might be doing a little free work in the hopes of capturing future business?  You never know.
Anyway, in spite of the amazing analysis by the pumper, instead of rushing out and buying the stock I decided to take a closer look at the business.  Good thing I did.
Of course, SLLN doesn't have anything on file with the SEC, but I did find some financials for them on OTC Markets.
Now you'll have to take my analysis with a grain of salt… the most recent financials were from March… and it's almost November!  Using numbers eight months old can be a challenge.
Anyway, the first thing I noticed was shares outstanding.  This company has more than 5.4 billion shares issued and outstanding… really?!?
Exxon Mobil (XOM), the largest company in the world, doesn't have that many shares out!
The next thing I noticed is the company doesn't have any revenue. 
That's right… not a single penny in revenue.  And I don't mean in the last quarter… or the last year… I mean EVER.  SLLN has yet to generate a single cent of revenue since its inception in September of 2008.  12 year olds selling candy door to door do a better job at generating revenue!
Finally we come to the losses…
There are a solid 623,722 reasons to avoid this stock.  They lost $623,722 in the March quarter.  And that's just UGLY.
Yet another pump and dump to stay away from.
Neah Power Systems (NPWZ)
It's not often that I come across a pump and dump company that I actually want to succeed… but I guess there's a first for everything!
Why do I want this company to succeed?
Because they're trying to invent the next generation power system.  Wouldn't it be great to put the fossil fuel economy behind us?  We'd forget all those wars over oil and being at the mercy of the Middle East…
While it's a nice dream, the activity in this stock is shameless.  It's a pump and dumper's dream.  And that makes me sad.
So what's going on?
The pumpers are out in force paid by a third party to hype the stock.  No doubt someone's selling into the increased buying activity the pumpers are creating.
Wise Penny Picks was paid $10 grand for a two day promotion…Oh, and don't forget, they've already received $35,000 for prior promotions.
The pumper says the company is just a few months away from signing a big contract for their fuel cells.  The problem… I've heard the same line used by other companies in the fuel cell business… almost a decade ago.
You were hearing the same thing back when fuel cells were all the rage… Unfortunately, they've never taken off.
If NPWZ gets the contract, great… but I'm not holding my breath.
The other problem, this company has never sold anything.  They have zero revenue and are losing over a million dollars a quarter.  It's not good.
They have $77,917 in assets and a whopping $5 million in liabilities.  If they don't raise a huge chunk of money, they aren't long for this world.
And of course, their accountants gave them a nice fat going concern statement.
As much as I want a new technology to save us from the evils of big oil, this isn't the technology nor the company… and you should stay away from this pumper's stock.
A final word (and warning).
So that takes care of a few of this week's inglorious "pump and dumps".
Remember, there's a lot more of this going on each week than we highlight here.
As you know, penny stocks are a great place to invest your money.  You just have to do your due diligence to stay away from all the scams out there these days!
Until next time,
Brian Walker
Category: Pump & Dump Alerts