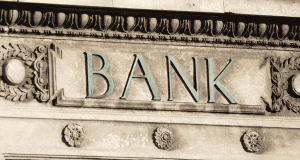 It all comes down to one question…
Is this a smart penny stock to buy?
You've done your homework.  You've narrowed down your choices.  You feel confident.
But you're about to put your money on the line and you'd like to be as certain as possible that you're not going to regret your decision.
If you want to give yourself a safety net and know how to buy penny stocks the smart way, it's a good idea to make one last check before you place your order.
It's just like the pilot who goes through a final checklist before taxiing down the runway before takeoff.
But no matter how much financial data you're crunching…
No matter how many charts you're studying, or how many annual and quarterly reports you're sifting through…
Make sure you understand what's happening with the business your penny stock is in.
If it's technology, natural resources, retail, finance, manufacturing, health care, whatever, develop a good feel for the industry sector.
Why?
Even the best company with the best prospects will have a harder time when it's fighting an uphill battle.
You could be all fired up about what you think is the best penny stock to buy right now, but it might turn out the company markets a great product that nobody wants.
Right now, demand for crude oil is low.  The smartest oil guys are struggling.
A few years ago, there was a real estate glut.  Now there's a shortage.
It's hard to find an industry that doesn't have its ups and downs.
And it's hard to find a good penny stock in an industry that's on its way down.
So set your sights on a business sector that's on its way back up.
One business sector where you'll find a lot of penny stocks is banking – specifically, the small regional and community banks.
Is this a decent business to be in right now?
Under the right circumstances, yes.  Banks that are well managed can give you significant upside.
What To Look For In A Good Community Bank Penny Stock
Start with net income.  It's usually a good idea to stay away from the banks that can't make money.
Next, look at net income growth.  Ideally, you want consistent growth, not wild swings.
Why should you avoid the high-fliers that turn in triple digit net income growth?  It's hard to keep this kind of performance going.  You set yourself up for a fall.
If earnings growth slows down, impatient investors might sour on the penny stock and the price could take a hit.
Look at where the bank is located.  If it's in a growth market, that's a plus.
It's hard for banks to make more loans and grow their profits when the population is flat or declining.
Look at the management team.  Find out what it's doing to make sure the small, local bank can win the David and Goliath competition against the big guys across the street.
Competing against Wells Fargo $WFC, Chase $JPM, or Bank of America $BAC isn't fun.
But when a smart community bank knows how to play the hometown card to its advantage, you're looking at a winnable battle (and a huge upside for penny stock investors).
How To Size Up A Community Bank Penny Stock
Let me show you a bank with 30+ branches in Virginia, North Carolina, Delaware, and Maryland.
Hampton Roads Bankshares Inc. $HMPR has been around since 1961, so we're not talking about a pump and dump operation.  That's a key consideration.
What we are looking at is a company that's been through some rough times, and for the past few years, the stock price has been in a coma…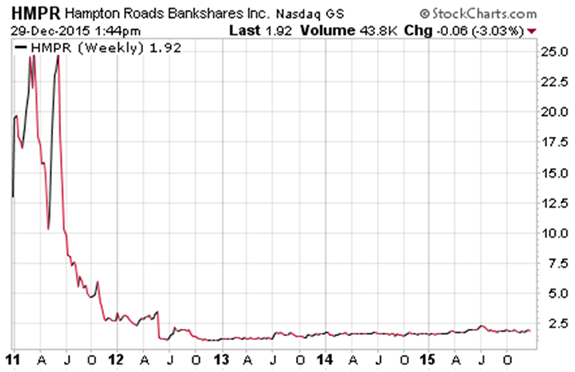 Take a look at the last six months of 2011… what a wild ride for investors.
The stock loses half its value, then recovers all it lost, then tanks even worse.
And it's been in the tank ever since.  Today, Hampton Roads Bankshares is a cheap banking stock… you can pick it up for $1.92.
But it's expensive if you look at it in terms of what you pay for earnings.  The price earnings ratio, the P/E Ratio, is 60.  That's almost four times what the average is for the market.
Unlike a lot of penny stocks, at least you have some earnings.
And with just a little improvement in earnings, the Hampton Roads Bankshares stock price can start to climb.
Why do we like this small bank that's fallen from grace?
At Hampton Roads Bankshares, there's a new President and CEO.
There's been a dramatic turnaround in net income.  In 2012, this bank was in trouble and lost more than $25 million.  In 2014, that turned into a modest $9.3 million profit.
Will there be profit growth ahead?
That's the question.
We like the direction things are going, and we'll keep an eye on cash flow and operating expenses, two areas where we need to see improvement.
What else should you look at when you size up a community bank penny stock?
The quality of its loans.  Risky commercial real estate loans have always been a problem for community banks because of the boom and bust cycles of real estate.
There's also the impact of the regulators.  Sometimes, a community bank can get in trouble because of the loan loss provision rules.
It might have to set aside so much money to cover the possibility of bad loans that it doesn't have enough cash on hand to make more loans.
So this gives you a feel for how to size up the pluses and minuses of a community bank penny stock.
Do you have any community banking penny stocks in your portfolio?
It would be great to hear from you.  And if you have a question about a stock or investment idea, shoot us an email.  You can also leave us a comment on the website.
Good investing…
Brian Kent
Note:  If you're interested in learning more about Brian Kent's Penny Stock All-Stars premium service… and learning about the stocks we're trading for profit… you can get the inside scoop on penny stocks here.
Category: Penny Stocks to Buy